Not all of us are Lannisters, nor did we inherit a vault full of fortunes at Gringotts, so taking a vacation to Canto Bight isn't exactly in our future. However, you don't need to have Bruce Wayne money to get great gifts this holiday season for the special nerds in your life. For those of you seeking the perfect affordable present this holiday season, we've put together a list of nine nerdy gifts under $50.
Harry Potter Floating Nimbus 2000 Pen ($19.99)
Accio a practical collectible! This replica of Harry Potter's top-of-the-line Nimbus 2000 broom from the movies is really a blue pen, but that's not even close to the best part. Magnets make this pen levitate, though you can (and obviously should) tell impressionable young children it's actual magic. Few collectibles are as cool or pragmatic. Available at Bed Bath & Beyond for $19.99.
Super Mario Chain Chomp Lamp ($29.99)
Turn one of the most frustrating obstacles/enemies from Super Mario Bros into a very cool ally with this awesome looking Chain Chomp Lamp. Weighing six-and-a-half pounds, it stands 10 inches deep and 18-and-3/4 inches tall by 6 inches wide, with a 5-inch cube base. The Chain Chomp's head also swivels when you are using it. While normally priced at $69.99, you can get it at ThinkGeek on sale for only $29.99.
The Nightmare Before Christmas Scary Wreath ($32)
This is not Halloween, but that's the beauty of The Nightmare Before Christmas—it celebrates both the spookiest and most wonderful times of the year alike. What better way to honor one of our favorite films than with this Scary Wreath (19-inch diameter), which will absolutely be both the weirdest and coolest gift in your office's Yankee swap. You can grab one at BoxLunch, normally $39.99, but it's on sale right now for under $32.
Marvel Studios The First Ten Years Book ($16.50)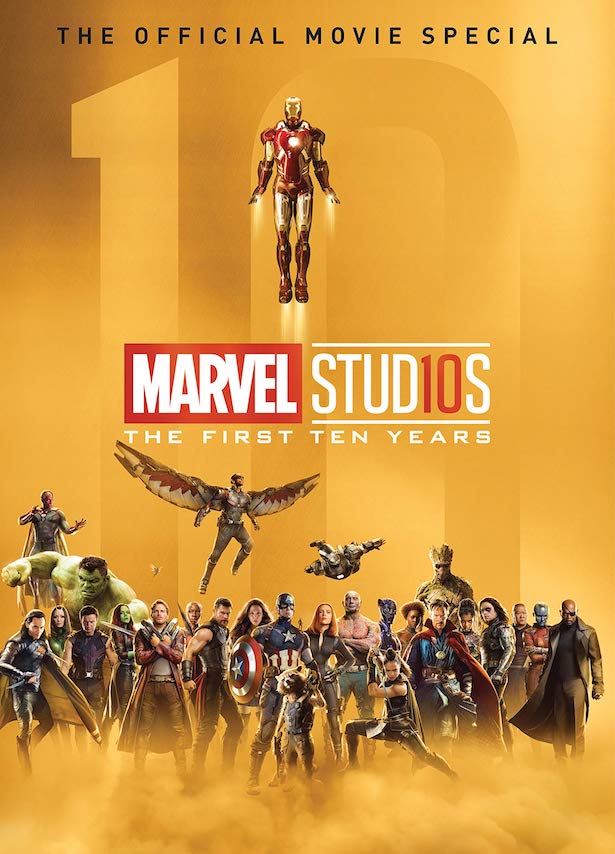 What's the nerdiest way to celebrate ten years of superhero movies? By reading about them, which you can do with the new Marvel Studios The First Ten Years. This 126-page hardcover is a look back at the first 20 MCU movies in the franchise, from Iron Man to Ant-Man and the Wasp. In addition to "stunning photography and in-depth sections on each film, including a guide to each movie's Easter Eggs and end-credits scenes," it also features "interviews with Robert Downey Jr., Chris Evans, Scarlett Johansson, Chadwick Boseman, Chris Hemsworth, Chris Pratt and more, plus Marvel Studios President Kevin Feige and Co-President Louis D'Esposito." You don't have to be Tony Stark to grab one at Target right now for just $16.50.
Star Wars Lightsaber Salt & Pepper Grinders & Shakers ($24.98)
Hoping to serve a more elegant dinner? Replace your old salt and pepper shakers with these Anakin/Vader grinders that come with a ceramic mechanism that lets you adjust them from fine to coarse. Standing just under nine inches tall, they are "made from high-quality stainless steel," and the exteriors are a "durable ABS plastic molded" to look like Anakin Skywalker's two different personas. (Obviously the red one is for pepper.) They each use two double AA batteries and light up, helping you see how much seasoning you are using. You can get the set for $24.98 at What on Earth.
Game of Thrones 12 Days of Socks Gift Box ($20)
Remember when you were a kid and getting socks as a gift seemed like the worst thing in the world? Kids are dumb. Getting socks as an adult is the best, because we don't have Old Nan to get them for us anymore. This year help the Game of Thrones fan in your life bundle up for winter with same Realm-inspired feet wear, with this 12-day gift box set of men's crew socks Z(sized at 6-12 so they are great for women too). Normally $40, you can get them on sale for only $20 at JCPenney.
Custom Wood Character Class Large Dice Box ($23.90)
At over 7 inches long by roughly 4 inches wide and 2.4 inches deep, these handmade wooden boxes from the Etsy page CritIt are the perfect way to transport you D&D dice and notes in style. They come engraved with your character class symbol and an appropriate quote (i.e. "BARBARIAN – You know nothing of passion. If your rage can sunder mountains, you may speak to me of passion.") Each box holds 115 dice "with ease" and after they are engraved they are "hand dyed with your choice of colour and oiled using Danish oil to seal the dye and ensure your box stays in great shape for many years to come." You can get one for the special member in your party for $23.90.
The Greatest Showman: Reimagined Album ($10.97 CD)
The Greatest Showman soundtrack is one of the best in movie musical history (FACT), which is why we've listened to it roughly a million times. We're prepared to listen to it a million (dreams) more, but in an all new way. Some of the industry's best artists—including Kelly Clarkson, Kesha, Missy Elliott, Panic at the Disco, Zac Brown Band, and Pentatonix—came together to cover every track, giving us another opportunity to experience the film's wonderful music. The Greatest Showman: Reimagined CD is at Bull Moose for $10.97.
Star Trek: The Next Generation One-Touch Bluetooth ComBadge ($39.99)
This might be one item we gift to ourselves, because this screen accurate ComBadge exclusive from ThinkGeek connects "to your phone or device via Bluetooth and has a built-in microphone for hands-free calling." A communicator chirp sound effect plays for incoming calls, and just like on the Enterprise with one touch you can answer and end them. You can also play and pause audio, as well as access Siri, Google Now, or Cortana, all for j ust $39.99.And what better gift to give the nerd in your life this year than the gift of walking around like a real member of the Federation withoutWhat other affordable nerdy presents have you seen for sale this year? Share them with us in the comments below.

Featured Image: Warner Bros.
Need more gift ideas?