In the dark days of 2018, it's always good to have something to celebrate. As the holidays draw ever closer, it's the perfect time to pay homage to all the good dogs in your life. Every dog is a good dog, which means you need a lot of gift ideas not only for your four legged friends but also your two legged buds who look after them. We've put together a list of some lovely treats for the dogs and dog lovers in your life to help you with your shopping list!
Dooney & Bourke Disney Dog Bag
Disney's released a gorgeous line of bags, purses, and even a limited edition MagicBand celebrating the dogs of Disney just in time for Christmas. This gorgeous tote showcases some of the best canine characters including Lady, Tramp, Scamp, Pedro, Trusty, Peg, Dachsie, Annette, Collette, Patch, Pongo, Perdita, Rolly, Colonel, Thunderbolt Napoleon, Lafayette Copper, Max, Bolt, Stitch, and Zero. You can grab this gorgeous bag for $268 from ShopDisney
Grinch Rope Dog Toy
We all know that Mister Grinch is a mean one, so it's totally fine for you to give your magnificent mutt this cuddly representation of the mean old monster. Plus, you can teach the grouchy green one the meaning of Christmas spirit by offering him as a gift to your dog; his heart will surely grow two sizes bigger when he sees how happy it makes the cute critter. Get your Grinch at Petco for $7.49
Customize Your Own Dog Socks
Ever wanted to wear your dog on your socks? You can thanks to Paw Libra. These cute customizable feet warmers are available to adapt with any photo you choose, but we're advocating that you put your fave furry friend all over them. Pick your socks from Paw Libra for only $9.99
SpongeBob Dog Collar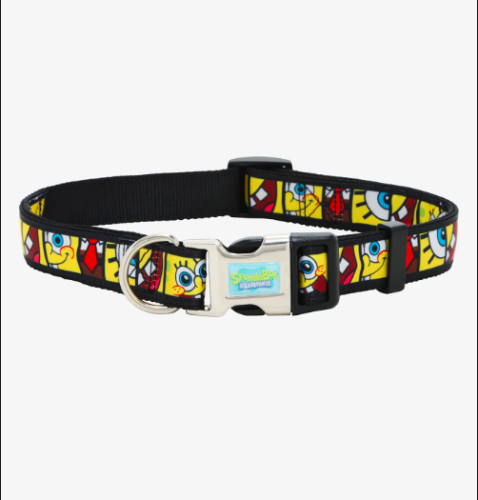 There are plenty of ways to celebrate all the things you love and love to share with your dog. One way is by putting a cute collar represents your most beloved cartoon character around your pup's neck, like this super cute SpongeBob design from BoxLunch. It's a great way to keep your dog safe and celebrate the world's best fry cook! You can get your SpongeBob dog collar from Boxlunch for $8.94
Furbo Dog Camera
Love your dog and robots? Furbo is a high tech way of checking in on your dog, and it can even give your BFF treats. It has two way audio so you can talk to your bud when you're away, and it can alert you if your pet is in need. This is a must if you hate to leave your four legged friend at home since it's proven to help with separation anxiety. You can get the Furbo Dog Camera from Furbo for $134.99
Heated Pet Bed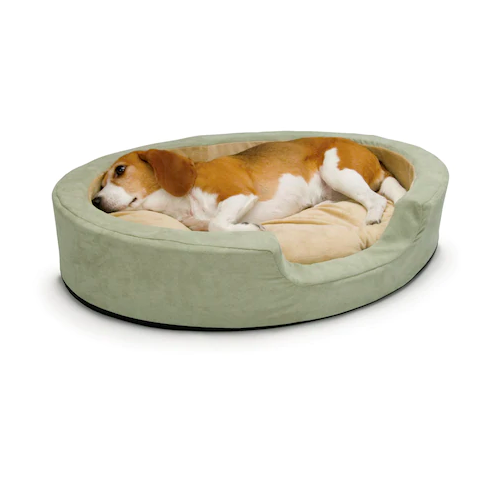 Treat your dog to the coziest Christmas this year with a wonderful heated bed. Easy to clean, super fluffy, and currently on sale, this is a lovely gift for helping your sweet sidekick relax this holiday season. Make sure your dog is cozy by heading over to Kohls $45.99
Knitted Dog Flask
Showcase your love for dogs, secret drinking, and fancy refined crocheting with this incredible flask. Not only does it showcase a dog wearing a knitted sweater, but it's also knitted… plus the dog is drinking whiskey. This is the best and weirdest flask ever and we love it. Get your needlepoint dog flask at Carl's Golfland for $65
Beasts of Burden
Writers Evan Dorkin, Sarah Dyer, and artist Jill Thompson's brilliant comic is a haunted (dog) house extravaganza starring a cast of cute critters. The story includes a wicked core team of dogs that have spooky adventures and even had their own crossover with Hellboy. This Dark Horse comic is a great gift for fans of sequential storytelling, dogs, or both. Get Beasts of Burden from Amazon for $7.50
Lady and The Tramp Funko Pop Keychains
These super cute keychains are the perfect present for the one or two special people in your life. The vinyl cuties are a great way to commemorate one of the most romantic and delicious sequences ever committed to film. Pick up your Lady and the Tramp keyring set from Walmart for $42.99
X-Men Dog Tag
Is your dog super powered? Then you better make sure they're registered at the Xavier Institute for Gifted Canines! This super cute name tag is the perfect way to recognize your dogs talents and make it safe for them to leave the hallowed educational halls of Xavier's.
Grab your dog a scholarship to the Xavier School at Etsy for $10
Images: Etsy, Funko, Dark Horse, Carls Golfland, Kohls, Furbo, Paw Libra, Disney
Need more gift ideas?