The holidays are here and gift-giving is about to get underway, which can be a pretty anxiety-inducing endeavor. Luckily, Nerdist has you covered with gift guides this year, with ideas for horror lovers, Star Wars fans, and more. But if you're looking for something even more specific, look no further than this list of gift ideas for cat lovers! If your friend or family member is obsessed with cats–and even owns a few–they'll get a thrill out of any of these ten purr-fect gifts.
These cat wall decals are the perfect way to spruce up a bedroom and add a little kitty pizzazz to the home. And at just $22, they're a cheap alternative to traditional wallpaper. You can deck out an entire wall or go simple; the pack comes with 21 different cats. ( Price: $22)
Kitty Large Vase / Katie Kimmel for Urban Outfitters
Jimmy Kimmel's artist daughter Katie designed this line of cat vases for Urban Outfitters and we love them! They're quirky, a little weird, and a fun alternative for the strange art-loving cat lover in your life. ( Price: $125)
This is for the cat lover who's also a writer (or a diligent notes-taker). The pinks and reds of this cute-as-heck notebook make it stand out, ready to be filled with journal entries, recipes, lists, or homework. ( Price: $18)
These custom-made pillows are the perfect way to immortalize a cat! Whether celebrating the life of a living kitty or memorializing one that's passed, these are a great gift for any cat owner. ( Price: $22.98+)
Ever wanted to dress your cat up like pie? What about an avocado? Pizza? This incredible Etsy store makes all sorts of wacky cat costumes, perfect for torturing your feline for Instagram. You can even get a cat beret! (A purr-et?) ( Price: $16+)
Do you have a friend or loved one who spends way too much time on the #CatsOfInstagram hashtag? Now, they don't have to scroll on their phone but can simply look at the wall for a taste of internet kitty insanity. ( Price: $18)
You don't even have to like steampunk to dig this handmade necklace. The machinery-like design is so creative and the colors pop; it's an excellent, creative accessory perfect for the sci-fi loving or art-appreciating cat person you know. ( Price: $49.45)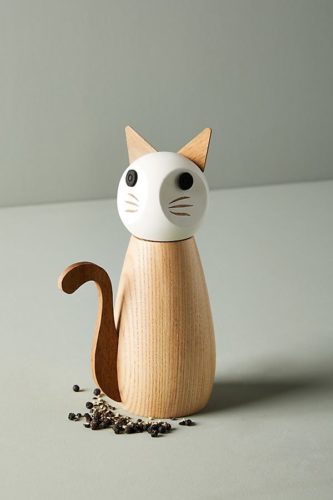 For the cat lover who likes to cook, this adorable spice grinder would fit right into a kitschy kitchen. Who wouldn't want to flavor their food with spice right out of a cat's bottom? ( Price: $18)
Yes this is real. No, we don't know why it exists either, but we're pretty obsessed with the fact that it does. Now, cat and owner can make use of all that leftover hair, and turn it into cute mini cats. Why not?! At the very least, your cat-obsessed friend will get a kick out of this. ( Price: $12.59)
Who says cats can't have the finer things in life? Food-shaped toys are common for dogs, but cats have way less options. We love these sushi samplers from Anthropologie, a perfect stocking-stuffer for your cat lover and their feline friends. ( Price $14)
Images: AbakDesign, Urban Outfitters, Anthropologie, CartoonGreat, Ticketybootique, ASOS, CatLoversWorld, Chewy
Need more gift ideas?