Although Universal Studios in Orlando gets the lion's share of the attention, it's Hollywood's Universal backlot that gave birth to American horror films. Since 1997, Universal Hollywood's Halloween Horror Nights (HHN) has been scaring guests with incredible haunts rivaled by no other theme parks. And unlike other parks that do similar haunts, they often get the most well-known horror movie IP as part of the package. So for you spooky season lovers who are making your way to Southern California this year, we rank all nine haunts from Halloween Horror Nights: Don't Go Alone.
9. The Horrors of Blumhouse (Spooky and The Black Phone)
Blumhouse is a regular presence at HHN. This year, the Horrors of Blumhouse haunted house features two different movies, although one of them really deserves a house of its own. The first was based on Freaky, the 2020 horror comedy. It's pretty much lots of murdered students lying about in a high school setting, and one very messed up room with a teacher sawed in half from head to toe, which is a showstopper moment.
That said, The Black Phone was the horror film of the summer. And that part of this haunt seemed far too lackluster. The "Grabber," as the film calls its masked killer, pops out at all the expected moments. But that's about it in terms of scares. We didn't even get the film's signature creepy black balloons (which Orlando Halloween Horror Nights did). This one was fine overall.
8. Universal Monsters: Legends Collide
Given that HHN is at Universal Studios, it's a given that the classic Universal Monsters get a haunt of their own each year. A few years back, they gave us The Bride of Frankenstein Lives. Before that, we got Frankenstein Meets the Wolfman. They always blend the iconography of these classic films with the bloody excess modern haunt audiences expect.
For this year, it was Universal Monsters: Legends Collide. It showcased the Mummy, the Wolfman, and Dracula all together in one haunt. Although a fun experience, it was light on the startling moments and heavier on prop work and atmosphere. And although they seamlessly blended the Wolfman and Mummy myths together ( ancient Egyptian wolf gods are a thing), Dracula was just thrown in there to awkwardly pop out of a door and lend his name to the marquee.
7. The Universal Horror Hotel
We're suckers for a good haunted hotel. At previous HHNs, we've had haunts based on The Shining's Overlook Hotel, and the one from American Horror Story: Hotel. This year, the folks at HHN decided to make their own 1920s-era fancy hotel with a hideous history. The Universal Horror Hotel is in the place of The Walking Dead attraction that used to be a year-round walk-through until last year. While this haunt is very creepy and well put together, we're ranking it on the lower side because they recycled a lot of the rooms and monsters from previous hotel haunts.
6. The Weeknd: After Hours Nightmare
HHN is no stranger to celebrity haunted houses. Not that many years ago, they did one with Alice Cooper. But this is the first time they've collaborated with a very current and chart-topping pop star with the Weeknd. The "big house" at HHN was easily The Weeknd: After Hours Nightmares. Named for the Weeknd's After Hours album, this haunt is both far better and also just as bad as you think it would be.
Let's get the bad out of the way. There's nothing particularly scary or spooky about the Weeknd's music. Having it blasted both outside and inside just made this seem like a giant act of self-promotion for a new album, and didn't lend to a scary mood. There's also a distinct lack of discernable storytelling. It's kind of random scenes together. But on the good side, these scenes are actually very cool. The demented disco bloodbath, the grotesque liposuction gone wrong, are all super disturbing. So it's a mixed bag, and it lands this house right in the middle of the pack.
5. Terror Tram (Featuring Us and Nope)
The Terror Tram is often the same thing every year at HHN, just redressed with different kinds of monsters. This walkthrough through their plane crash set and the Psycho house/Bates Motel is always cool, but theming often changes. In addition to using Universal's own killer clown Hollywood Harry, the highlight of this section is the Jordan Peele section. Actual sets from Nope, including The Star Lasso Experience were used. But the haunters roaming around were dressed as the doppelgangers from Us. While both Peele movies are amazing, they don't really go together story-wise, so it makes for a still fun but disjointed experience.
4. Killer Klowns from Outer Space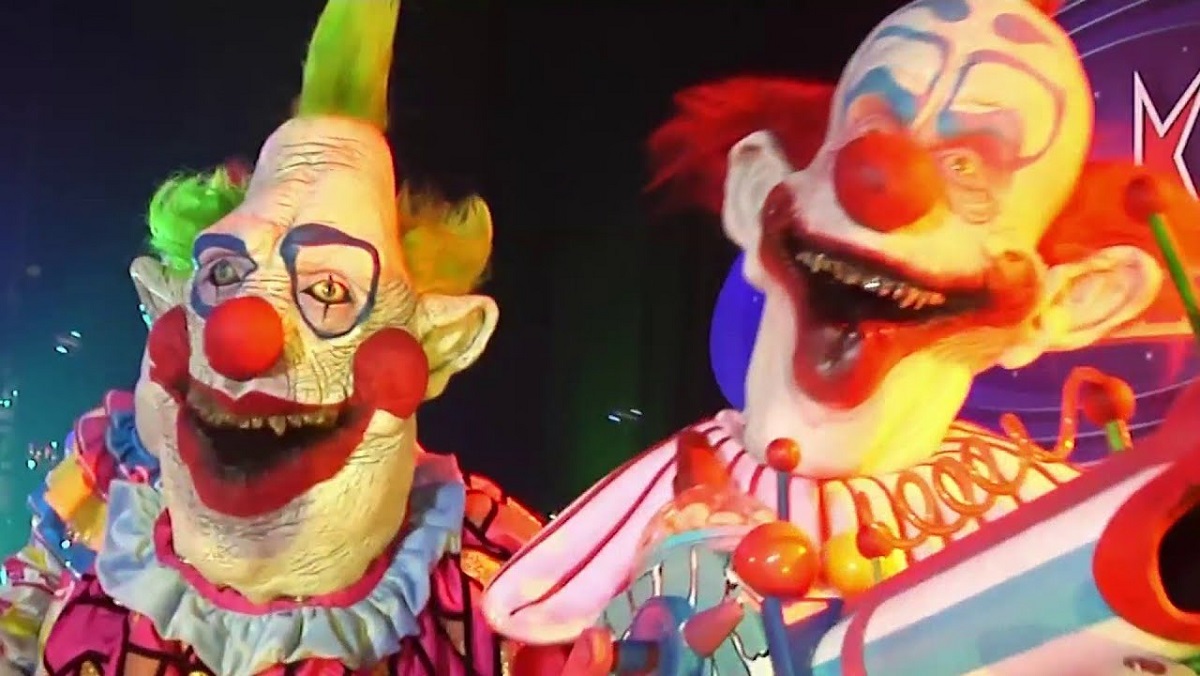 Killer Klowns from Outer Space is another repeat haunt, first appearing back in 2019. Depending on how scared of clowns you are will determine whether you think this one is all that scary or not. It's definitely the most brightly colored. Based on the cult classic from 1988, this haunt is mainly great for how accurately it recreates the demented clown costumes from the Chiodo brothers' original movie.
We'd say it's more unsettling than actually scary, but that's totally okay. This one has several fun touches, like the creepy circus sound effects throughout. Also, it has the nauseatingly sweet smell of cotton candy pumped through the vents. All of this adds to the ambiance. We wouldn't mind if the Killer Klowns were at HHN every year.
3. Halloween
Michael Myers has been a regular at HHN since 2009, and has appeared in six haunts since then. This year is the first time that the haunt has simply been titled Halloween though. But it's largely the same one as previous years' mazes based on John Carpenter's original film. So why is this ranked so high if it's an older, often repeated haunt? Well, because it's still a truly killer attraction. (Pun fully intended).
If you love the 1978 original film, this movie takes you through the story, complete with a terrified Laurie Strode and trigger-happy Dr. Loomis at the end. The final funhouse room, where you're surrounded by several versions of The Shape, never knowing which one is a reflection and which is real, is the oldest trick in the book. And it still works to scare your pants off. Repeat maze or not, Halloween is still one of HHN's best.
2. Scarecrow: The Reaping
We just love a haunt that sticks to iconic Halloween season imagery, and this haunt does so in spades. Scarecrow: The Reaping is an original maze debuting at HHN this year. It's loaded with spooky farm imagery, and looks like someplace the Scooby-Doo gang might have chanced upon in the '70s. The whole setting looks like a farm in the depression era, and when you walk in a strong smell of straw hits you in the face, setting the mood.
Immediately you see the farmhouse is littered with dead farmers and their families killed by the scarecrow (some with corn husks inventively shoved into their bodies). It instantly creeps you the hell out. The scarecrow himself is legit terrifying, with some great costuming for him and his cohorts. And the hanging intestines you have to walk through to get from room to room is just a perfectly disgusting detail. This is the kind of non-IP-based haunt we love to see from HHN.
1. La Llorona: The Weeping Woman
Appearing at Universal first over a decade ago, the Mexican folkloric horror tale of a crying mother who drowned her own children makes a very welcome return to HHN Hollywood. La Llorona first let out her spooky wails in 2011's La Llorona: Villa de Almas Perdidas (Home of Lost Souls) and 2012's La Llorona: La Cazadora de Ninos (Hunter of Children). But the 10-year wait for more of the crying spirit was worth it, because La Llorona: The Weeping Woman was the best haunt at HHN 2022.
What makes it so cool? The atmosphere was terrific, complete with the bodies of drowned children in a pond (dang, they went dark). But the imagery inside the various rooms was literally nightmare-inducing. Especially the giant versions of La Llorona herself busting through the walls to swallow bloody animatronic children whole. They went the extra mile to make these huge monsters work. And that right there makes The Weeping Woman my favorite of HHN 2022.