When Jamie Lee Curtis auditioned for the role of Laurie Strode in John Carpenter's 1978 film, Halloween, she never anticipated the character's decades-spanning and era-defining role. Playing Laurie was simply a job for a struggling young actress looking for work. Though initially linked to the the final girl trope, Laurie has grown to represent the broad spectrum of feminine power and resilience.A character borne both from Carpenter and Curtis, the Laurie of 40 years ago has long been a cultural touchstone. But Curtis doesn't put too much stock in how Laurie's been often imitated over the years. Instead, she focuses on the way that her struggle against Michael Myers has resonated throughout the character's life and the unanswered questions of that struggle now. "How does she live for the rest of her life, having survived that traumatic moment?†she asks.
Written by David Gordon Green, Danny McBride and Jeff Fradley, the Halloween of 2018 is a radical slasher film that reverses and reinterprets the original film through the lens of intergenerational trauma with the addition of two new characters, Laurie's daughter Karen, played by Judy Greer, and her granddaughter Alyson, played by Andi Matichak. The paranoid Laurie has lived in fear of Myers for decades, and though Karen has resisted her mother's overprotective nature, all of Laurie's worst fears come true, and her obsessive preparation comes in handy.We recently caught up with Jamie Lee Curtis, to talk about the new Halloween, the scene in the script that didn't make it into the movie, the character direction she got from John Carpenter 40 years ago, and what it means to place the power in Laurie's hands now. "Flip it and reverse it–the Missy Elliott song,†she laughs. "That's why I said yes.â€Nerdist: Watching the three generations of women come together in Halloween made me really emotional. What it was like for you to invite these women into your Strode lineage?Jamie Lee Curtis: The intent of the movie, my intent, was to peel back the layers of real trauma, real, generational trauma and expose what it looks like. My job, from the beginning, was to tell the truth. I worked hard to make sure that the viewer felt what Laurie has been through.It helped that that was the intent of the filmmakers, and that the writing was very strong. But there are moments that aren't written here. You just have to feel it, because words are cheap and feelings are worth a billion words. There had to be real feelings here, and that was my job.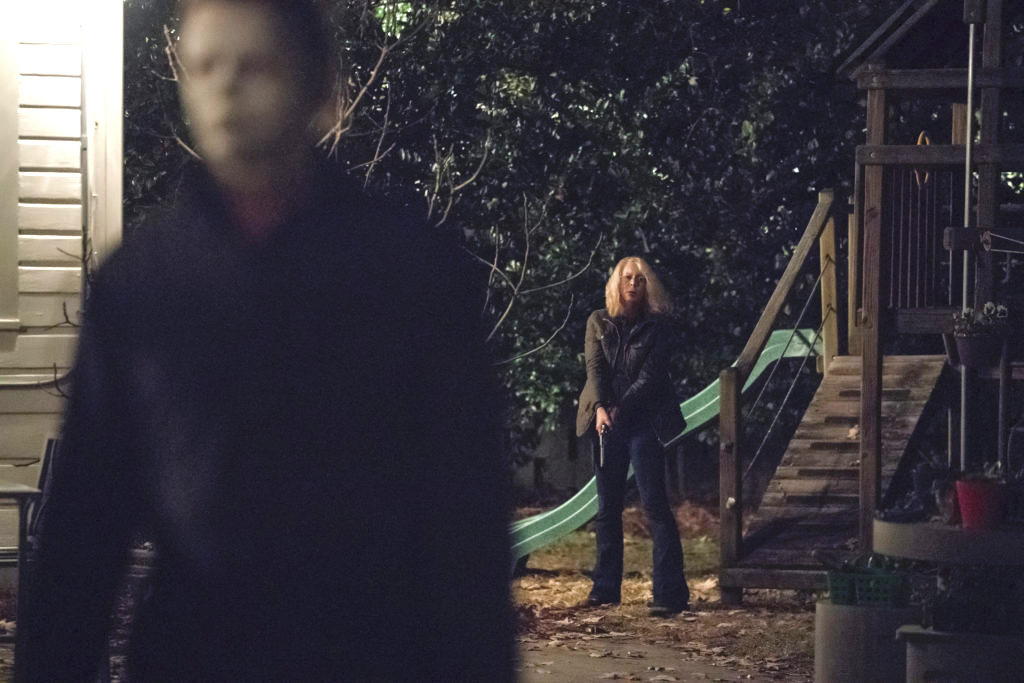 What was your reaction to the script?The reason I said yes was because the script [had a scene]—and it's not even in the movie—the script opened with Alyson running, jogging through Haddonfield on a morning run because she's on the track team. Then she came home, said hi to her mom, and went up to her room to change for school. She opened the louvered closet door in her room and pulled the string with the bare bulb. That's when I knew what David and Jeff and Danny had done. That they had immediately put the reader back in Haddonfield 40 years later, with the descendents of the trauma, and yet seemingly they were all fine, but we were back in the closet 40 years later.There was something so simple and so beautiful about it. Then meeting the journalists and hearing the history through them, the way a Greek chorus serves. That too made me go, "oh my god that's beautiful.†And they're fucking British, which is just perfect because they're so out of their element. Two British journalists, staying in a motel in Haddonfield, digging up old bones to try to suck the marrow out of them, to make a penny, under the bullshit auspices of trying to uncover new insights. Which is just another way of saying, "I'm going to suck your blood.â€When you were making the original film with John Carpenter, what initially drew you to Laurie as a character?Nothing. There was a script; they were meeting actresses; I was an actress. They were making a movie and there were three parts for girls, and they were having me read for the part of the high school brainiac. Done. What drew me to it was begging for a job–there wasn't a moment of contemplation. I didn't have the job, I got the job, took the job, did the job. There's no deep thought attached to it.
Laurie has become this archetype in horror films: the final girl.But all of that is a construct of replication and repetition. A trope only becomes a trope when it's replicated. If you're the source material, if you're the headwater of a trope, you're the original, you're the OG, and therefore you don't have to answer anything about it. The people that have to answer to the trope are the people that replicate from it.Was there anything that John Carpenter said to you about Laurie when you were filming that helped you get a bead on the character?The character's on the page, it's right there. I didn't need anybody to tell me who she was; I knew. The only thing he kept insisting was vulnerability, over and over again. Vulnerability, vulnerability, vulnerability. The V word is what he definitely encouraged from me.Michael Myers' desire to kill and Laurie's desire to survive are two immovable forces. It's this dichotomy of survival and she's the ultimate survivor.Michael Myers has an overwhelming desire to kill, and Laurie Strode has an overwhelming desire to survive. And that's why we're here.