There is more LGBTQ programming on television than ever before. So much so, that it's easy to forget that just a decade ago, things were very different. Sure, there were already gay characters on TV around the early 2000s. And reality shows like Survivor had openly gay contestants. But until RuPaul's Drag Race premiered in 2009 on a fledgling cable network called LoGo, there wasn't a truly successful series made by queer creators, starring queer cast members, and made specifically for a queer audience. It's not an exaggeration to say that RuPaul's Drag Race changed everything.
Since Drag Race began, it's had thirteen seasons, six seasons of an All-Stars spin-off, and six international versions of the show. Oh, and there is even a RuPaul's Drag Con on both coasts, drawing in thousands of attendees each year. Many of us in the queer community take it all for granted now that Drag Race is seemingly ubiquitous with multiple Emmys under its belt. But it's important to take stock of how RuPaul's Drag Race has contributed positively to queer culture as well as the ways it somewhat dragged things down (no pun intended).
World of Wonder
Drag Race Helped Save Gay Bars
For decades, gay bars were the hub of all queer life and social gatherings. They were where you went to not only find romantic connections, but to make friends with others just like you. But with the internet age, gay bars everywhere lost business and closed up shop. You didn't have to go to the local bar anymore to meet other people like you in the online era. Not to mention, hook-up apps like Grindr made bars unnecessary for that kind of activity. In 2008, many gay bars were being kept afloat by bachelorette parties for straight cis women.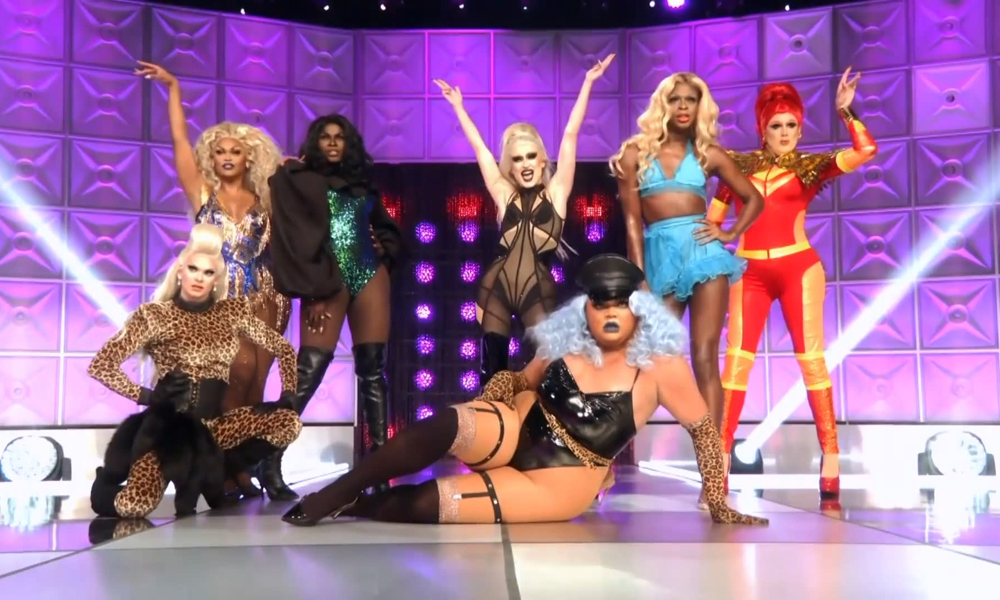 World of Wonder
But then, RuPaul's Drag Race came along. As the show grew in popularity within the LGBTQ community, bars everywhere started having Drag Race nights. Much like straight bars became the "place to be with your tribe" for things like the Super Bowl or the NBA Playoffs, the gay community (and often their straight allies) wanted to gather to watch Drag Race. Like all good competitions, it is a communal experience. It's really no fun to yell at the TV alone. And drinks with friends make watching the show even more fun.
World of Wonder
Of course, gay bars had hosted drag queens for decades already. That was usually the only place to see them perform, in fact. But with the show making these girls media stars, folks began to line up around the block to see their faves perform. Bars started packing 'em in like never before. This helped give gay bars a new lease on life, one that's still felt today. During the pandemic, when many queer spaces were on the brink of shutting down, most of the streamed events to help raise money to save them featured Drag Race alumni headlining. To the rescue once again.
Keeping Gay Pop Culture History Alive
World of Wonder
Gay bars (and similar queer spaces) were also a place where all generations could gather together. Younger queer folks would share the same space with their elders, who would pass down our culture from one generation to the next. However, gay bars lessening importance meant most young queer people only knew whatever current pop culture was being marketed towards them at the time.
Again, RuPaul's Drag Race came in and changed that. Throughout the show's history, Ru drops frequent references to important cultural and historic parts of gay culture, often centering challenges and runways around them. For example, every season has a "reading challenge," which Ru always uses to remind everyone of the legendary documentary Paris is Burning. And the show never misses a chance to celebrate queer icons of the past, introducing younger audiences to the likes of John Waters, Grey Gardens, Judy Garland, Eartha Kitt, and countless more. For younger gays who have no cultural knowledge pre-Britney Spears, Drag Race has been like going to school. Only more fabulous.
Giving Birth to Legendary Children
World of Wonder
The massive success of Drag Race has allowed other similarly unapologetic queer shows to debut in its wake. By constantly reminding folks of Paris is Burning, it ultimately led to a renewed interest in the film, which inspired the award-winning Pose. The popular FX series about 1980s and 1990s NYC ballroom culture would have likely never gotten the green light if not for Drag Race's success.
HBO Max's current competition series Legendary certainly wouldn't be on TV right now. Another HBO series, We're Here, also features three drag queens who made themselves famous on Drag Race. And the "spooky queen" series Dragula positions itself as the "anti-Drag Race." But let's be honest, it wouldn't exist without Drag Race paving the way.
There's also the entire cottage industry of YouTubers. Drag Race production company World of Wonder produces a massive amount of weekly content featuring queens from the show. Most famously, UNHhhh with Trixie Mattel and Katya Zamo. Many drag performers who would never have become world-famous now are raking in the big bucks. Thanks to Drag Race, we're living in a world where alumni like Nina West and are doing Disney+ Pride specials, and Shangela does commercials for BMW and appears in Oscar-winning movies like A Star is Born. Dozens of queens are stars thanks to their exposure on this one show.
The Downside of Drag Race
World of Wonder
As with all good things, there's also a downside. Previously, you could start a career in drag and perhaps be successful without going on one specific reality show. Sure, there are plenty of queens out there who still don't have a desire to go on Drag Race. But the current general perception is that for one to "make it," one has to be on this show. And one reality competition series shouldn't have that much power over an art form.
Drag Race is excellent at keeping classic gay pop culture references alive; however, RuPaul doesn't seem interested in keeping up with what younger viewers find relevant. Any queen who dares to reference something from their generation often faces a very disinterested RuPaul. Not acknowledging them could lead to not only losing them as viewers but alienating an entire generation.
And until recently, Drag Race didn't have a significant number of trans contestants. Of the over 150 queens on the show, only a dozen or so have been trans. But improvement is happening, as we saw in season 13 when Gottmik, a trans man, nearly won the crown.
World of Wonder
The Huge Cultural Footprint of Drag Race
Overall, the show's positive impact far outweighs the bad. When asked by Vulture if Drag Race helped make the art of drag more mainstream, RuPaul said this: "It will never be mainstream. It's the antithesis of the mainstream. And what you're witnessing with drag is the most mainstream it will get. But it will never be mainstream because it's something completely opposed to fitting in."
We understand where Mama Ru is coming from. A certain segment of the population will never really accept drag nor queer culture in general. But we think another decade of Drag Race might make drag as mainstream as McDonald's, Nascar, and the Postal Service. Only with more glitter and better wigs. When RuPaul's Drag Race eventually winds down, we will all look back and realize how this one reality series really was a demarcation point in LGBTQ culture. So let's all take a moment, and appreciate it while we've got it.
Featured Image: World of Wonder