With the holidays fast approaching, you might wonder what to get for the special nerd in your life. Well, worry not, as we here at Nerdist have got ya covered. We have a listing of some of the nerdiest items to purchase that'll make you the Santa of geekery. We've got a comprehensive list of potential gifts all designed to watch, listen to, or read. Check out the best that our holiday gift guide has to offer:
Game of Thrones: The Complete Collection
HBO
Ok, so maybe season eight wasn't anyone's favorite. But that doesn't change the fact that Game of Thrones was the greatest fantasy epic ever to hit our television screens. Now the entire eight season series is going to be packaged together in one incredible Blu-ray box set from HBO. This collection comes in a jaw dropping 33-disc set, housed in an intricate wooden shadow box package. And the whole thing is held together with a special Hand of the King pin. This is the perfect gift for everyone who loves all things Westerosi, from House Lannister to House Stark. ( $249.95)
Once Upon a Time…in Hollywood 4K UHD Collector's Edition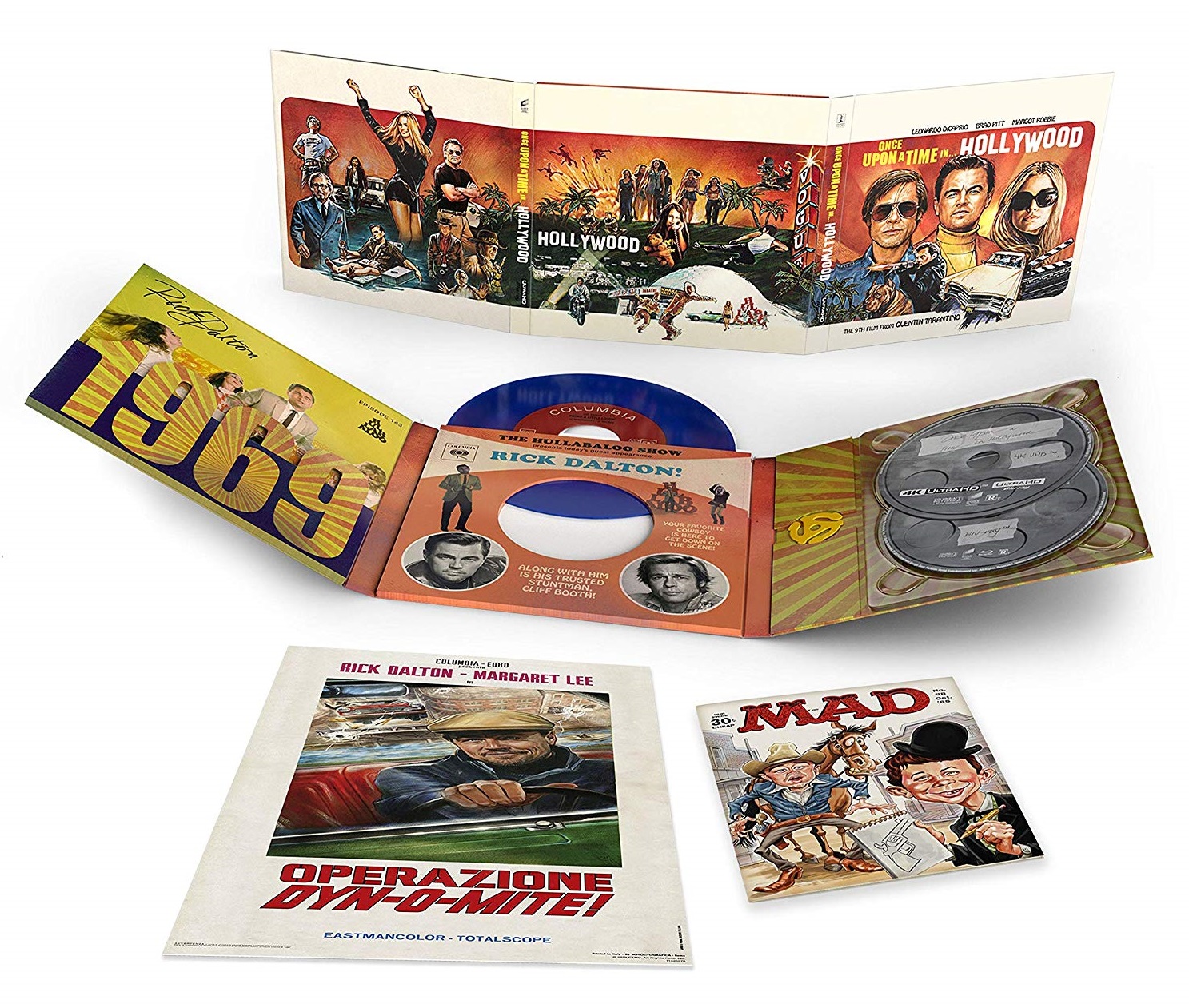 Sony Home Entertainment
Relive the grooviness and insanity of Quentin Tarantino's vision of 1969 with the Once Upon a Time…in Hollywood 4K Ultra HD Collector's Edition. It will arrive just in time to make your holiday like, super far out man. Along with the disc itself which is loaded with special features, this edition will also include an exclusive MAD Magazine parody of the Rick Dalton TV series "Bounty Law," a 45 vinyl record with 2 songs from the film's soundtrack (with a turntable adapter!) and collectible, vintage poster. ( $54.14)
The Fearless Vampire Killers (Warner Archive Edition)
Warner Brothers Home Entertainment
And if you want to see more of the real Sharon Tate that Once Upon a Time… in Hollywood celebrated, Warner Archive have released her starring role in 1967's The Fearless Vampire Killers, for the first time on Blu-ray! Or, if one prefers, you can call it by its other title: Pardon Me, But Your Teeth Are in My Neck. ( $17.97)
The Wizard of Oz 80th Anniversary 4K Ultra HD Disc
Warner Brothers Home Entertainment
Few movies in the history of film have had the enduring power of The Wizard of Oz, which turns 80 this year. The folks at Warner Brothers have created a stunning new 4K transfer of the seminal classic. It's a new 4KUHD disc for the anniversary, and it's quite a sight to behold. Even if the person you're gifting Oz to already has the DVD or the Blu-ray, this one is definitely worth the upgrade. It will send any Land of Oz fanatic over the proverbial rainbow with its stunning presentation. ( $22.95)
Ida Lupino: Filmmaker Collection
Kino Lorber
Speaking of the Golden Age of Hollywood, the true cinephile and film historian in your family might want this new collection of four newly restored classics directed by Ida Lupino, in a new collector's set from Kino Lorber. The English-American actress was one of the only women making films in very sexist Hollywood studio system of the '50s, and many of them are included in this set. Among them are 1949's Not Wanted and Never Fear, The Hitch-Hiker from 1953, and The Bigamist, also from 1953. This one is for all the TCM fans out there. You know who you are. ( $38.80)
Star Trek: The Picard Collection
CBS Home Video
With the new Star Trek: Picard series hitting CBS All Access early in 2020, now is the perfect time to to give this gift for the hardcore Trekker in your life who might want to refresh their memory of the saga of Starfleet's most refined Captain. The Star Trek: The Picard Collection features some of Jean-Luc's greatest adventures from both TV and film. Included are all four TNG era films – Star Trek: Generations, Star Trek: First Contact, Star Trek: Insurrection and Star Trek: Nemesis. Rounding out this set are two of Captain Picard's most noteworthy episodes from the TV series, including the Borg infused classic "The Best of Both Worlds." ( $23.68)
Twin Peaks: From Z to A
CBS Home Video
Ready to have yourself a Lynchy little Christmas? Make the yuletide weird? With the upcoming Twin Peaks: From Z to A Blu-ray collectors set, Peakies will be able to have a truly surreal holiday binge watch. Not only will you be able to watch the first two seasons of the original series — which celebrates its 30th anniversary next year — but also the big screen prequel film Fire Walk With Me. And for the first time, it will be packaged with the entire 17 episodes of the long awaited third season from 2017. Plus thrown in every extra from the previous collections, and the original pilot episode in 4K Ultra HD Blu-ray. Coffee and donuts not included. ( $132.99)
The Godfather Trilogy: The Corleone Legacy Edition
Paramount Home Video
Here's a gift you can offer to a loved one that they can't refuse: Francis Ford Coppola's epic crime saga in glorious high def. All three films in The Godfather Trilogy are included in this collector's set, along with Corleone Legacy Family Tree, original theatrical art cards, and several collectible portraits with frames. We all know many of you out there have dads and grandfathers who would not mind getting yet another new and improved edition of their favorite movie series under the tree once again. ( $29.99)
Apocalypse Now: Final Cut 40th Anniversary 6 Disc Edition
Lionsgate Home Video
For another Coppola classic, his 1979 Vietnam war masterpiece Apocalypse Now is now available in 4K Ultra HD Blu-ray for the first time. This new set has a ton of new extras, and has never looked better in its four decades of cinematic life. ( $22.87)
Scarface

"The World is Yours" Limited Edition C

ollector's Set
Universal Home Video
What, your mafia movie obsessed friend or relative still wants more this Christmas besides the Godfather collection? Ok, then we've got you covered. This year, get them the Scarface "The World is Yours" Limited Edition 4K Ultra HD and Blu-ray collector's set. This one comes with not only a ton of special features celebrating the film's 35th anniversary, but also one "The World is Yours" collectible statue replica! ( $54.96)
Spirited Away: Collector's Edition
Shout Factory
Shout! Factory are releasing a ton of Blu-ray collections for fans of cult classics this year, starting with the Spirited Away: Collector's Edition. This newest packaging of the beloved classic comes in a slipcase, and includes a new 40-page book with stunning art and essays. Featured in a deluxe disc portfolio is a Blu-ray packed with hours of special features, along with the film's soundtrack on CD. ( $34.99)
The Fly: Collection
Scream Factory
Scream Factory's new The Fly: Collection contains special edition Blu-ray discs for each of these five "science gone wrong" sci-fi films, with each disc loaded with special features. This new set Includes the original 1958 version of The Fly all the way to the Jeff Goldbum '80s remake and its often overlooked sequel. ( $59.37)
The Universal Horror Collection (Vol. 1-3)
Scream Factory
The Universal Horror Collection, which has its third volume hitting this December, features many of the classic terrors from the Golden Age of Hollywood. Universal Horrors that didn't feature Frankenstein, Dracula or the Wolf Man, and are therefore less known today. These old frights feature many of the classic horror actors from Universal like Boris Karloff and Bela Lugosi, and in roles you might not have heard of. These are each a great little stocking stuffer for any horror lover. (Volume 1: $50.91, Volume 2: $53.28, Volume 3: $49.76)
Street Fighter Collection
Shout Factory
This 3-Disc set collection features all three Street Fighter films starring Sonny Chiba: Street Fighter, Return of the Street Fighter and The Street Fighter's Last Revenge. If massive ass kicking fights is what you know certain people in your life want with their egg nog this year, then this set is the perfect gift. ( $34.95)
Batman Beyond: The Complete Series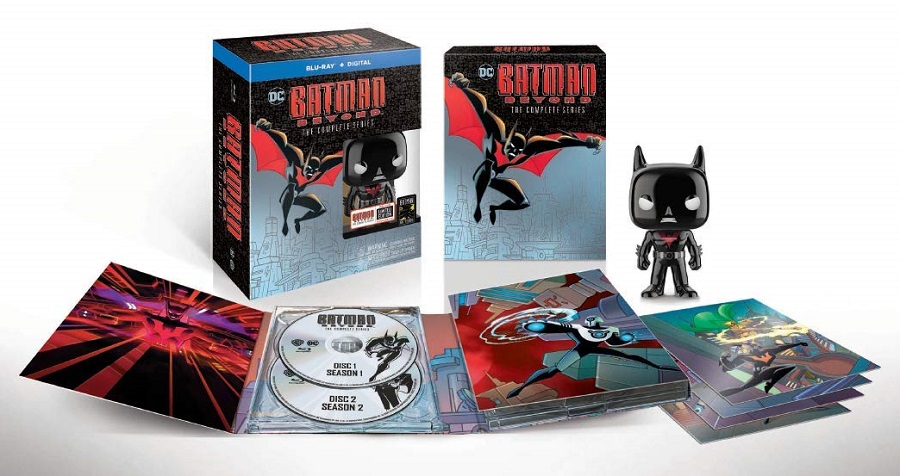 This year, Batman Beyond celebrated its twentieth anniversary. And this new Blu-ray box set from Warner Brothers is the perfect way to celebrate, and will provide Bat-fans hours and hours of entertainment over the holiday break. Relive the not-too-distant future of Neo Gotham (where they still have flip phones!), one where and old and crotchety Bruce Wayne trains teenager Terry McGinnis as the new Dark Knight. The new collector's 6 disc set comes with all 52 episodes, remastered for the first time in HD. There's also an exclusive Batman Beyond Funko Pop!, and other cool extras to explore. ( $69.99)
Scooby-Doo, Where Are You! The Complete Series
Warner Brothers Home Video
Another animated series celebrating a big anniversary is Scooby-D00, Where Are You!, which hit the big five-oh this year. Yes, for five decades now we have all been say "ruh roh!," and making cracks about Scooby Snacks and all of "those meddling kids." But here's your chance to relive all the episodes that created many a meme. Warner Brothers has released a box set of the complete original series with lots of goodies, and in some very groovy packaging to boot. ( $62.99)
Jonny Quest: The Complete Original Series
Warner Brothers Home Entertainment
One more animated classic from the Hanna-Barbera library which hit Blu-ray this year is the world's first action-adventure television cartoon series, Jonny Quest. Although it only ran for a couple of seasons, the show has lived on in reruns for years, becoming an American icon. Thanks to Warner Archives, fans can buy the whole show in glorious high definition. ( $24.91)
The Simpsons: Seasons 1-20 Limited Edition Collector's Set
Sure, the entirety of The Simpsons is on Disney+ now, but for the die-hard Simpsons fan who wants their Springfield stories told to them in their original and correct 4:3 aspect ratio, then you just might want to buy them The Simpsons: Season 1-20 Limited Edition Collector's Set this holiday season. This one is only on DVD and not Blu-ray, but what hardcore Simpsons fan can resist this 79 disc set adorning their shelves? ( $549.99)
Robocop Limited Edition Steelbook Blu-ray
Arrow Video
"Halt, citizen!"Although it might technically not be a superhero movie, but we think that Paul Verhoeven's 1987 sci-fi classic Robocop helped shaped what future comic book based movies would look and feel like (Well, there more violent ones anyway.) It's time for Robocop to take his rightful place next to Iron Man on your Blu-ray shelf. This new special edition has got a new 4K transfer and tons of new special features, making the holidays the perfect time to revisit Delta City. ( $19.99)
Marvel's Black Panther – Original Motion Picture Soundtrack 3XLP
Mondo / Marvel Studios
Marvel Studios' Black Panther became a cultural touchstone last year, and Marvel's biggest solo hero hit. And one of the many things that made that film glorious was its amazing score by The Mandalorian's Ludwig Göransson. Now t hanks to Mondo, the Black Panther score has become available for the first time on vinyl, on a limited 3XLP pressing featuring stunning illustrated artwork by Martin Ansin. Housed in a tri-fold Silver Foil jacket, this vinyl LP features Liner Notes by Göransson, and is pressed on 3X 180 Gram Silver and Black Colored vinyl. Perfect for the honorary Wakandan in your life.
Superman: The Movie 40th Anniversary Remastered Limited Edition (3-CD SET)
La La Land Records / Warner Brothers
Yes, John Williams' score for Star Wars is truly epic, but his other late '70s sci-fi score is just as good. And now it's available in a new 3 CD set from La La Land Records. A new discovery of the score's original 2-inch, 24-track music masters deep in the vaults has led the way to a stellar, high-resolution transfer by the folks over at Warner Sound. This first generation element has been restored and remastered for a new presentation that sounds like never before.
Planet of the Apes 5-CD Set
La La Land / Twentieth Century Fox
The Planet of the Apes films recently got a massive Blu-ray box set encompassing several different versions, just in time for the original film's 50th anniversary. Now you can have the musical companion for this release with La La Land's 5 CD Set of the scores for all five original films from the '60s through the '70s, composed by Jerry Goldsmith, Leonard Rosenman, and Tom Scott. Your ape loving friends and family will love to get their "filthy hands" on this one when it shows up under the tree. ( $79.95)
The Stan Lee Story
Taschen Books
This puppy is going to be hard to find, as it was a very limited edition. But if you can find it for the Marvel fan in your life then they will be eternally grateful. This humongous tome from Taschen Books tells of the life and times of Stan "the Man" Lee, as told by his longtime collaborator and friend Roy Thomas.
This bible of a book includes many never-before-seen photographs, original Marvel Comics art, and more. Published just before Stan's passing in 2018, a massive collector's edition was limited to 1,000 copies and each was signed by the Man himself. Those would have set you back $3,000. Luckily, there's a retail version that's listed at just $200. So, in either case, it's the ultimate Marvel collectible. ( $148.59)
Hex Life: Wicked New Tales of Witchery by Rachel Autumn Deering and Christopher Golden (editors)
Titan Books
Witches are having a pop cultural moments once again, thanks to the series like Charmed and the upcoming reboot of The Craft. Getting in on all the witchy goodness is the new book Hex Life: Wicked New Tales of Witchery. This collection features several brand-new stories of witchcraft written by several popular female fantasy authors, including Kelley Armstrong, Rachel Caine and Sherrilyn Kenyon. These are tales of witches, wickedness, evil and cunning. This is the perfect gift for your loved one for whom Halloween is Christmas. ( $17.79)
Goin' Off: The Story of the Juice Crew Cold Chillin' Records by Ben Merlis
BMG Books
Something of interest to any big hip hop fan, Goin' Off: The Story of the Juice Crew and Cold Chillin' Records. It tells the story of DJ/engineer Marley Marl, who pioneered production techniques that helped to shape the original golden era of Hip-Hop back in the '80s. During the height of the original rap era, Cold Chillin' Records was then founded, and went on to change the game. Goin' Off chronicles the rise and fall of Cold Chillin' and its partnership with Warner Bros. Records. ( $23.49)
The Making of Alien by J.W. Rinzler
Titan Books
Author J.W. Rinzler did a in depth chronicling of the entire original Star Wars trilogy in three hardcover tomes, and now he is taking a deep dive into the world of Ridley Scott's Alien. This 336 page oversized hardcover is a comprehensive and definitive volume. It's the complete story of how Ridley Scott's sci-fi classic was made over forty years ago. This book features brand new interviews with Scott and other production crew; and includes many rarely-seen photos and illustrations from the Fox archives. If you've got an Ellen Ripley fan in your life, then this is THE gift to give. Jones the cat not included. ( $31.49)
Editor's Note: Nerdist receives a small percentage from purchases made from links on this page.
Featured Image Warner Brothers / Mondo / Titan Books