The Star Trek television franchise is currently thriving, but the movie series is currently in space dock. Paramount is developing many films, but has yet to decide on a direction. But the most obvious one is maybe staring them right in the face. If Chris Pine and Zachary Quinto don't return as Kirk and Spock in Star Trek 4, why not jump 100 years ahead and give us the alternate timeline version of the Star Trek: The Next Generation crew?
We think that giving fans a new version of these iconic characters could prove to be a huge success—and it would certainly get a lot of attention. With the iconic status of the characters, we know these are all big boots to fill. But we think we've found just the cast to do it. Here's our top picks for a possible TNG big screen reboot crew for the U.S.S. Enterprise.
Tom Hardy as Captain Jean-Luc Picard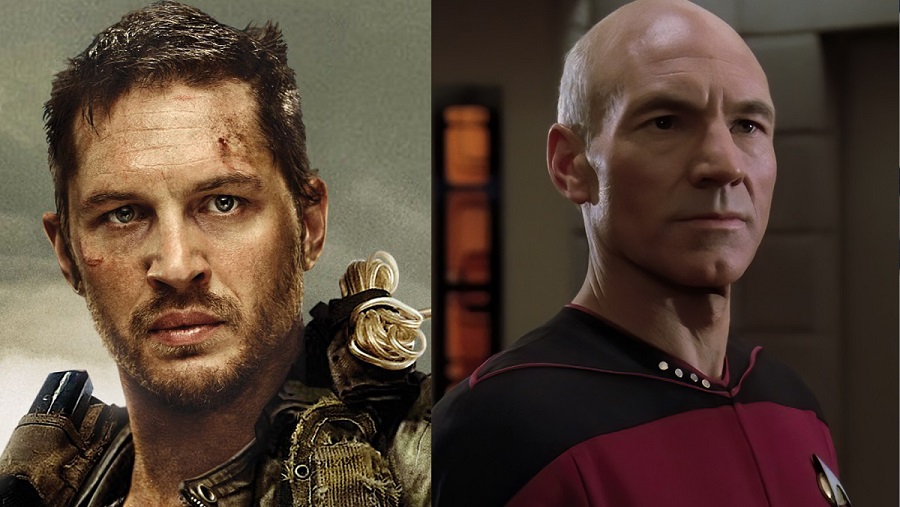 Warner Bros./CBS
Almost two decades ago, Tom Hardy played the younger clone of Captain Jean-Luc Picard in the feature film Star Trek: Nemesis. The movie bombed both commercially and critically, but most fans agree that Hardy is terrific in it. Now that he's gone on to major stardom, maybe he should get a bit of Trek-demption by getting cast as the alternate timeline's version of Picard? Interestingly, Hardy is now around the same age Sir Patrick Stewart was when he was cast as the Enterprise's Captain, so it may just be something that is meant to be.
Richard Madden as Commander William Riker
HBO/CBS
Game of Thrones' " Young Wolf" Richard Madden totally carries the same energy as young Jonathan Frakes did as Commander William Riker in the early seasons of Star Trek: The Next Generation. Just from his portrayal of Robb Stark alone, we know that Madden can totally display all the right leadership qualities. Just don't do like TNG did, and start Riker out without his beard. We like Richard with the fuzz on his face, thank you.
Tilda Swinton as Lt. Commander Data
Marvel Studios/CBS
Since this is an alternate timeline, who says that Dr. Noonian Soong's sentient android creation Data has to present as a man? For this Kevlin-timeline version of Lt. Commander Data, we'd cast the one and only Tilda Swinton. We think she would be a perfect choice to play the golden android, who is learning its place in the universe as the Picard's third in command. Swinton has that otherworldly quality, one that made her perfect casting in movies like Only Lovers Left Alive and Constantine. She could totally do justice to Brent Spiner's iconic character, and still forge her own positronic path.
Kelvin Harrison Jr. as Commander Geordi La Forge
NEON/CBS
To play the Enterprise's Chief Engineer, you need someone who can play both awkward and handsome at the same time, and can also easily portray being a brilliant scientific prodigy. Oh, they also have to somehow make a banana clip on their face not look totally stupid. For the role originated by LeVar Burton, we suggest Kelvin Harrison Jr. The young actor has been playing supporting parts in movies for years like It Comes at Night, but viewers might recognize him more from his recent turn in movies like Luce and The Trial of the Chicago 7.
Marie Avgeropoulos as Counselor Deanna Troi
Warner Bros. Television/CBS
The Enterprise needs her counselor, and Picard needs an empath by his side to tell him the obviously angry aliens about to attack are hostile. We kid, we kid. Deanna Troi is actually essential to Star Trek: The Next Generation, especially as one of the few characters that can actually tell Picard he's in the wrong without getting a demotion or some serious stink-eye. In the original series, Deanna was played by British actress Marina Sirtis, who is of Greek descent. We think the character should retain her Greek roots, so we suggest The 100's Marie Avgeropoulos. Time to switch out from a dystopian world to a Utopian one.
Jessica Chastain as Dr. Beverly Crusher
Warner Bros./CBS
Once upon a time, Jessica Chastain was everyone's first choice to play the older version of Beverly Marsh in It: Chapter Two. Fans got their wish, and Chastain actually landed the role. Now, we're hoping we can wish this fancasting into existence for Chastain to play another iconic Beverly—the Enterprise's Chief Medical Officer, Dr. Beverly Crusher. Chastain has all the presence and then some to play Starfleet's compassionate but no-nonsense top medical expert. And we wouldn't mind seeing some romantic sparks fly between herself and Tom Hardy's version of Picard. We think Gates McFadden would be honored to have the Oscar nominated actress pick up her medical tricorder.
John Boyega as Lt. Worf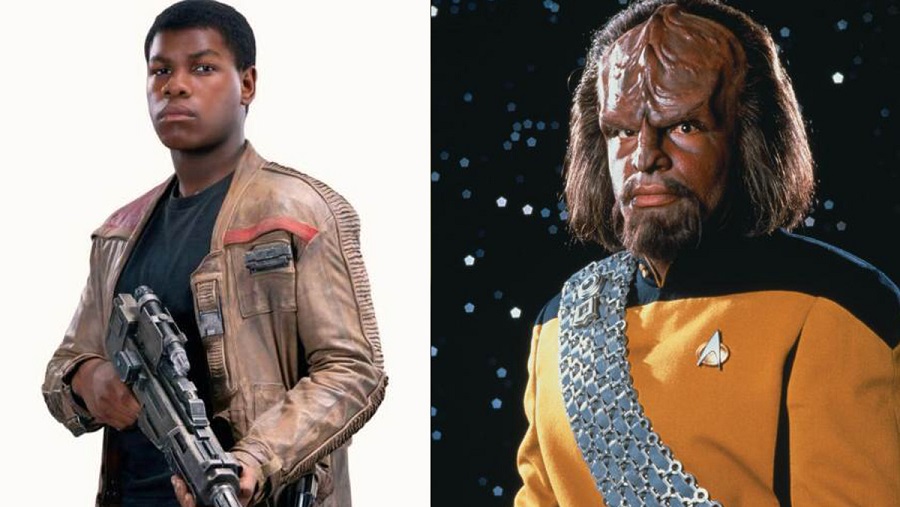 Lucasfilm/CBS
John Boyega is beloved by fans for his role of Finn in the Star Wars sequels. But he's gone on record as not being too thrilled about how his character developed in the trilogy. Well, maybe it's time to switch "Star" franchises then. The sullen Klingon officer Worf is easily one of the greatest characters in the entire Star Trek canon, and got a metric ton of character development over the course of two separate series. We think Boyega could kill it as the Son of Mogh, originally played by Michael Dorn. And when we say "kill it," we mean with a Bat'leth of course. And for anyone who thinks Boyega as too much of a "nice guy" type to play a Klingon badass, we suggest watching Attack the Block.
Lupita Nyong'o as Guinan
Marvel Studios/CBS
Another Star Wars sequel cast member who should jump ship from the Millennium Falcon to the Enterprise should be Lupita Nyong'o, in the role of Ten Forward's centuries-old bartender Guinan. This is a bit of typecasting, as Nyong'o already played a thousand year old, extremely wise bartender in Star Wars as Maz Kanata. But maybe she'd like to play a similar role without having to do motion capture, or voice an animatronic. And if anyone can make those ridiculous hats worn by Whoopi Goldberg on TNG look stylish, it's Lupita.
Noah Schnapp as Ensign Wesley Crusher
Netflix/CBS
You didn't think we'd forget the Enterprise's teenage wunderkind did you? The child-genius was often everyone's least favorite crewmember in the show's first season for being too much of a know-it-all. Who can forget Picard yelling " shut up Wesley!" on the bridge? But Wes developed into a crucial member of the crew, and a very capable officer. Stranger Things' Noah Schnapp, who played the sensitive Will Byers, exerts a lot of the same nerdy energy as Wil Wheaton's young ensign. Maybe it's time to beam out of the Upside Down and onto the Federation's flagship.
Featured Image: CBS