When will it no longer be "too soon" to make light of the Red Wedding? Never. It's one of three moments from Game of Thrones that will never be funny. (The other two are "Hold the Door" and the entire final season.) But we're okay with someone paying homage to that iconic moment, even if it seemingly softens the blow of Robb and Catelyn Stark's deaths. Which is why we happily approve of this fantastic Animal Crossing recreation of Walder Frey's despicable betrayal.
However, be warned: even a cute version of the Red Wedding is an emotional gut punch.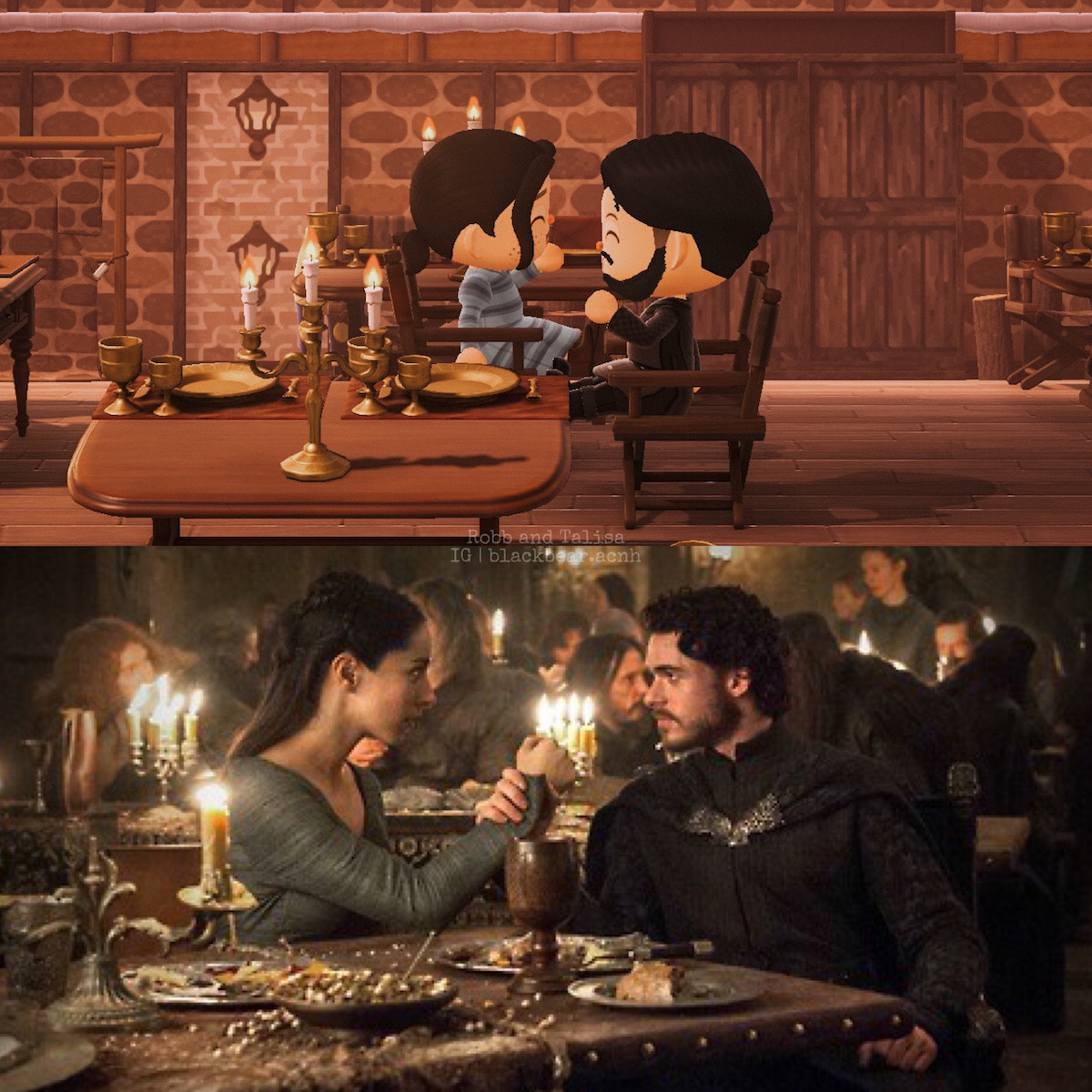 Jennifer Celi/HBO
Jennifer Celi brought one of the most shocking and emotional moments in television history to the normally serene world of Animal Crossing.
And the results are both delightful and upsetting.

Jennifer Celi/HBO
These recreations (which we first came across at Winter is Coming) feature some of the signature shots from that gut-wrenching scene.
From seeing Robb hold a pregnant Talisa's hand to the King in the North unknowingly standing before a duplicitous Walder Frey, these images bring up a lot of emotions we still haven't fully processed. (And don't plan to any time soon.)

Jennifer Celi/HBO
While these are incredibly fun, the playful, lighthearted quality of Animal Crossing does little to soften the awful slaughter that took place that night at The Twins.
How could it? This shot in any form is brutal to see.
Jennifer Celi/HBO
Oof. Oooooof.
At least Catelyn got to murder an innocent young woman before she died. Oh. Wait. That was also awful. But understandable.

Jennifer Celi/HBO
Ah, yes, we forgot how the Red Wedding fills us with overwhelming sadness. :drinks wildfire:
Fortunately Celi has also recreated some other memorable moments in Animal Crossing from Game of Thrones, which she shares at her Instagram page @Blackbear.acnh. These ones just make us smile.
Arya in Braavos

Jennifer Celi/HBO
Castle Black

Jennifer Celi/HBO
Craster's Keep

Jennifer Celi/HBO
Gates of King's Landing
Jennifer Celi/HBO
Queen Cersei and Jaime

Jennifer Celi/HBO
Joffrey and Margaery's Wedding

Jennifer Celi/HBO
Trial of Littlefinger
Jennifer Celi/HBO
Bran at the Weirwood
Jennifer Celi/HBO
Daenerys the Dragon

Jennifer Celi/HBO
Speaking of shots that look good in any form—wow that Dany with Wings is great.
Although, just like the Red Wedding, even in Animal Crossing thinking about the show's finale makes us sad. Some things about Game of Thrones will just never be funny or cute.
Featured Image: Jennifer Celi