We like to think that Marvel Studios maps out everything years in advance. But, some scenes start filming before anyone really knows what's happening next. Black Widow is a perfect example of that. Writer Eric Pearson wrote Black Widow and several other Marvel projects including Thor: Ragnarok, Ant-Man, Avengers: Infinity War, and more. And even he was in the dark when it came to a Black Widow plot point.
In a story from The Hollywood Reporter, Pearson revealed that he didn't even know which character would become Yelena's next target in the post-credits scene. Pearson wrote the scene featuring Julia Louis-Dreyfus' Valentina Allegra de Fontaine. When she hands Yelena (Florence Pugh) the photo for her next assignment, no one, not even Pearson, knew who the heck it was even going to be.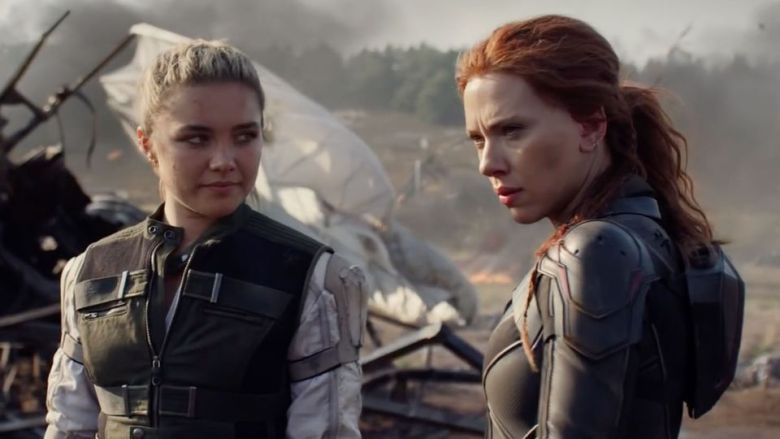 Marvel Studios
Pearson wasn't told where the story would go after Yelena received the photo with her next target. The target, as we have now seen, ends up being Jeremy Renner's Hawkeye. Except originally, the photo wasn't of anyone in particular. When Pearson asked who they were sending Yelena to kill, all he got was a shrug. Of course, as the writer of the thing, Pearson really wanted to know. And who can blame him?
Marvel Studios
Pearson recalls saying to his Marvel Studios bosses "Who am I screwing over? Something is going on! I don't have an answer for this." The truth of it all is, Marvel didn't have an answer for it either at the time. They simply told him "we are going to figure that out." And figure it out they ultimately did. Hopefully, we'll see the results in the Hawkeye series coming soon to Disney+.
In the Multiverse, which was just unleashed on Loki, there's a universe in which Yelena is going after someone other than Hawkeye. Is it Don Cheadle's War Machine? Maybe William Hurt's Thunderbolt Ross? Maybe we'll find out what one of these alternate targets was in a future season of What If…? It seems the perfect avenue to tackle that particular scenario. If anything, let this story be a lesson to anyone who thinks that all these cinematic universes and TV series "have a grand plan" going back years. Or need one to succeed. Almost none of them do.