Whenever a Disney Park unveils a new ride, it's reason enough to get excited. And when it's an entire new land, we can hardly contain ourselves. After last year's launch of Star Wars: Galaxy's Edge in Anaheim's Disneyland Park, we didn't think California would get anything new for awhile. Not so! This summer will see the arrival of Disney California Adventure's (DCA) Avengers Campus, an entire land dedicated to the Marvel Cinematic Universe's greatest heroes and their attempt to protect the world from evil.
While Avengers Campus is still a few months from opening—Summer 2020—Nerdist was among a small group of journalists invited to attend a day-long presentation of what people will find there, including intel on how many Marvel heroes you can expect to see walking around. The answer: a surprising lot.

Disney Parks
Campus Overview
Avengers Campus will occupy the same physical space as DCA's A Bug's Land once did. A Bug's Land was a heavily wooded area in the park with rides and attractions mostly catered to small children. When Avengers Campus opens, it will bear almost no resemblance to the quiet Pixar land. Judging from the plans, the Imagineers will cram as much Avengers goodness into the little area as possible. As Marvel Studios VP Dave Bushore told us at the presentation, they wanted to make visitors feel like they're walking into 80 years of Marvel Comics and ten years of the MCU.
The Campus will consist of five distinct segments. The star attraction is Guardians of the Galaxy – Mission: BREAKOUT!, which used to be The Twilight Zone Tower of Terror. This area sits at the northeastern edge of the Campus, and is where you'll find most of the cosmic weirdness and the Collector's treasure trove of specimens.
The new additions will be:
-Avengers HQ – A full-size version of the iconic Avengers home base, complete with a Quinjet perched on top. This is where visitors can see epic action sequences featuring your favorite superheroes battling some top-tier villains.
-Pym Test Kitchen – Hank Pym's technology gets applied to food and drink in a place for recruits to fuel up for the mission ahead. Food of unusual sizes. Also there'll be alcohol.
-The Sanctum – The Sorcerer Supreme himself, Doctor Strange, teaches you the secrets of the mystic arts; you'll also discover ancient magical artifacts.
-WEB Slingers – Find Spider-Man and help him in an interactive, state-of-the art ride experience.

Disney Parks
The Story
As with everything at a Disney Parks, story and theming are key. Imagineering staff writer Jillian Pagan told us their three core tenets for Avengers Campus are: "Heroism, Optimism, and Empowerment." They want visitors to feel like they're part of the adventure, not just witnessing it. The Avengers are looking for more members, and any one of you could get the call.
This Avengers Campus will "be aware" of the world and of other such campuses at other parks. It will also be informed by the events of the movies in the Marvel Cinematic Universe, though it's not beholden to them. Case in point, characters like Iron Man and Black Widow will appear in costume at Avengers Campus even though they died in Avengers: Endgame. (Spoilers, I guess.) The narrative excuse for this ties in with Dr. Strange and the Sanctum. A cracked ruin, the laws of time and space blur within this place and seep out to the rest of the Campus. All of the Marvel Universe could appear at any time, and it's always "now."
Let's break down the specific new areas a little further and get in-depth on the land's key attraction, Spider-Man's WEB Slingers.

Disney Parks
Avengers Headquarters
This will look familiar to fans of the movies. It's the central hub and base of operations for all the Avengers activities. Iron Man, in a park-premiere Mark LXXX armor, will meet and greet new recruits out front. On the ramparts, fans can watch full choreographed fight sequences featuring heroes and villains.
At launch, Black Widow villain Taskmaster will stalk Avengers Campus and it'll be up to heroes like Widow, Captain America, and Black Panther to face him. Famously, Taskmaster has photographic reflexes, meaning he can instantly adapt his fighting style based on who he's fighting. Just imagine what that will look like when he comes across Black Panther.
These action sequences will erupt throughout the day, and it won't require anyone to wait in line or get a special ticket. They're just there for you to watch while you're at the Campus. The actual team from Black Widow devised the choreography.
Just across from HQ, Okoye (a costumed character that will debut at DCA with the launch of Avengers Campus) will train young and old alike to join the Dora Milaje.

Disney Parks
Pym Test Kitchen
While we'll detail the specific food and beverage options in a different article ( this one!), Pym Test Kitchen will provide recruits a place to eat and drink crazy new concoctions. The idea behind this eatery is that Pym (and Hope Van Dyne and Scott Lang) are bringing the Pym Particle shrinking and enlarging technology to food. Some foods will be huge and some will be tiny, depending on if they've been treated with blue or red particles, respectively.

Disney Parks
The interior of the Test Kitchen looks like a massive quantum tunnel like in Ant-Man and the Wasp. Overhead, patrons will see regular sized pretzels on a conveyor belt receive a Pym Particle bombardment and become giant. In a condiment station, massive ketchup and mustard bottles above you will spout all the sauces you need.
Outside, you'll find the bar area for some delicious alcoholic beverages. Scott Lang was in charge of designing the bar, so a giant beer can and some enlarged Christmas lights adorn the space. Here you'll also get to sample Pingo Doce, the Brazilian soft drink we saw in The Incredible Hulk.

Disney Parks
The Sanctum
Mostly just a cool area to hang out and learn some magic from Dr. Strange. But since, within the storyline of the Campus, this is where the time and space fissure emanates, it's a key spot. During the day, the ruins blur the lines between past and future; at night the area lights up in a dazzling display of floating polyhedrons and sparkly trees.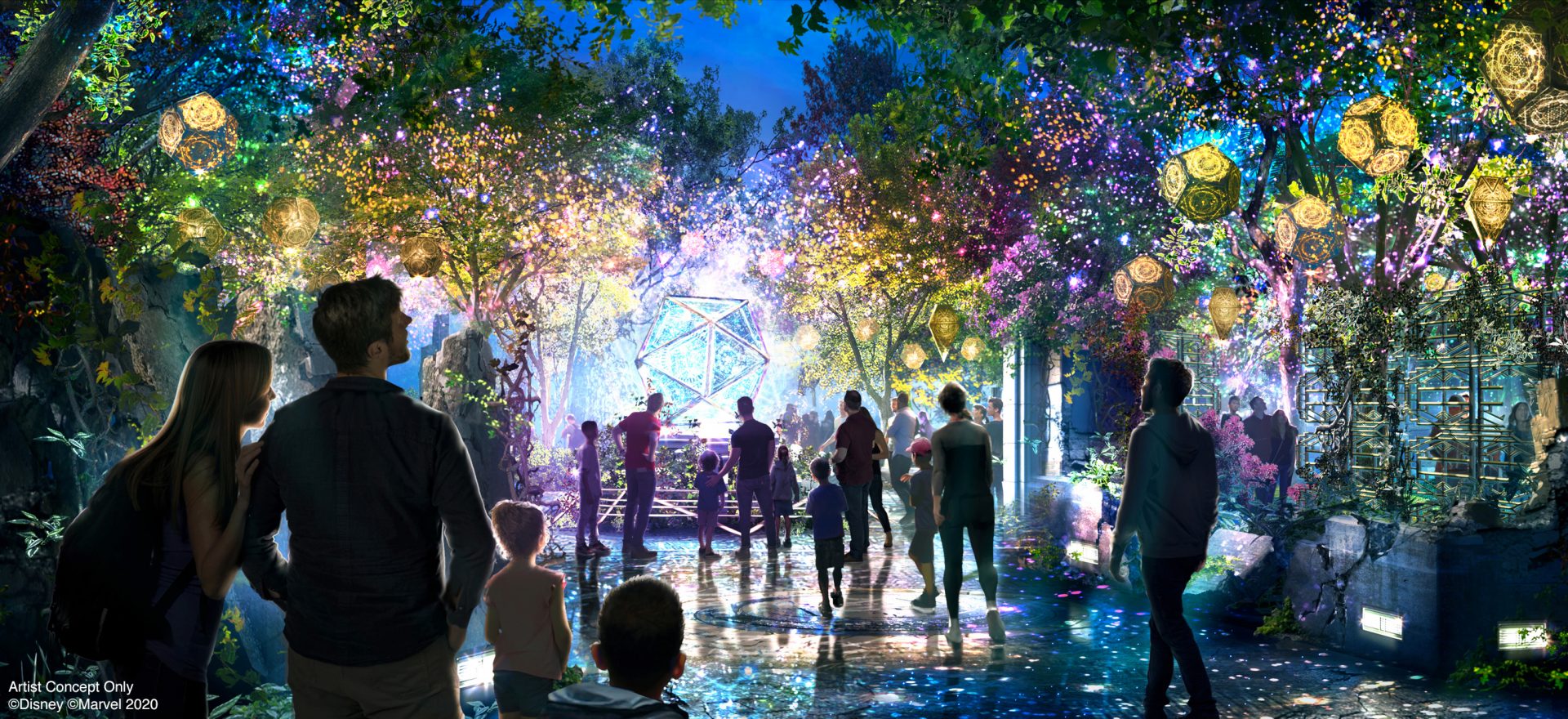 Disney Parks
Principal Color and Paint Artisan Heidi Rosendahl explained that replicating an image or a sequence from a movie in theme park form is much more difficult. Buildings and areas that are old within the story need to look old, even if crews built them a few months ago. "Theme park goers can break the story," she said, which necessitates functional spaces as well as cinematic moments. Doing this in an outdoor environment, like the Sanctum, is especially hard since people can walk around everything in 360-degrees. "Environment conveys story," she said, "through texture, color, light, and graphics."

Disney Parks
WEB Slingers and WEB Suppliers
Without doubt, the biggest new attraction of Avengers Campus is the westernmost section, WEB. This is an acronym for Worldwide Engineering Brigade. Naturally, this is where fans can expect to get up close and personal with Spider-Man, in a park-specific suit. Tom Holland will be providing the voice. But they can also help him. Imagineer Brent Strong broke it all down for us. WEB Slingers: A Spider-Man Adventure will initially take guests on a tour of the WEB facility, a place in which young people can help innovate for the future. As Spidey unveils his new Spider-Bots, the little robots get loose and start wreaking havoc around Avengers Campus.
So, as usually happens in a theme park ride, it's up to you to help Spider-Man retrieve and stop the metallic menace. Using advanced "visual enhancer goggles" and motion-mapping technology, you'll get to shoot webs from your very hands. That's right, you won't have to put on gloves or hold on to a gun; if you flick your hands out like Spider-Man, you'll see, through your goggles, webs shoot from your hands.

Disney Parks
The ride is indoors, but through the story it will seem like you're traveling all over Avengers Campus, shooting at the Bots and using pieces of the environment to stop them. The webs will interact with anything on the screen. Avengers HQ's Quinjet, or the giant beer can from Pym Kitchen, for example. The gesture recognition software maps your movements 60 times per second, so anywhere you think to shoot, it'll put a web there.
On top of the WEB building is also where you'll see Spider-Man doing aerial acrobatics, flipping and swinging right above your very head. Once he's done flipping, he'll come out and meet people too. He's your friendly neighborhood Spider-Man, after all.

Disney Parks
The area's major merch shop will be WEB Suppliers. We'll have a fuller account of what you can buy there, but maybe the biggest cool thing will be your very own remote controlled Spider-Bot. All eight legs move as they walk side-to-side or squat down. If your friend has one, you can battle them as well using LED lights and sounds.
Characters
And maybe the most impressive thing, aside from the land itself, is just how jam-packed full of costumed characters it is. During the presentation, Dan Fields, Executive Creative Director, Disney Parks Live Entertainment, called it the "largest assembly of these heroes anywhere." Unlike other parts of the park where a character's appearance is carefully scheduled, you're likely to run in to some heroes any time you're there. In addition to Taskmaster, you'll probably see Loki lurking around. And as the movies continue, and Avengers Campus is up and running for longer, more and more characters will cycle through.
Disney Parks
Fields introduced Ant-Man and the Wasp in full costume, a first for DCA. But that wasn't enough! You want Avengers, well you'll get 'em.
-Iron Man (not pictured)
-Black Widow
-Black Panther
-Thor
-Captain America
-Captain Marvel
-Spider-Man
-Dr. Strange
-Star-Lord
-Gamora
-Groot
-Okoye
-Dora Milaje
And those are just the ones I remember seeing! There were probably others, but the room was pretty packed.
In truth, for fans of the MCU, Marvel Comics, or just integrated story and environment in theme parks, Avengers Campus seems right up your alley. There are 80 years of characters to see and they aren't wasting any time.
Avengers Campus opens at Disney California Adventure on July 18, 2020.
Featured Image: Disney Parks
Kyle Anderson is the Senior Editor for Nerdist. You can find his film and TV reviews here. Follow him on Twitter!