People call Peter Parker "your friendly neighborhood Spider-Man," and soon, that neighborhood will include Disney theme parks. They're incorporating new, immersive Marvel-themed lands into Disneyland Resort in Anaheim, California and Disneyland Paris. And when Spidey swings into action at his new digs, he's going to have a new costume designed for the occasion!
According to the Disney Parks Blog, both Disney California Adventure park at Disneyland Resort and Walt Disney Studios park at Disneyland Paris will soon open a new attraction where guests of all ages can join the heroes in action. The setting for this experience will be an all-new new organization created by Tony Stark: the Worldwide Engineering Brigade, a.k.a. WEB. Stark started WEB to develop advancements in super-powered technology, including new enhancements to Spider-Man's suit as their debut project. Characters like Peter Parker will be at the forefront of WEB, but ultimately, it will be an organization everyone can be part of.
As part of WEB, Walt Disney Imagineering will debut a brand new, cutting edge interface for this interactive attraction. Disney Parks Blog explains, "Through a blend of never-before-seen technology and practical effects, guests will get to experience for themselves what it is like to have the abilities of a Super Hero. This adventure will blend seamlessly into the story of the new lands we're creating at both Disney California Adventure park and Walt Disney Studios park."
And the Spider-Man swinging through these lands sports a new suit that you can see now at Walt Disney Studios, and soon at Disney California Adventure. Ryan Meinerding, Head of Visual Development at Marvel Studios, designed the Spidey suit. It appears very similar to the costume Tom Holland wears in the films, differences exist—Spidey's got silver web shooters, and the spider emblem is much larger.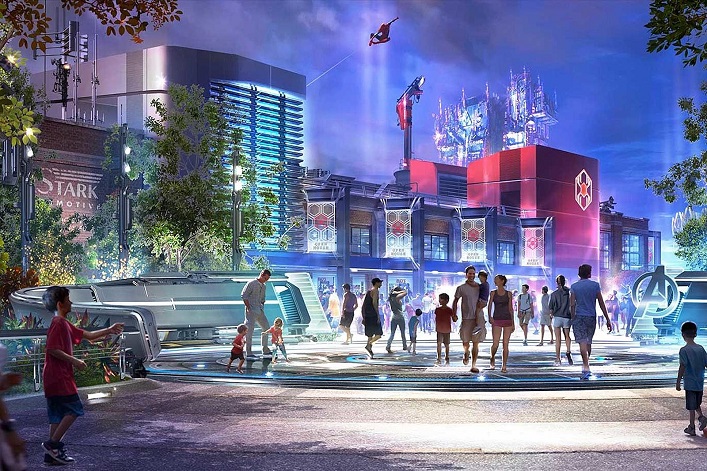 Meinerding told Disney Parks Blog, "It has been the highlight of my career to design all of Spider-Man's suits for the most recent films. Bringing him to life through Tony Stark's capable design aesthetic was a true joy, but working with the Walt Disney Imagineering team to develop a look for Spidey that reflects the innovation of a team of young geniuses really brings him to a new level."
The Marvel themed lands don't have an official opening date yet.
Images: Disney