In addition to Star Wars, Marvel, Pixar, and their own Walt Disney Animation Studios, Disney has found itself yet another lucrative, audience-pleasing franchise. We're talking about the live-action adaptations of their own classic animated films of yesteryear. It started with the billion dollar success of Alice in Wonderland in 2010, followed by hits like Maleficent, Cinderella, and The Jungle Book. Then, over the past few years, they had triple billion dollar successes with the live-action versions of Beauty and the Beast, Aladdin, and The Lion King.
Walt Disney Pictures
Because of their enormous success with these remakes, Disney has a metric ton of new live-action adaptations set for release in the near future. Not to mention sequels to their previous live-action hits. Many of these are heading to movie theaters, but some are coming exclusively to the Disney+ streaming service. So if you're finding it hard to keep track, here's every live-action adaptation of a classic Disney animated film in the works.
The Lion King 2
Walt Disney Pictures
The Lion King remake made over a billion dollars in summer 2019, so a sequel was inevitable. Simba and friends will return. Deadline reports that Disney has tapped Moonlight director Barry Jenkins to helm the follow-up to the CGI version of the 1994 animated classic. Jon Favreau directed that film, but he is busy these days with The Mandalorian. This looks to be both a sequel to the original and a prequel, as the original report states "the story will further explore the mythology of the characters, including Mufasa's origin story."
The Little Mermaid
Walt Disney Animation Studios
Given its iconic status, this ranks as one of the most anticipated projects on the list. Alan Menken, who co-wrote the original score, will return to collaborate on the new music with Hamilton's own Lin-Manuel Miranda. Miranda recently starred in Mary Poppins Returns and composed songs for Moana. Starring as Ariel is Halle Bailey, with Jonah Hauer-King as Prince Eric. Ursula the Sea Witch is none other than Melissa McCarthy. Chicago and Into the Woods director Rob Marshall is at the helm. 2022 seems to be the earliest release window for Ariel and friends.
Aladdin 2
Walt Disney Pictures
Despite skeptical fans of the original, Guy Ritchie's take on Aladdin ultimately won over critics and audiences in summer 2019. In fact, Will Smith's version of the Genie wound up stealing the show. Early in 2020, Disney announced that they were working on a sequel, which will not be based on the old straight-to-VHS continuations from the '90s. Instead, it will be a totally original idea and script from Oscar-nominees John Gatins (Flight) and Andrea Berloff (Straight Outta Compton). No word yet on director, cast, or release date.
Cruella
Walt Disney Pictures
Technically the second remake of 101 Dalmatians (remember the '90s one starring Glenn Close?), Cruella will focus on the younger days of the villainous Cruella de Vil, with Oscar winner Emma Stone in the title role. Playing the older version of Cruella will be none other than Emma Thompson. Craig Gillespie is directing this reimagining taking place in the '70s punk rock era. The film also stars Paul Walter Hauser and Joel Fry and will hit cinemas on May 28, 2021.
Pinocchio
Walt Disney Animation Studios
A couple years back, Disney announced that a live-action Pinocchio would soon hit theaters, from Paddington director Paul King. This version never came to be however. Now, Hollywood legend Robert Zemeckis, the man behind Back to the Future, Forrest Gump, and Who Framed Roger Rabbit?, will direct his version of the classic story. He will also co-write the script with Chris Weitz. No release date or casting has been announced for this one yet.
Peter and Wendy
Walt Disney Animation Studios
Get ready to book your return flight to Neverland. Disney is reimaging their 1953 take on J.M. Barrie's classic Peter Pan, with Alexander Molony and Ever Anderson in the title roles of Peter and Wendy. More exciting is the notion that Jude Law is playing the nefarious Captain Hook, and that Tinker Bell will be played by Blackish star Yara Shahidi. This would be the first African-American actress to play the part in film. Helming this new take on the Lost Boys is David Lowery.
Hercules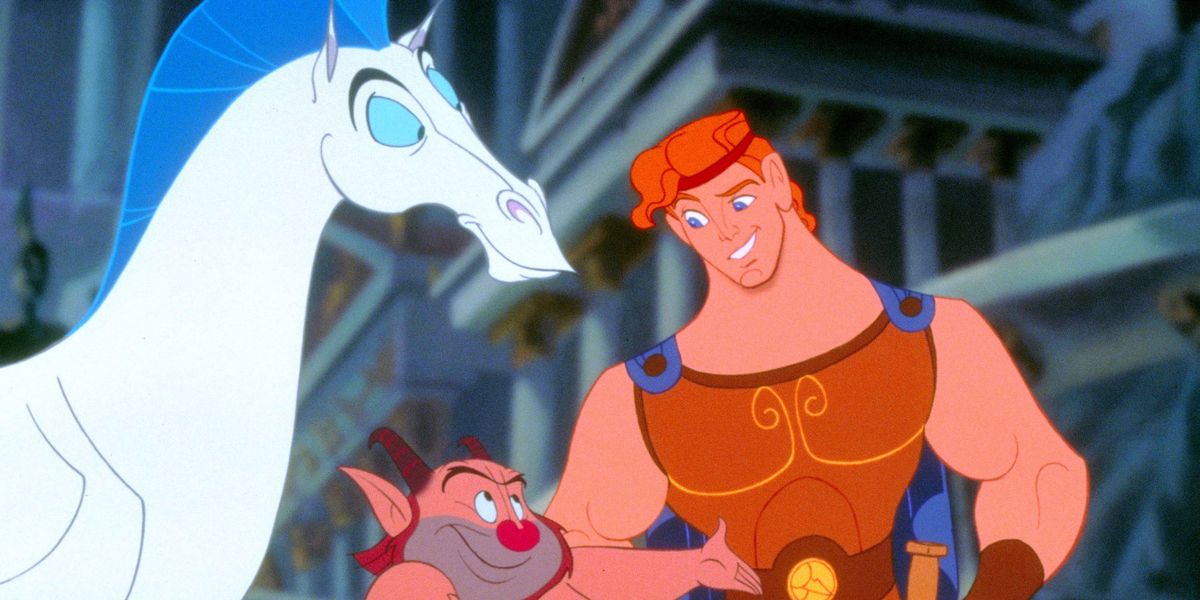 Walt Disney Animation Studios
Another modern classic from the '90s era is coming our way in an all-new iteration. Avengers' own Joe and Anthony Russo are on board as producers for a Hercules story. Shang-Chi and the Legend of the Ten Rings' writer Dave Callaham is attached to write the screenplay. Fitting, since Herc is kind of the first superhero. This one was only just announced in the summer of 2020, so don't expect to see it for some time yet.
Lilo & Stitch
Walt Disney Animation Studios
This reimagining of the 2002 film, which tells the story of a young Hawaiian girl who befriends a spazzy alien, will be written by Mike Van Waes and produced by Dan Lin and Jonathan Eirich. This is the pair behind the live-action retelling of Aladdin. It's been reported that this is another one that will head straight to the Disney+ streaming platform, although that hasn't been confirmed. Not much else has been heard about the Lilo & Stitch remake since it was first announced back in 2018.
The Sword in the Stone
Walt Disney Animation Studios
It looks like this tale of a young King Arthur and the wizard Merlin, which first hit theaters in 1963, is also getting a modern update. This one comes from 28 Weeks Later director Juan Carlos Fresnadillo. It will feature a script from Game of Thrones' co-producer Brian Cogman. The Sword in the Stone appears to be heading to the Disney+ streaming service as opposed to a theatrical window, although no release date has been revealed as of yet.
Robin Hood
Walt Disney Animation Studios
The anthropomorphic animals version of the British legend was a minor hit for Disney back in the early '70s. Now, a new version is coming to the Disney+ streaming service. In April of 2020 we learned that Disney had hired Carlos Lopez Estrada, director of 2018's Blindspotting, to create a live-action version of Robin Hood. Lady and the Tramp's Kari Granlund is writing the script. We imagine this will be done using the same technology Disney used for The Lion King, so calling it "live-action" might be a stretch. How about just say "photorealistic?"
Bambi
Walt Disney Animation Studios
Speaking of photorealistic adaptations, we imagine that the upcoming remake of Bambi will also use the same technology developed for The Lion King. Simply because there are no humans to speak of in this classic story of woodland creatures. Disney recently hired writers Geneva Robertson-Dworet (Captain Marvel) and Lindsey Beer (Sierra Burgess Is a Loser) to write the screenplay for this reimagining. No word yet on if this new Bambi will head to theaters or directly to the Disney+ service. And we don't have a production start or release date for Bambi. Honestly, we're just excited to see Thumper and Flower.
The Hunchback of Notre Dame
Walt Disney Animation Studios
Disney's 1996 animated film adaptation of the classic Victor Hugo novel wasn't as beloved as other Disney Renaissance hits of the era, but it's got a live-action version in development regardless. According to Deadline, Tony-winning M. Butterfly playwright David Henry Hwang is set to write the screenplay for Hunchback, and Alan Menken and Wicked's Stephen Schwartz will write the music.
Snow White and the Seven Dwarfs
Walt Disney Animation Studios
This was Walt Disney's first animated feature film, so they have to get this one just right. A live-action version was announced back in 2016 by The Hollywood Reporter, from writer Erin Cressida Wilson. La La Land's Benj Pasek and Justin Paul are attached to write new music. Then, we didn't hear anything for a long time. Finally in 2019, we got some traction on this one. Marc Webb, director of the two The Amazing Spider-Man films, was announced as directing.
Night on Bald Mountain
Walt Disney Animation Studios
This one would be based on the super creepy but (but super badass) segment from the 1940 classic Fantasia, about a winged giant demon named Chernabog who lords over a small village and sets his minions upon it at night. Not much has been heard about the project since it was announced way back in June of 2015, so the status is murky.
And that's just the beginning…
If you think they'll run out of titles to remake any time soon, I remind you there's still Tangled, Princess and the Frog and Frozen, among many, many others. And they haven't even begun to translate the Pixar films like Toy Story and Finding Nemo, which are now classics in their own right. This train has only just left the station.
Images: Walt Disney Pictures
Originally published on January 19, 2019, with updates on September 29, 2020.
This post has affiliate links, which means we may earn advertising money if you buy something. This doesn't cost you anything extra, we just have to give you the heads up for legal reasons. Click away!