In lieu of both San Diego Comic-Con and New York Comic-Con being cancelled this year due to COVID-19, DC Entertainment has chosen to have their own big convention. All done virtually, of course. The first ever DC FanDome: Global Experience is scheduled for August 22 and will feature panels and announcements from every aspect of DC Comics-based media. All available to fans for 24 hours.
DC Entertainment
Among them are 24 different movies and TV series currently in production. But on the official website, it asked for fan questions regarding for two "Secret Films." Which, of course, suggests that at least two mystery projects are going to be formally announced at the event. The options for Secret Film 1 and 2 have since been removed, once sites such as The Direct noticed them. But they were definitely there. Seems like the cat is out of the bag.
What could these two "Secret Movies" actually be? Luckily, there have been enough announcements over the past few years that we can venture at least a few good guesses. Here are our top 5 picks for DC FanDome's potential films that could make huge headlines sometime next month.
The New Gods (Probability: 8/10)
DC Comics
A live-action film based on Jack Kirby's seminal saga was announced as being in development a couple of years ago, with Selma director Ava Duvernay at the helm. Last year, she recruited Mister Miracle writer Tom King to join her as screenwriter. Not much has been said about the project since then, but it would not be shocking if Warner Brothers formally used the FanDome event to announce production and a release date for the big screen adaptation of the Fourth World saga. Zack Snyder's Justice League might not be the only place that Darkseid shows up in.
Green Lantern Corps (Probability: 7/10)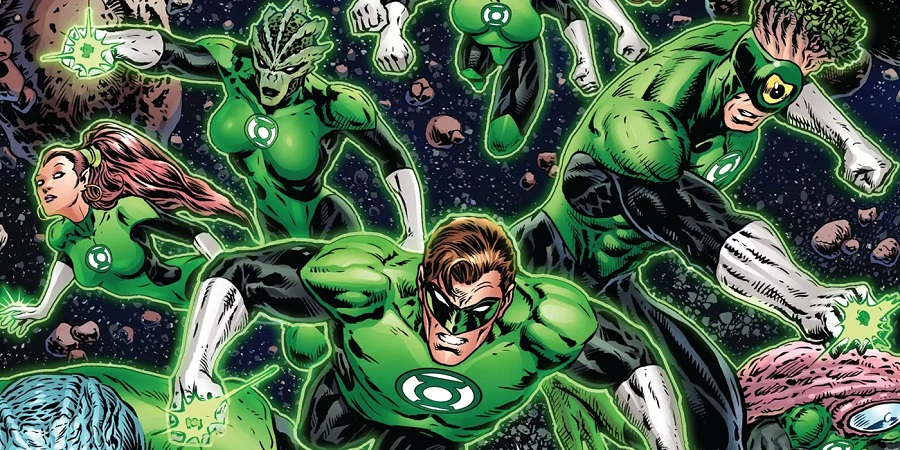 DC Comics
Although a Green Lantern series is coming to HBO Max, produced by Greg Berlanti and Geoff Johns, there are still plans for a live-action big screen adventure. It's entirely possible that the HBO Max series is a prelude to whatever Warner Brothers and DC plan on cooking up as feature film. It could be that the streaming series focuses on just a handful of Lanterns, while the movie features a big outer space team, similar to Guardians of the Galaxy. This DC FanDome event might be the best place to announced a much larger Green Lantern based initiative involving both TV and films.
Batgirl (Probability: 6/10)
DC Comics
This is another film that has been in development seemingly forever. It started with a live-action film that Joss Whedon would have directed, but he dropped out after a year. Then a new screenwriter was announced: Birds of Prey's Christina Hodson. But since that announcement, nothing much has been heard about the project. Now might be the time to change that.
Barbara Gordon is one of DC's most high profile heroes who currently doesn't appear in any live-action media. And it seems like it's high time to correct that. Rumors suggest that a returning Michael Keaton might act as a mentor to her in a potential film. But while Batman should appear, Babs has never been one of his Robins. She was always more "inspired by the Dark Knight" than actually partnered with him. Hopefully that's not the case. However, Bruce Wayne as mentor should be the premise for our next entry.
Batman Beyond (Probability: 6/10)
Warner Brothers Animation
A film adaptation of the Bruce Timm animated series has been rumored for years, and is something fans have wanted to see forever. Nearly twenty years ago, a movie version of the 1999-2001 cartoon was in active development, but it got dropped in favor of Christopher Nolan's Batman Begins. With the news of Michael Keaton possibly returning as Batman, this has made those rumors take on some new heat. Keaton is just about the right age to take on the role of an elderly Bruce Wayne training his replacement, teenager Terry McGinnis. This seems like a no-brainer. I still think it's a few years away, but an announcement wouldn't be out of the question.
J.J. Abrams' Superman Film (Probability: 3/10)
Warner Brothers
This is another one that seems a little "pie-in-the-sky." But stranger things have happened. Right now, there are a lot of different pieces moving around that seem to indicate this could become a reality, and it would certainly be a huge reveal that would break the internet. For starters, J.J. Abrams recently signed a huge development deal with Warner Brothers, and working on "big IP" is part what they want Abrams in on. Justice League Dark for HBO Max is said to be one of those. But we know WB has bigger things in mind for J.J.
Most importantly, we know J.J. is a big Superman fan. He wrote a script for a movie about the Man of Steel called Superman: Flyby nearly twenty years ago. In Hollywood, Abrams is the king of the "soft reboot," meaning he could do a whole new take on Superman that still has Henry Cavill in the role. That's something a large majority of fans want. The probability for this one is kinda low…but it sure would be a big headline for this event, wouldn't it?
Featured Image: DC Comics