Sideshow Collectibles and Hot Toys have been blowing us all away with their Marvel Studios premium format figures recently. Now, they are about to knock us on our feet with several Star Wars offerings, featuring characters from Clone Wars, Revenge of the Sith, The Mandalorian, and more.
All of these reveals are part of May the 4th Be With You Fan Week, starting May 3 and running through May 7. Check out some of these amazing representations of your favorite iconic characters right here.
Clone Wars Obi-Wan Kenobi and Anakin Skywalker 1/6 Scale Figures
Sideshow Collectibles
Starting things off are Obi-Wan Kenobi and his best friend/former student Anakin Skywalker in 1/6 scale format. No release dates for these Clone Wars animated series-accurate figures yet, but we do have our first glimpse at the prototypes. And they are a gorgeous sight to behold. Who gets the high ground when posing them is up to you.
Mythos Clone Wars Anakin Skywalker Statue/Darth Vader Premium Format Figure
Sideshow Collectibles
Speaking of the Chosen One, also coming soon is this Mythos statue of Anakin Skywalker. The preview picture makes us long for warm summers on Mustafar. Also coming soon is Anakin in his Sith Lord persona, Darth Vader, in a new premium format figure. No other details for either are available yet.
Star Wars: Rebels Ahsoka Tano Premium Format Figure
Sideshow Collectibles
Next is former Jedi Ahsoka Tano, as we see her in Star Wars: Rebels. The Premium Format Figure measures 19.5" tall and 14" wide. The Togruta warrior strikes a battle-ready stance on a Malachor-themed base. Her iconic dual lightsabers are at the ready, surrounded by the crumbling structure of an ancient temple. Figure includes a sculpted Morai proximity piece, depicting her beautiful green convor companion. Pre-order is up at $585.00. Shipping May-July 2022.
The Mandalorian 1/6 Scale Figures
Sideshow Collectibles
One of the early episodes of The Mandalorian featured Din Djarin riding a Blurgg on Arvala-7. Now Mando and his reptilian ride arrive in a new sixth-scale figure set. Standing at approximately 37cm tall (43cm with base) and 60cm in length, it showcases a greatly detailed head and body, articulated arms, a saddle, and a rocky theme display stand. Pre-order is up at $555.00. Shipping April-June 2022.
Sideshow Collectibles
"This is the way." The Blurgg's Ughnaught keeper Kuiil is also coming soon, though no date announced just yet. Other Mandalorian-themed sixth-scale figures coming soon are Mando on his swoop bike, and an artillery Stormtrooper.
Grogu Sixth-Scale Figure Set
Sideshow Collectibles
Where Mando goes, so does Grogu. This 1/6th scale collectible Baby Yoda set features the skillfully crafted version of the Force-sensitive tyke. He comes in three different poses, with two styles of prams, a loth-cat, and a one-eyed frog. Mando simply isn't complete without his little guy. One of the more affordable offerings, Grogu is priced at $145.00. Shipping January to March in 2022.
General Grievous 1/6 Scale Figure and Art Scale Statue
Sideshow Collectibles
" Hello there!" The fiendish droid General Grievous gets a pair of incredibly detailed Sideshow Collectibles. The sixth-scale figure is 16" tall with a detailed cybernetic body. It comes with clawed feet and multi-jointed limbs. The Revenge of the Sith baddie also includes a removable gray fabric cape with red inner lining that features pockets for storing lightsabers. Grievous includes a pair of fused arms and a pair of switch-out split arms for recreating his infamous battle stance. You can pre-order the General now for $285.00. Shipping in June-August 2021.
Sideshow Collectibles/Iron Studios
Grievous is also arriving from Sideshow and Iron Studios, in the latest from the Battle Diorama Series Art Scale 1:10 line. This Art Scale Statue is a limited edition and comes with a detailed hand-painted base. Pre-orders are available now, priced at $365.00. Shipping in January to March 2022.
The Rancor Beast Deluxe Statue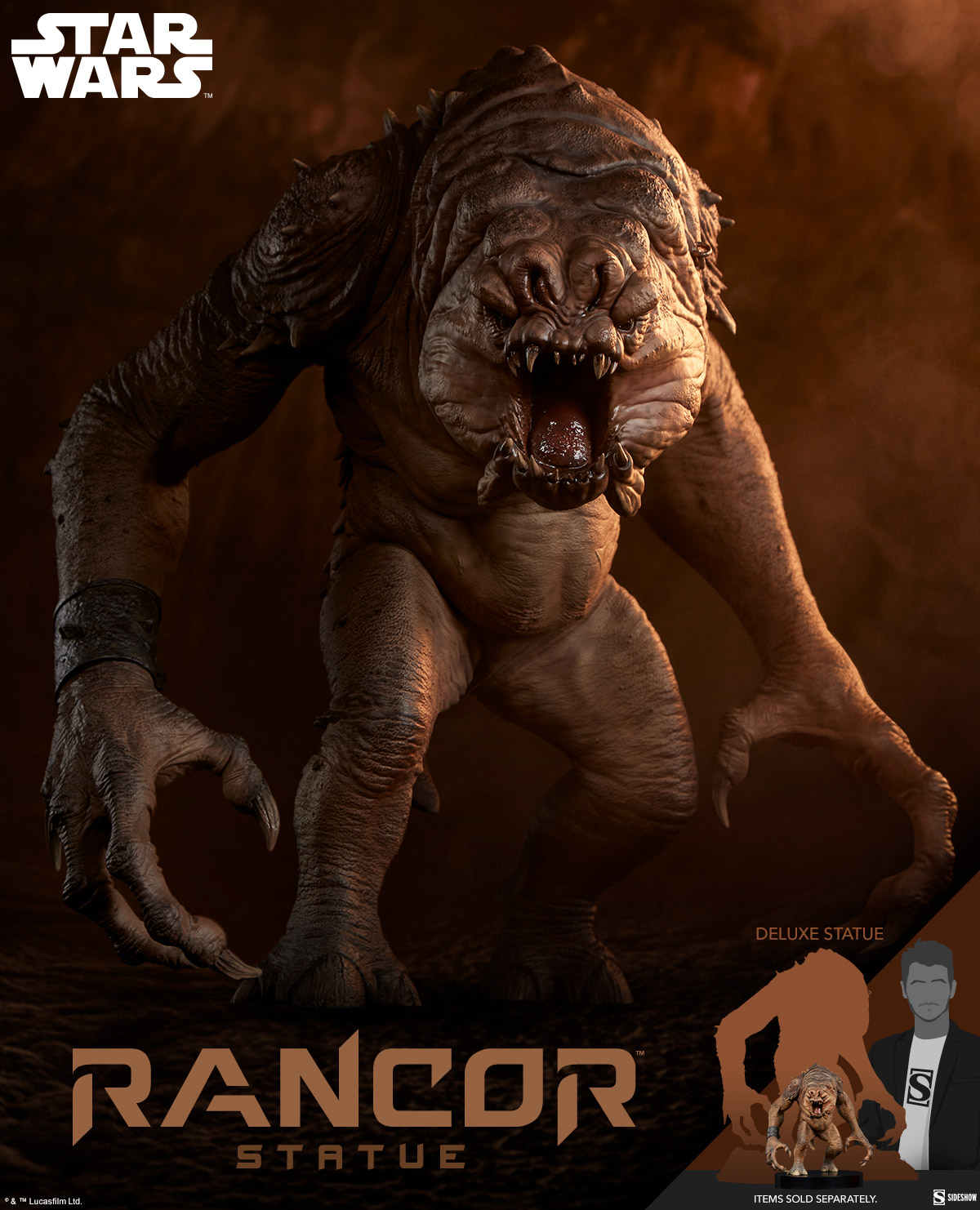 Sideshow Collectibles
As C-3PO once said so very eloquently, " Oh no! The Rancor!" All we have for this great galactic beast so far is this image, but more news is forthcoming on the deluxe statue soon. We hope his sad keeper gets a statue too.
Stormtrooper Commander 1/6 Figure
Sideshow Collectibles
This Stormtrooper commander just wants to know how long you've had those droids. Now move along. This 1/6 scale Imperial figure ships October-November 2021. You can pre-order this figure now for the price of $220.00.
The Bad Batch Echo and Hunter 1/6 Scale Figures
Sideshow Collectibles
The Bad Batch just premiered on Disney+, but Sideshow and Hot Toys already have sixth-scale figures planned. The former ARC Trooper Echo is now part of Clone Force 99, and is more machine now than man. Joining him soon is the Bad Batch's leader, Hunter. No release date for Hunter is available yet, but Echo will ship starting April to June 2022. Echo will set you back $285.00.
For more images from May the 4th Be With You Fan Week, head on over to the official Sideshow Collectibles website.