UPDATE: 04/14/2020
While not a ton is happening in the cinema world amid COVID-19, we do have at least a probable bit of news. While speaking to ComingSoon about his new Quibi series 50 States of Fright, director Sam Raimi tacitly confirms he's working on the second Doctor Strange movie. Back in February, following Scott Derrickson's exit from the picture, we heard Raimi was in talks to step in. Now, it seems, that is so.
ComingSoon asked Raimi about an offhanded reference in Spider-Man 2 in which Hoffman submits the name "Dr. Strange" as a possible Daily Bugle name for Doctor Octopus. J. Jonah Jameson likes it, but says "It's taken" already. In his response, Raimi talks about how Doctor Strange was never one of his top heroes, but he's always appreciated the style.
The quote:
"I loved Doctor Strange as a kid, but he was always after Spider-Man and Batman for me, he was probably at number five for me of great comic book characters," Raimi described. "He was so original, but when we had that moment in Spider-Man 2 I had no idea that we would ever be making a Doctor Strange movie, so it was really funny to me that coincidentally that line was in the movie. I gotta say I wish we had the foresight to know that I was going to be involved in the project."
While that's not an official confirmation from Marvel, it would make sense given the pre-production for Multiverse of Madness is apparently continuing in a socially distant fashion for a proposed June production start. And Raimi isn't one to speak blithely, so we're inclined to believe he'll direct Doctor Strange 2.
ORIGINAL NEWS: 02/05/2020
Doctor Strange in the Multiverse of Madness suffered a setback a few weeks back when they lost the director of the first film, Scott Derrickson. But now the man who gave us the original Spider-Man trilogy himself, Sam Raimi, is looking to make his MCU debut and is going to helm the mystical sequel, according to Variety.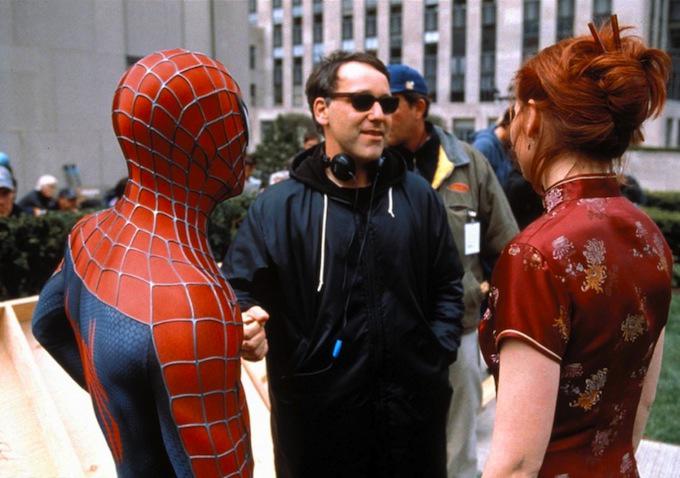 Sony Pictures
The news that Scott Derrickson was leaving the project took everyone by surprise. The director of Sinister came out on stage as recently as San Diego Comic-Con last July to announce that he was officially coming back. And was seemingly very excited about the prospect. But with his leaving due to creative differences, people wondered if Marvel Studios could find someone exciting to take over the film with so little time to go before filming was to begin. Getting the man who helped kick start Marvel as a gigantic film brand is a huge get; it should get MCU fans extremely excited.
Marvel Studios
This isn't the first time that Sam Raimi has been attached to a Doctor Strange project. Many, many years ago, long before the Marvel Cinematic Universe was a glimmer in Kevin Feige's eye, Raimi was attached to direct a movie about the Sorcerer Supreme. But this was long before the current superhero movie revolution, and the film never got off the ground. But it looks as if The Evil Dead trilogy director is finally going to scratch his Doctor Strange itch after all.
It was also announced in the same report that announced Raimi that Benedict Wong and Chiwetel Ejiofor are also going to reprise their roles from the original film.So that means that the tease at the end of the first film which began Baron Karl Mordo's evolution into a villain will indeed pay off. And as reported before, Elizabeth Olsen has been tapped to reprise her role as Scarlet Witch in a storyline that will spin off from the upcoming Dinsey+ series WandaVision. Rachel McAdams won't be coming back though as Strange's colleague and love interest Christine Palmer.
Marvel Studios
With the movie being about "the Mutliverse of Madness," one has to wonder if Raimi will find a way to tie his version of Spider-Man to the Marvel Multiverse, and if we'll see Peter Parker once again played by Tobey Maguire. It would probably just be a cameo if it does indeed happen, but given the nature of this movie, it would seem impossible to resist. Given the rumors that Marvel Studios wanted Patrick Stewart to cameo in the film as Professor X from the Fox X-Men films, maybe our theory that pre-MCU films will get canonized as being part of the Multiverse. Certainly, fans would collectively lose their minds over something this cool.
With Scott Derrickson departing, many thought the more horror-esque elements would be left out of the Doctor Strange sequel. But with Raimi coming on board, don't expect that to happen. Remember the Doc Ock creation sequence in Spider-Man 2? Raimi can still bring those old school horror elements to PG-13 superhero fare when he wants to. One thing's for sure – if the Marvel Zombies appear in Multiverse of Madness as rumored, the attachment of Raimi just made that notion way more exciting.
Featured Image: Marvel Studios