How mad is the multiverse now? The MCU's favorite Doctor (well, probably) is now without a director. Scott Derrickson, who helmed the first Doctor Strange movie, was poised to start shooting the sequel Doctor Strange In the Multiverse of Madness this May to make its May 2021 release date. But Thursday afternoon, Derrickson tweeted he and Marvel have "mutually agreed to part ways" citing the oft-used "creative differences."
Marvel and I have mutually agreed to part ways on Doctor Strange: In the Multiverse of Madness due to creative differences. I am thankful for our collaboration and will remain on as EP.

— N O S ⋊ Ɔ I ᴚ ᴚ Ǝ ᗡ ⊥ ⊥ O Ɔ S (@scottderrickson) January 10, 2020
According to Variety, this will not impact the start of production. Who the new director will be, of course, is anyone's guess, but presumably Kevin Feige and Marvel have someone at least tentatively ready to go if they aren't moving production at all.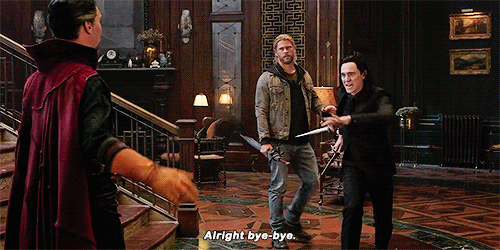 Derrickson directed 2016's Doctor Strange which raked in nearly $680 million globally and enjoys a critical rating of 89% on Rotten Tomatoes. Back at Comic-Con in San Diego, Derrickson seemed especially excited to tackle some of the scarier cosmic elements of the Marvel Universe. We speculated, given the sequel title, some Lovecraftian allusions as well. There are certainly quite a few nasty cosmic forces in Marvel's comic catalogue.
Jade Halley Bartlett is writing the script for Doctor Strange in the Multiverse of Madness, her first writing credit.
Scarlet Witch will also return in the Multiverse of Madness, as the events of her Disney+ series, WandaVision, will directly influence what happens next. Since WandaVision takes place after the events of Avengers: Endgame, we suspect Wanda Maximoff might just break the multiverse trying to bring some version of her beloved back from the great beyond.
There are plenty of Multiverse destinations for Doctor Strange and Scarlet Witch to visit. Doctor Strange himself, the Sorcerer Supreme, is Marvel's go-to authority to deal with threats both universal and mystical. Now that Disney owns the X-Men and Fantastic Four characters, and both of those rosters contained copious cosmic entities and races, the sky is truly the limit for Doc Strangeman and his team-up with Wanda.
Maybe the biggest and most obvious choice in terms of big cosmic elements of Marvel Comics that should be coming to the MCU. Galactus was already used in Fantastic Four: Rise of the Silver Surfer, but that version was a giant, menacing cloud that disappointed just about everyone instead of the mythic, super-sized "Devourer of Worlds" from the comics. But as one of Marvel's most iconic cosmic-level threats, it's high time for a filmmaker to do him justice on screen.
In the meantime, the full Marvel Phase 4 slate includes new films — Black Widow, The Eternals, Shang-Chi: The Legend of The Ten Rings, Doctor Strange and the Multiverse of Madness, Thor: Love and Thunder, and Blade— as well as new Disney+ streaming series: The Falcon and the Winter Soldier, WandaVision, Loki, What If…?, and Hawkeye.
Featured Image: Marvel
Kyle Anderson is the Senior Editor for Nerdist. You can find his film and TV reviews here. Follow him on Twitter!