Daniel Craig charmed audiences as dogged detective Benoit Blanc in 2019's Knives Out. The whodunit from director Rian Johnson was a critic and general audience pleaser. And with that film's mystery resolved, fans wanted a sequel. We found out Johnson was at work on a follow-up to the murder mystery in early 2020. News about the sequel has been scarce since then. But then Netflix threw down major cash for the rights to not only Knives Out 2 (now titled Glass Onion), but Knives Out 3. A whole Knives Out trilogy.
Here's everything we know about the Knives Out sequel so far.
Title
The Knives Out sequel officially has its title. The second Knives Out movie will be called Glass Onion: A Knives Out Mystery. While the first title referenced a Radiohead song, the sequel references a song from The Beatles. We will have to wait and see if the song reference has anything to do with the plot.
Knives Out 2's Plot
The trilogy will reunite Johnson and Daniel Craig (whom we hope performs with a different ridiculous accent in each film), and we cannot wait. Give him a new mystery to solve, a la Agatha Christie (which is how Johnson envisioned the movie in the first place). He figured out who killed mystery writer Harlan Thrombey and how they did it; a talented and entertaining cast surrounded Craig too. So put Benoit Blanc on the case. We'll happily watch the suspicion in his eyes while Blanc chews on clues. And I won't complain if we get another monologue comparable to his musings on the donut and its hole.
Hopes and dreams aside, we don't have too many details on the plot yet. Netflix did recently share the following in a release:
In the follow up to Rian Johnson's Knives Out, Detective Benoit Blanc travels to Greece to peel back the layers of a mystery involving a new cast of colorful suspects.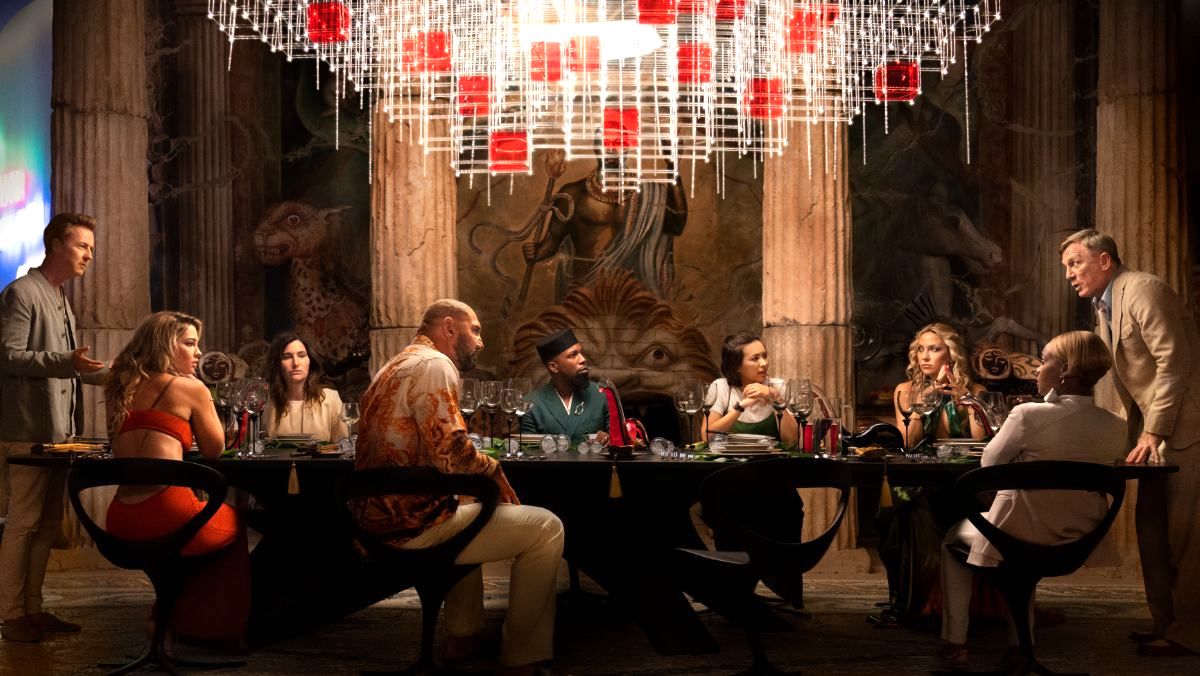 Additionally, in a recent article, the platform shed more light about the plot of the movie. It sounds like there will be more focus on detective Benoit Blanc this time around. Additionally, the streamer shared:
If Knives Out was about the murderous ties of flesh and blood, Glass Onion makes a good case for being just as wary of one's closest friends. When a tech billionaire Miles Bron (Edward Norton) invites some of his nearest and dearest for a getaway on his private Greek island, it soon becomes clear that all is not perfect in paradise. And when someone turns up dead, well, who better than Blanc to peel back the layers of intrigue?
It sounds like we're in for another convoluted adventure with Glass Onion. If you want to learn more about the suspicious characters we'll meet on the island, you can take a look at some recently revealed character details, here.
This puzzle is curious indeed, especially after seeing this special clip during Netflix's TUDUM event. We get to meet our collective as they get an invitation unlike any other. Let the mystery and murder mayhem begin.
Recently, Johnson confirmed something exciting about the movie. Daniel Craig's Benoit Blanc is queer in the Knives Out universe, "obviously." And note only is he queer, but we will get to meet his partner in a Glass Onion cameo. Apparently, per Johnson, "there's nobody in the world I can imagine in bringing me more joy for Benoit Blanc to be with." Daniel Craig also noted, "No spoilers [but] who wouldn't want to live with that person?"
Sounds like Benoit Blanc's boyfriend or partner may be something of a big deal. We can't wait to meet him.
Behind the Scenes
Rian Johnson will return to Knives Out 2 as writer and director. Knives Out cinematographer Steve Yedlin and editor Bob Ducsay will also return for Glass Onion.
Knives Out 2's Cast
We know Daniel Craig is returning, and a heck of a lot of talented actors are reportedly on board with the project too. So far we have: Dave Bautista, Edward Norton, Janelle Monáe, Kathryn Hahn, Leslie Odom Jr., Kate Hudson, and Outer Banks star Madelyn Cline. Per Deadline, Jessica Henwick is the latest to join the cast; she is best known for playing Nymeria Sand on Game of Thrones and Colleen Wing in the MCU TV series.
We don't know who all of these very fine folks are playing yet. Maybe one of them will be a murder victim? But we have finally glimpsed our first look at the new movie.
In a video highlighting its upcoming releases, Netflix shared a glimpse of Knives Out 2. Yes, we can now start analyzing our first images from Knives Out 2. The new Knives Out 2 clip doesn't tell us much, but it certainly is evocative. We can see a lot of character emerging from these fashion choices. They certainly hint at a messy party to come.
Of course, we also see Craig back as the iconic Detective Benoit Blanc.
A suspicious-looking crew if there ever was one. Maybe we'll see multiple murders? All we know is that Rian Johnson had better put Dave Bautista in a cable knit sweater.
In recent news, we also learned via Playbill, that recently departed legends, Angela Lansbury and Stephen Sondheim will both make a posthumous appearance in Glass Onion: A Knives Out Mystery. Although their role in the murder mystery movie is not yet known, but Playbill reports they filmed their parts in 2021. The Knives Out movies are always populated by a delightful cast, so it's no surprise Glass Onion features cameos by the likes of Lansbury and Sondheim. For fans of the late stars, the appearances will no double be bittersweet.
Knives Out 2's Release Date
On June 28, 2021, director Rian Johnson graced Twitter with an announcement. The first day of shooting had kicked off in Greece! Production wrapped in September of 2021.
Aaaaaaaand WE'RE OFF! Day one of filming on the next Benoit Blanc mystery. Thanks to all the lovely patient people here in Greece for letting us do all this murdering on their peaceful shores. pic.twitter.com/SUFptCpl3G

— Rian Johnson (@rianjohnson) June 28, 2021
And now, Netflix has officially revealed that Glass Onion: A Knives Out Mystery will release on Netflix on December 23.
It will also come to select theaters this Thanksgiving. It will play in theaters from November 23-29.
Originally published on March 31, 2021.