Who hasn't been excited for more Knives Out ever since Daniel Craig's Benoit Blanc snuck into our lives after the first movie? But details for director Rian Johnson's Knives Out sequel, titled Glass Onion: A Knives Out Mystery have been sparse. All we've really gotten is a quick tease and a star-studded cast list that leaves us hungry for more. But now, Netflix has offered us a couple more looks at the Knives Out 2 movie and some insight into what we can expect. We also now know the release date for Glass Onion: A Knives Out Mystery.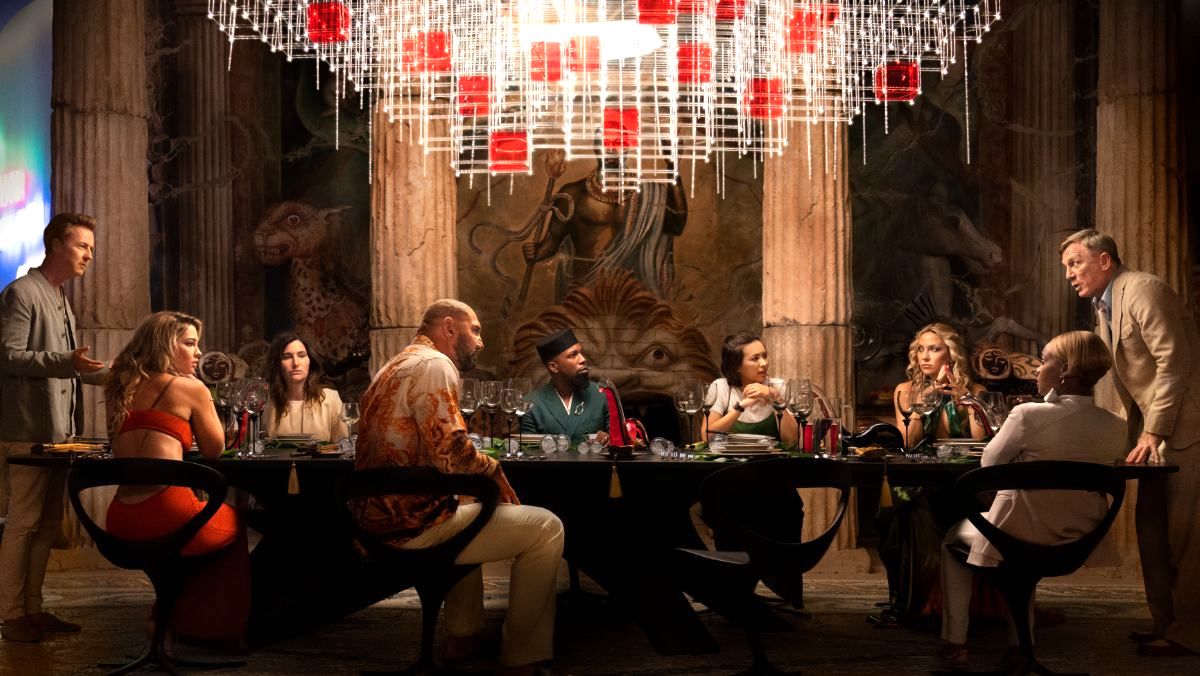 More on Glass Onion: A Knives Out Mystery's Plot
An article from Netflix shares more about what we can expect from Glass Onion's story:
If Knives Out was about the murderous ties of flesh and blood, Glass Onion makes a good case for being just as wary of one's closest friends. When a tech billionaire Miles Bron (Edward Norton) invites some of his nearest and dearest for a getaway on his private Greek island, it soon becomes clear that all is not perfect in paradise. And when someone turns up dead, well, who better than Blanc to peel back the layers of intrigue?
Friendship ties can run deeper than family ties, but that means they can end just as murderously or worse.
Johnson also offers some inspirations he looked to for making this Knives Out movie. Of course, Agatha Christie and Hercule Poirot play a role in inspiring this series. But Johnson also includes "tropical getaway murder mystery" films like 1982's Evil Under the Sun, and in particular, 1973's The Last of Sheila.
He explains how this Knives Out 2 movie comes together:
It's structured around a group of friends, or frenemies, who all have a power dynamic with one of their successful friends. It begins with him sending an invitation for them to come and play this murder mystery game at this exotic locale. In The Last of Sheila, it's on his yacht, and everything ends up going horribly wrong. That is essentially how Glass Onion begins.
But that's why we need detective Benoit Blanc on the case. Johnson reveals that we'll learn much more about Craig's Blanc in Glass Onion, and he'll really be a focus of the Knives Out movie.
Knives Out 2 Delves Into Daniel Craig's Detective Benoit Blanc
The director notes that "you definitely get to know [Blanc] a little bit better" in Glass Onion. And further shares about Knives Out 2:
In the first [Knives Out], because of the way it was structured, Marta, Ana de Armas' character, was very much the protagonist. In a big way, Blanc was the threat. He was almost the antagonist in terms of just the story structure, because you were worried, even as they got closer, that he was going to catch her and he was going to have to turn her over at the end. So Blanc was always outside of the sphere of our protagonist and was a little bit more of an enigma in the first movie. Whereas, in this one, Blanc gets an invitation to come to this murder mystery on this island. We're very much meeting these people and getting into this world through his eyes.
Very interesting. In the first Knives Out, we agree Blanc walked us through the story but didn't really enmesh into it. We wonder what will go differently this time.
Why Is the Knives Out Sequel Titled Glass Onion?
Additionally, Johnson addresses the title of the Knives Out film, Glass Onion, a reference to a song from The Beatles. We admit the name initially had us scratching our heads. And it turns out, Glass Onion is actually a more accidental title choice than anything. But Johnson's process for naming the Knives Out sequel feels relatable.
Johnson offers about the Knives Out 2 title, "I'm always fishing for something fun that Blanc can grab onto as an overwrought metaphor that he can beat to death… This is all in plain sight from the very start. So, the idea of glass came to me, something that's clear. I'll be very honest. I literally got out my iPhone and searched my music library with the word 'glass.' There's got to be some good glass songs. I was like, "Oh, is it a glass fortress? Is it a glass castle? Is it a glass man?" The first thing that came up, because I'm a huge Beatles fan, is "Glass Onion."
Honestly, we love this.
Glass Onion: A Knives Out Mystery's Release Date
Glass Onion: A Knives Out Mystery has also revealed its release date. The Knives Out sequel will release on Netflix on December 23. It will also premiere in theaters on a date that Netflix has yet to announce.