Glass Onion: A Knives Out Mystery will see Rian Johnson once again handling both writing and directing duties for the franchise. The film will also feature the return of Daniel Craig (and his "Kentucky fried Foghorn Leghorn drawl" accent) as detective Benoit Blanc. But the all-star cast of the original movie is giving way to an entirely new collection of Hollywood stars. Who will they play and how will they factor into the mystery? Empire has provided new images and the first synopsis for the characters who will turn a Greek getaway into a crime scene.
Until now, save Craig's Blanc, the only other character we've really known anything about from the Knives Out sequel is Edward Norton's Miles Bron. He's the only newcomer mentioned in the film's official synopsis. From Netflix:
If Knives Out was about the murderous ties of flesh and blood, Glass Onion makes a good case for being just as wary of one's closest friends. When a tech billionaire Miles Bron (Edward Norton) invites some of his nearest and dearest for a getaway on his private Greek island, it soon becomes clear that all is not perfect in paradise. And when someone turns up dead, well, who better than Blanc to peel back the layers of intrigue?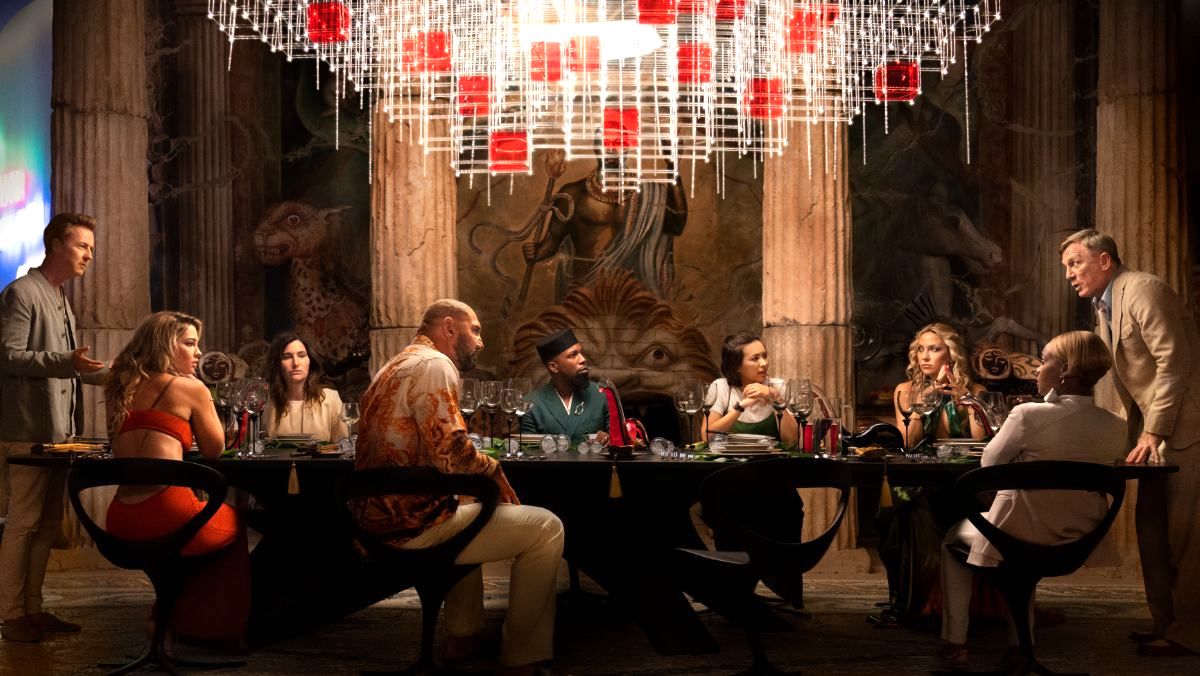 Now thanks to Empire we have a breakdown of the other major figures in this killer odyssey. It features old friends, and all the good and bad that comes with a group that goes way back.
Leslie Odom Jr. – Lionel Toussaint, a scientist at Bron's company
Kathryn Hahn – Connecticut governor Claire Debella who is running for Senate (and whom apparently gets on everyone's nerves
Kate Hudson – fashionista Birdie Jay
Jessica Henwick – Birdie's assistant Peg
Dave Bautista – YouTube star Duke Cody, who arrives with his younger girlfriend and channel assistant Whiskey (Madelyn Cline)
Janelle Monáe – tech entrepreneur Cassandra 'Andi' Brand
The piece also describes Norton's Bron as a "tech disruptor." That doesn't mean we want him dead. But it does mean we'll understand why a bunch of the billionaire's friends might.
To see if that happens, though, we must wait until December 23. That's when Glass Onion: A Knives Out Mystery comes to Netflix.