Update, 02/14/20: There has been a lot of buzz for HBO Max as the upcoming streaming platform has slowly revealed a number of high-profile titles set to begin streaming when it launches in May. To heighten our excitement, HBO Max has gifted fans a little Valentine's Day treat in the form of a short teaser, giving us a quick glimpse at that expansive back catalog. The teaser, of course, kicks off with HBO Max's most high-profile acquisition, Friends, which departed Netflix at the end of 2019.
But the teaser doesn't just stop at Friends. In addition to teasing HBO hits like Game of Thrones and Euphoria, the trailer also gives us a peek at titles from across WarnerMedia's properties—including Wonder Woman, Fresh Prince of Bel Air, The Matrix and Casablanca.
As the teaser indicates, this is just a tiny taste of what HBO Max is set to offer come May and beyond. The full list of HBO Max offerings can be found below!
Previously:
To paraphrase a certain small and green Jedi Master, "Begun, the streaming wars have." Although Disney+ is unleashing a metric ton of new and old content when it launches in November, Warner Media's own streamer HBO Max is pulling out all the stops too. The streamer will cost $14.99 per month, which is on par with the current cost of HBO Now. For those worried about what will happen to their current HBO subscriptions, current subscribers of HBO Now, as well as AT&T HBO, will get HBO Max for no additional cost.
HBO Max will also contain a few exciting new features, dubbed co-viewing and recommended by humans. Co-viewing is a separate page on the platform that can be curated around a group's interests without interfering with your personal page. The second feature is an exciting way to discover new shows—in addition to algorithms and personal choice—with personal recommendations from celebrities.
Although there is no doubt several series that have yet to be announced before HBO Max launches in May 2020, here's everything that's coming that we know of so far.
HBO Series
HBO
Obviously given the title, the rich library of HBO content will be available on the service. Yes, including Game of Thrones (and presumably any upcoming spin-offs) But also Sopranos, Sex and the City, Deadwood, Westworld, Watchmen, and dozens more. But several brand new HBO shows will be available as well, including the following highly anticipated shows:
The Outsider from Stephen King
Lovecraft Country from Jordan Peele and J.J. Abrams
The Nevers from Joss Whedon
The Gilded Age from Downton Abbey's Julian Fellowes
The Undoing from David E. Kelley
House of the Dragon, a Game of Thrones prequel following the rise of House Targaryen from George R.R. Martin and Ryan Condal. Condal and frequent Thrones director Miguel Sapochnik will serve as co-showrunners.
Boys, a five-part series from Russell T. Davies that"charts the emotional journey of five friends during the 1980s, a decade in which everything changed, most notably with the rise of AIDS." A working title, Boys stars Olly Alexander, Keeley Hawes, Neil Patrick Harris, and Stephen Fry.
Original Content

Anne Marie Fox/HBO
Raised by Wolves, a sci-fi series from Ridley Scott following "two androids tasked with raising human children on a mysterious virgin planet."
A half-hour comedy from Issa Rae, currently titled Rap Sh*t, about a female rap group in Miami trying to make it big. Executive produced by Issa Rae.
A half-hour comedy from Mindy Kaling, currently titled College Girls, following a trio of freshman roommates at the fictional Evermore College in Vermont.
Bobbie Sue, a feature film starring Gina Rodriguez about a lawyer who takes on her firm and a high-powered client after discovering a series of gross injustices.
Love Life, a series starring Anna Kendrick "about the journey from first love to last love, and how the people we're with along the way make us into who we are when we finally end up with someone forever."
Five stand-up specials from Conan O'Brien and Team Coco will launch on the streamer in 2020. Three of the specials will be hour-long sets featuring comedians who will presumably be announced at a later date, while the other two specials will feature short sets from a number of up and coming comedians. Additionally, HBO Max will air an hour-long special by James Veitch, also produced by Team Coco.
Four stand-up specials from comedians Tracy Morgan, John Early, Rose Matafeo, and Ahir Shah.
Literary Adaptations
Before comics and old TV shows were all the rage as being the primary source for adaptations, books were the thing. And HBO Max is looking to continue that tradition with several literary adaptations.
Tokyo Vice based on the book by Jake Adelstein, and starring Ansel Elgort
The Flight Attendant, based on Chris Bohjalian's novel.
Circe, based on Madeline Miller's modern update of Homer's Odyssey.
Made for Love, starring Ray Romano and based on Alissa Nutting's book
Station Eleven, based on the novel by Emily St. John Mandel.
Anna K: A Love Story based on Jenny Lee's reinvention of Anna Karenina
Known IP
Warner Brothers
Lots of shows based on well-known IP are getting a home on HBO Max, including several series based in popular movies from the '70s through the today. And one in particular that will be tied into a highly anticipated sci-fi adaptation about a seriously sandy planet that's coming at the end of next year.
Dune: The Sisterhood (tying into Denis Villeneuve's big-screen Dune)
Rydell High (based on Grease)
Gossip Girl (a prequel to the CW series)
Gremlins: Secrets of the Mogwai (animated prequel series to the 1984 film)
Rules of Magic (a prequel to Practical Magic)
The Boondocks is also returning, with two new seasons from original series creator Aaron McGruder.
Classic TV Series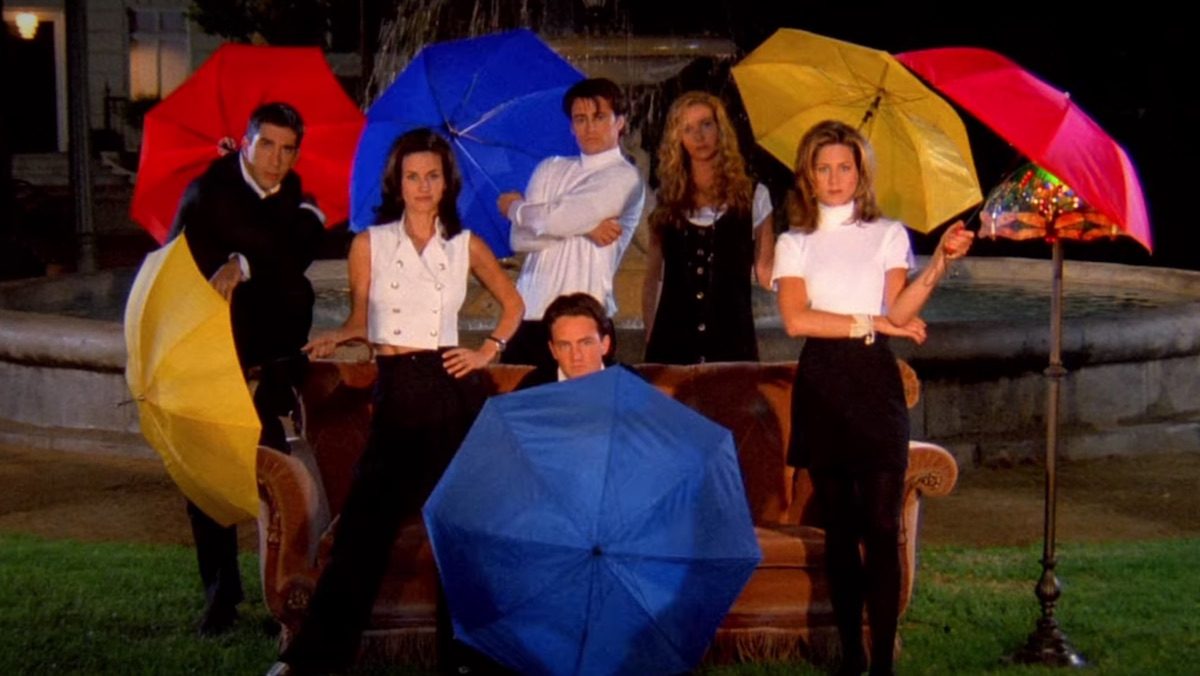 Warner Brothers Television / NBC
There will be no shortage of classic television content produced by Warner Brothers coming to the service when it launches. The most high profile perhaps being Friends, which leaves Netflix for its new home next year. But the Central Perk crowd are hardly going to be alone. Here's a list of every classic TV show we know is coming to HBO Max exclusively when it launches.
The Fresh Prince of Bel-Air
The Big Bang Theory
The West Wing
Pretty Little Liars
The O.C.
Aqua Teen Hunger Force
The Bachelor
Robot Chicken
Space Ghost Coast to Coast
Impractical Jokesters
The Closer
Rizzoli and Isles
Major Crimes
The Alienist
CW Series
Warner Brothers Television / The CW
Although fans have to wait for the current Netflix deal to expire for many of the pre-existing CW shows like Riverdale and The Flash, the new CW shows were made with an HBO Max future in mind. And all of these newer shows will be available at launch.
Batwoman
Katy Keene (Riverdale spin-off)
BBC Series
BBC America
Doctor Who (2005 series and onward) with future seasons streaming after their BBC America run has ended airing original episodes.
Luther
Top Gear
The Office (original version)
The Honourable Woman
The Entire Studio Ghibli Library
Studio Ghibli
If any anime fans were on the fence about getting this service, this addition might have changed things for them. All 21 films from the legendary Studio Ghibli library are breaking with Disney and joining the world of HBO Max!
Nausicaa of the Valley of the Wind
Castle in the Sky
My Neighbor Totoro
Kiki's Delivery Service
Only Yesterday
Porco Rosso
Ocean Waves
Pom Poko
Whisper of the Heart
Princess Mononoke
My Neighbors the Yamadas
Spirited Away
The Cat Returns
Howl's Moving Castle
Tales from Earthsea
Ponyo
The Secret World of Arrietty
From Up On Poppy Hill
The Wind Rises (coming Fall 2020)
The Tale of the Princess Kaguya
When Marnie Was There
What About DC?
DC Universe
One of Warner Media's most valuable brands is DC Entertainment. But with the DC Universe an independent streaming service (for now), what does this mean for DC characters making it to HBO Max? At least one DC Universe property will have a dual home at HBO Max. But it might not be the last.
Doom Patrol will stream on both DCU and HBO Max starting with season two.
DMZ based on the Vertigo Comics title. This one will be produced by Ava DuVernay.
Strange Adventures, an anthology series featuring characters across the DC canon, and a Green Lantern series. Both will be produced by Greg Berlanti.
DC Super Hero High, a half-hour comedy following teens at a gifted boarding school with a major caveat—unbeknownst to them, one day they'll all be legendary DC Super Heroes. Executive produced by Elizabeth Banks.
Finally, the streamer will house all the DC films released in the last decade, including Joker and Aquaman, as well as every single Batman and Superman film released in the last 40 years.
Blockbuster Franchises
Warner Brothers
Over the years, Warner Brothers has produced a number of blockbuster franchises, and during its first year, many of them will call HBO Max home.
The Matrix
The Lord of the Rings
The Hobbit
Gremlins
Lego
Children's Programming
Warner Bros. Animation
During its massive programming unveiling on October 29, an expansive slate of television programming, both new and classic, were announced, including the addition of several Hanna-Barbera properties and a series from Oscar-winner Robert Zemeckis.
New series:
Looney Tunes Cartoons, a new series starring the classic cartoon characters.
Jellystone, a new animated comedy featuring Yogi Bear, BooBoo, and the rest of the iconci residents of the titular town.
The Fungies!, a "prehistoric comedy" following the adventures of Seth, a student at Fungietown Elementary.
Tig N' Seek, which is about an eight-year-old named Tiggy and his cat who explore the lost things of Wee Gee City.
Tooned Out, a live-action series from Robert Zemeckis, about a man who starts seeing cartoon characters who end up helping him during a rough time.
Craftopia, a kids crafting competition hosted and executive produced by YouTube influencer Lauren Riihimaki aka (LaurDIY).
Classic shows:
Looney Tunes
Merrie Melodies
The Flintstones
The Jetsons
Josie and the Pussycats
Popeye
Scooby and Scrappy Doo
Yogi Bear
And last but not least, Sesame Street will find its exclusive home with HBO Max starting with the second half of season five. This comes after the first four seasons found their home on the regular HBO service. In addition to picking up the flagship series for five 35-episode seasons, HBO Max will house new content featuring our favorite Sesame Street residents, with specials, including The Monster at the End of This Show, an animated version of Monster at the End of This Book starring Grover; a late night talk show-style series called The Not Too Late Show With Elmo; a docuseries; another season of Esme & Roy; and two animated series, including one currently titled Mecha Builders, featuring Sesame Street characters in robot-animation.
Non-Scripted Series
Legendary, about the modern-day ballroom/voguing scene, popularized in the dramatic series Pose. And there will be a design competition series called The Greatest Space, although that is only the working title.
Expecting Amy, a three-part docuseries following comedian Amy Schumer's "life on tour creating a stand-up special during her difficult pregnancy."
CNN non-fiction series United Shades of America with W. Kamau Bell, This is Life with Lisa Ling and Anthony Bourdain: Parts Unknown will be heading to HBO Max.
On The Record, which follows music executive Drew Dixon "as she grapples with her decision to become one of the first women of color, in the wake of #MeToo, to come forward and publicly accuse hip-hop mogul Russell Simmons of sexual assault."
Also coming is JJ Abrams' sci-fi project Demimonde, which has been shrouded in secrecy. And several big name actors are producing new projects for the streamer, such as Nicole Kidman's "psychosexual love story" Crime Farm. Paul Feig, Reese Witherspoon, and Meryl Streep also have new films which will debut exclusively on the new streamer in the coming year.
Image: HBO Max