Now that we're stuffed with turkey and ready to relax forever, it's finally time for the best and most enjoyable time of the year: Christmas! Yep, with just under a month to go until the 25th of December, it's the perfect time to plan gifts for your loved ones this festive season. We've got a roster of solid gift guides ( Movies, TV, and books!) to help you choose and this particular list is a curated selection of the best collectibles, toys, and cute clothes to bring Christmas cheer to whoever you deem deserves it!
DC Super Hero Girls dolls
Mattel, Warner Bros.
Inspired by the newly relaunched Cartoon Network series, DC Super Hero Girls are back with a rad new look and some new friends. The Mattel dolls are available from multiple retailers including Target and Walmart and include awesome anime-inspired designs for your fave characters like Batgirl, Wonder Woman, Supergirl, Jessica Cruz, Katana, Zatanna, Bumblebee, and Catwoman. These are a perfect affordable pickup for anyone who loves a strong female character and a cool action-doll with prices ranging from $9.99 – $ 19.99!
Scooby-Doo dog collar
Box Lunch, Warner Bros
If you've ever wanted your canine pet to be part of your crime-fighting team of teens then this Box Lunch Scooby-Doo dog collar is the perfect gift for your four-legged friend or the dog lover in your life. With the super cool SD branded clasp and awesome triple color collar, it doesn't come cheap but at $22.90 it's not all that much either for your best crime-solving bud.
Batman LEGO sets
Lego, Warner Bros.
There is a selection of awesome Batman Lego sets to enjoy this Christmas from the DC Super Heroes range, but we had to highlight the super cool 1989 Batmobile set. Featuring a design inspired by the classic Tim Burton film and three exclusive minifigures of Batman, Vicki Vale, and the iconic Jack Nicholson Joker with a gun–maybe the one he killed Bruce's parents with?–this is a radical gift for car lovers or Dark Knight fans everywhere. It'll run you $249 and you can grab it whilst stocks last from the official Lego website.
Jurassic World Lego Sets

Lego, Universal
Another killer Lego theme this holiday season are these super fun Jurassic World sets which feature some seriously epic dino-action alongside some of your favorite characters from the super fun game and movies from the toy-inspired franchise. Our favorite is the Baryonyx Face-Off set which centers on the titular dinosaur wreaking havoc. Another super cool collectors edition is the classic Jurassic Park: T-Rex Rampage set which is inspired by the original '90s movie that made us fall in love with the franchise in the first place. ($ 48.00)
Flex Watches
Flex Watch
Trying to get affordable gifts for the whole family can be tough, but Flex Watches are doing a great job at offering up some cheap and cheerful timepieces that are inspired by some of our favorite properties. Whether you've got a kid sibling who loves Illuminations' Minions or a Star Wars fanatic uncle who is super hard to buy for these awesome watches are only $40 and better yet Flex donates 10% of the profit of each watch to a specific charity.
The Sims 4: Realm of Magic
EA Games
Need some control in your life after a wild family Thanksgiving? Then what better time to get your hands on Sims 4: Realm of Magic. This awesome new addition to the super addictive game gives you all kinds of magical powers that we can't wait to play with. "Explore a supernatural world and master the art of wizardry in The Sims™ 4 Realm of Magic *. This countryside town may look and feel like other neighborhoods, but once the secret portal is unlocked, the true magic begins. Potions, wands, and even a floating world will charm your Sim, but beware of spells gone wrong!" The best thing is that the game pack is currently only $14.99 on Origin.
Harry Potter baby clothes
Mini Boden
Got some cute kids in your life who really love magic but might be a bit young for the magical realm of the Sims? Do they love Butterbeer and long to be Quidditch stars? Well then, this Mini Boden Harry Potter line will likely be the perfect pick to add some sparkle to the season. From Hogwarts inspired sigils to Mrs. Weasly style sweaters there's something for every Slytherin, Gryffindor, Hufflepuff, and Ravenclaw who hasn't quite got their Hogwarts acceptance letter yet.
Predator tiki mug
Mondo
Get to the Choppah!!! If you've yelled that phrase more than once this holiday season then it's likely you'll fall head over heels for this Predator Tiki Mug from Mondo. The awesome ceramic creation showcases the ultimate hunter on one side whilst Arnold Schwarzenegger's swaggering hero Dutch sneers out on the other side. You can grab this unique gift for your fave action movie fan for $50 at Mondo now.
Twin Peaks giclée print set
Mondo
These gorgeous giclée prints come from the mind of artist Greg Ruth, and though his first Mondo exclusive collection sold out, he's now up to nine sets of these eerily beautiful pieces. This edition features a "Set of 5 limited edition Giclee Prints by Greg Ruth. Printed by Static Medium. Contains two 8″ x 8″ prints, two 8″ x 10″ prints, and one 10″ by 8″ print." As you can see there's plenty for Twin Peaks fans to enjoy here and the best thing is that you can grab the set of five for just $80.
Goose Enamel Pin
Mondo
If you need a gift for the Captain Marvel lover in your life but they've already read all the comics and have both literally and figuratively "got the t-shirt" you could do a lot worse than this super cute Goose pin from Mondo. Designed by Matt Taylor it shows everyone's favorite cat Goose nee. Chewie in full on Flerken mode as tentacles spill from its cute mouth. Goose also happens to be on a star that evokes the logo of Carol Danvers herself. You can grab this pin at Mondo for only $10.
Johnnie Walker's A Song of Ice & A Song of Fire – Game of Thrones Whiskies
Johnny Walker
Need a delectable alcoholic beverage whilst you binge-watch Game of Thrones this festive season? Luckily for you, Johnny Walker has not one but two blended scotch options that are inspired by the hit HBO series. "A Song of Fire is rich and spicy, boasting flavors of subtle smoke from the peated malts of the Caol Ila distillery with an ABV of 40.8%. Inspired by the dragons of House Targaryen, feared for their fire breathing, the bottle design evokes a fiery setting with deep-red colors" whereas "A Song of Ice features single malts from Clynelish, one of Scotland's most northern distilleries, and exudes a crisp, clean taste like the unforgiving force of ice that shapes mountains and stops rivers.
The new blend has an ABV of 40.2% and the bottle design evokes an icy setting with frosted blue and gray colors inspired by the North, known for its cold winters and frozen landscapes." Both varieties cost $43 or you can buy a double pack for $86.
Iron Throne Candle Holder
HBO
Can't get enough Game of Thrones in your life? Wish that the real victor of the battle was the Lord of Light? Or just a tea light? Well, then you're in luck as HBO has crafted this very detailed recreation of the Iron Throne which also doubles as a handy candlestick. Do you need it? Probably not. Do you want it? Maybe. Is it a very good conversation starter/gift for the GOT lover in your life. Definitely. HBO has this strange creation available just in time for the holidays at $59.95.
Creative Beast Raptors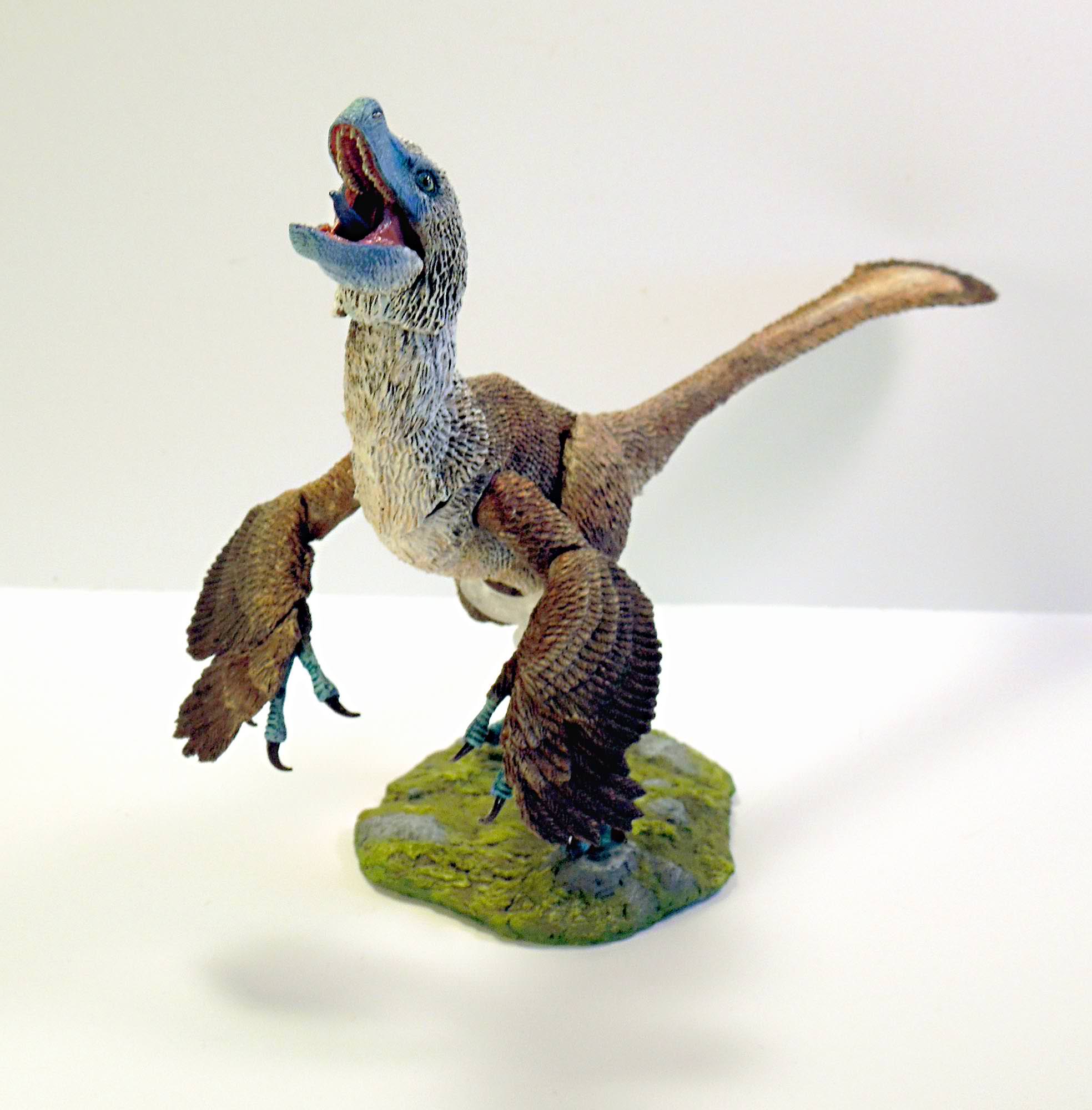 Ever wanted a raptor all of your own? Then look no further than the talented folks over at Creative Beast who make these utterly gorgeous 1/6 scale sculptures. The awesome craftspeople have a huge selection of rad dinosaur choices but this lovely Acheroraptor temertyorum is particularly cool, only costs $39.99 and the official description gives you a little more insight into the fig. "Known for its long-snouted skull and unique dagger-like ridged teeth, Acheroraptor is the youngest known member of the raptor family. This figure measures approximately 12″ long by 5″ tall boasting 26 points of articulation and includes display base, posing rod w/ two support options, and interchangeable closed running toes, plus a unique background display insert."
Oculus Quest (bundled with Episodes 1-3 of Vader Immortal)
Oculus
If you've been dying to get into VR and you've got $399.99 laying around then you might want to invest in the Oculus Quest set which currently comes with all three chapters of Vader Immortal free. The super cool virtual reality gaming system is Oculus' first completely self-contained model. Vader Immortal puts you in the middle of the world of Star Wars and in the path of the galaxy's greatest foe himself… Darth Vader.
Star Wars Whiskey Decanter Set
This gorgeous set of Star Wars whiskey glasses and a super cool decanter is a must-have for any Star Wars fan. Made by Etsy seller StarGiftShop the beautifully crafted set comes in an impressive box and features some of your favorite characters from Darth Vader to Yoda, R2-D2 to BB-8, all the way through C-3PO to Chewbacca. Plus that iconic logo graces the decanter. So, if you've been worried your guests doubt your fanciness, just save up those pennies and pick your poison. The pictured set will run you $102.84 but you also can grab one decanter for as little as $40.80 and 2 tumblers for $44.19.
Arcade 1UP Cabinet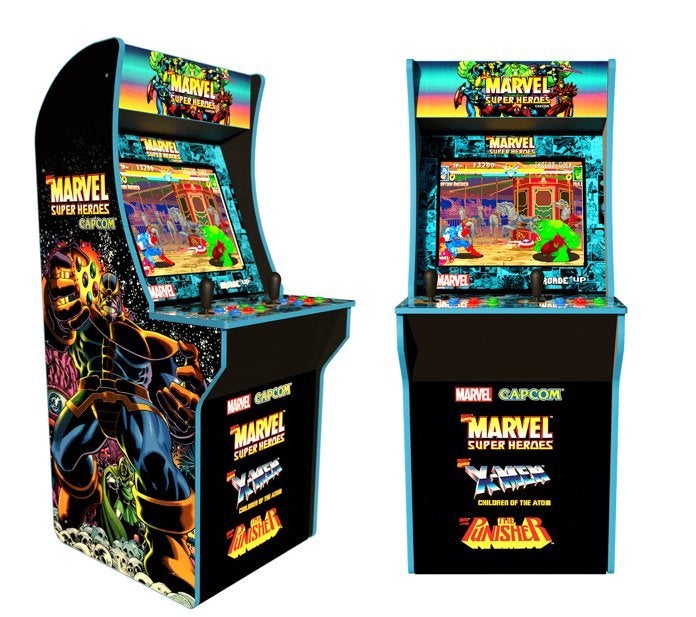 Arcade 1UP
For many of us having a real-life arcade cabinet in our house seems like a total pipe dream. But thanks to Arcade 1UP all of that's changing. The company has been crafting smaller but still impressive cabinets for a couple of years now and we're obsessed with this Marvel Super Heroes cabinet that features rad Art Adams Thanos art and three kickass games. The cabinet itself stands at around 4ft tall but if you want to make it a little higher you can also purchase a riser which brings it up to a solid 5ft! There are plenty of other game options too like Mortal Kombat and Street Fighter. You can currently grab the Marvel Super Heroes cabinet at Walmart for $249.99.
Star Wars Pinball Machine
We always like to include some dream gifts on here and the Stern Pinball Star Wars The Pin machine is up there. It's from Stern's line of more affordable home Pinball machines so is a little cheaper than your standard professional type, but this awesome creation will still cost you $4500. It would make any games room complete and it's got plenty of rad features that fans of the classic Star Wars pinball machines will recognize. "Stern's new Star Wars™ Pin™ immerses players in the dynamic Star Wars™ galaxy. The Pin™ has many features to provide players with an irresistible game experience. Among these are select speech and footage from the original Star Wars™ trilogy; color-changing playfield inserts; a custom sculpted Death Star; and a custom sculpted and interactive TIE fighter."
Header Image: Warner Bros., Lego.