Mortal Kombat has been notoriously hard to adapt to film. In the '90s, we got a brilliant B-movie; its faults included the wild casting of Christopher Lambert as Raiden. A few years ago, we got far closer to what fans wanted with Machinima's limited web series. In 2019, it was announced that James Wan would be producing a Mortal Kombat movie, leaving us to wonder if this could be the one that gets it right. And for the first time we got look at what to expect. Spoiler averse readers beware: some surprises are in store!
Producer Todd Garner breaks down Mortal Kombat's epic opening scene
During a sneak peek of Mortal Kombat, Nerdist joined a group of journalists to watch the opening of the highly anticipated video game adaptation. It was wicked. Beginning in feudal Japan, we find Hanzo Hasashi (Hiroyuki Sanada) and his family living in the Hasashi compound. Playing into one of the core tenets of Mortal Kombat lore, the opening sets up Hanzo's rivalry with Bi-Han. You probably know the assassin by the name of Sub-Zero. Yes, this is a Sub-Zero and Scorpion origin scene and it's epic. And thanks to Warner Bros. you can watch the first seven minutes of the movie in the clip above!
There's everything you expect here: blood, gore, impressive weaponry. It's exactly the kind of sequence Mortal Kombat fans have been dreaming of. The pair face down after Sub-Zero commits an unforgivable crime against the man who will become Scorpion. It's a heartbreaking start to an iconic rivalry! And someone even goes to hell…
Warner Bros.
The opening smartly establishes one of the most important rivalries while also showcasing the film's dedication to authentic fight choreography. Plus, fight fans get a 13-minute fight between Sanada and Taslim which is cinematic magic. So why was this such an important place to begin? Producer Todd Garner explained.
"We had to start at the beginning, right? The game has come so far. The main characters have kids who are old enough to fight. So we couldn't start now; we had to start at the beginning. Our goal was: how do you just be able to have somebody come sit down in a theater and watch this movie and not be completely confused by the unbelievable lore that Ed and John have created over 30 years?"
Garner explained that even though the team was aiming to make the movie accessible, this was still a vital part of the game and story. He said,"That is such an integral part, emotionally to the Mortal Kombat lore in terms of it's about family, it's about clan, it's about misunderstanding, it's about two cultures clashing. Within 13 minutes you have romance, you have death, you have a tragedy, you have ice, you have a guy getting his head stabbed, you have someone getting taken to hell. So it sets up the spectacle, it sets up the emotion, it sets up the characters, and sets up the tone. It sets up fighting and it sets up fatalities in one scene."
Here's everything else we know so far about the promising project:
What is it about?
Warner Bros.
Directed by Simon McQuoid, Mortal Kombat will be a new adaptation of the popular fighting game. Greg Russo and Dave Callaham wrote the screenplay with the story by Russo and Oren Uziel. The martial arts-savvy cast means that it will likely be a serious action film. And the R rating means that we'll undoubtedly get some of the game's famous gore. And now thanks to an Entertainment Weekly feature we've got a clearer idea of what Mortal Kombat is actually about.
The piece goes into detail about some of the most vital and exciting parts of the game. It details the opening—the crucial piece of lore from the original games that we mention above. And one of the most exciting parts of this cast is the roster of martial arts stars. It's definitely a big budget fight film with intense fight sequences.
Who's in it?
Lewis Tan is Cole Young
AMC
Lewis Tan's playing an entirely new character called Cole Young. Tan told Entertainment Weekly that Cole's a "washed-up MMA fighter who used to be a champion, who used to believe in himself, who used to have a lot of hope in his career." No longer.
Entertainment Weekly revealed that "Cole knows nothing of his heritage aside from the mysterious birthmark on his chest—in the shape of the Mortal Kombat symbol." And that symbol leads Cole to meet some other key MK characters.
Joe Taslim is Sub-Zero and Hiroyuki Sanada is Scorpion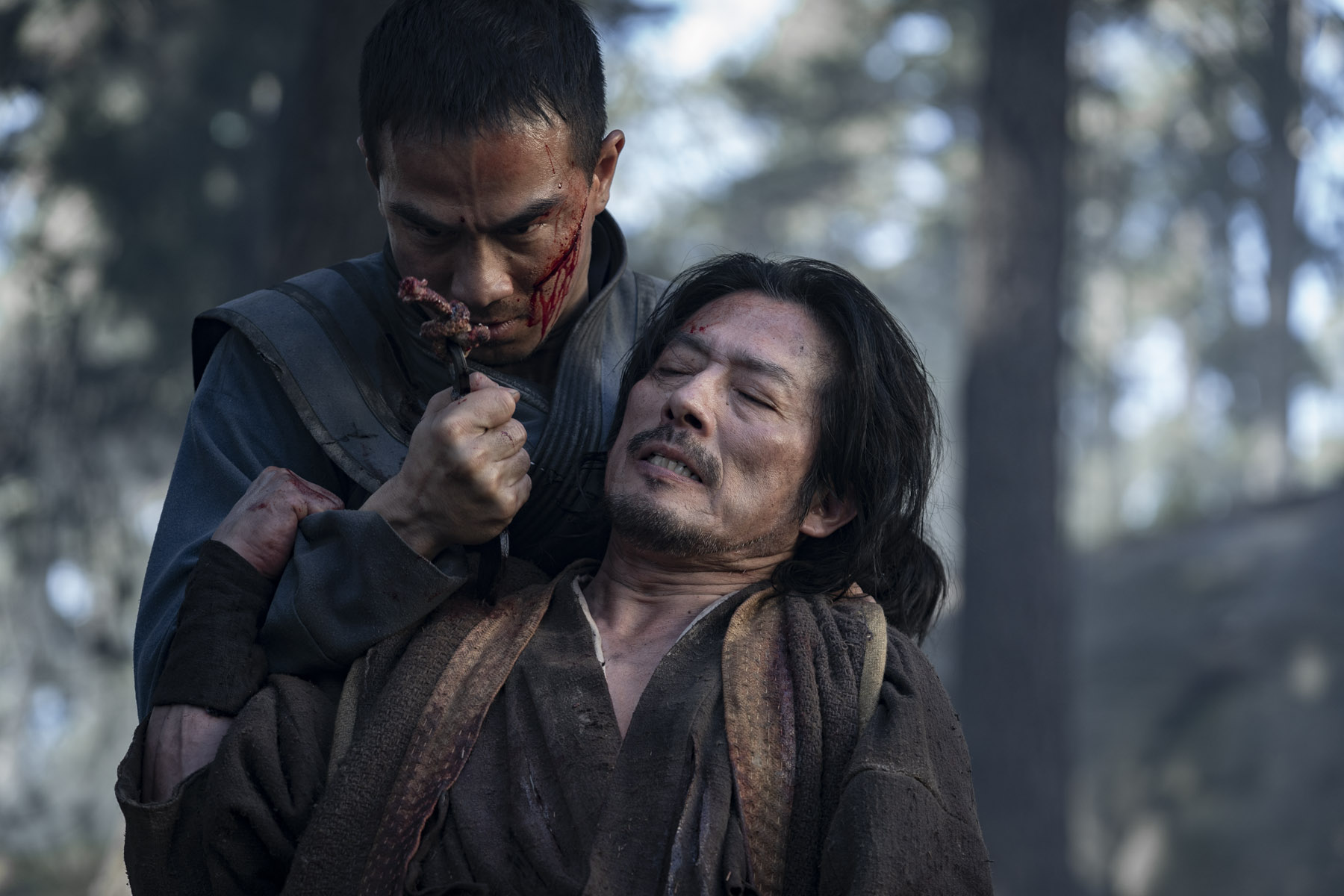 Warner Bros.
Action star Joe Taslim plays Sub-Zero, one of the core characters from the Mortal Kombat franchise. It's an extremely exciting bit of casting as Taslim is a talented martial artist known for brilliant and brutal films like The Raid: Redemption and The Night Comes for Us.
In another exciting bit of casting, Westworld, Lost, and Message from Space star Hiroyuki Sanada will be taking on the role of Mortal Kombat's other most recognizable character: Scorpion. The connection between Scorpion and Sub-Zero runs deep and will likely play a key part of the narrative in the new film. Sanada was most recently seen being horribly wasted in Avengers: Endgame and it seems that Mortal Kombat will rectify that by giving him a meaty action role to luxuriate in.
Ludi Lin is Liu Kang and Max Huang is Kung Lao
Warner Bros.
You probably know him best from the underrated 2017 Power Rangers flick, but Ludi Lin was most recently seen in Aquaman and the Black Mirror episode "Striking Vipers." This is a massive moment for Lin as Liu Kang is the main character in pretty much every Mortal Kombat game. Liu is the closest thing to a good guy in the world of Mortal Kombat. He's the arch-enemy of the nefarious magical sorcerer Shang Tsung.
Max Huang is a stuntman and actor who regularly works alongside Jackie Chan. This is a powerhouse team up for two of Mortal Kombat's most important figures. Kung Lao is a former Shaolin monk whose ancestor was a great warrior. Lao though would rather not take part in the brutal fight to the death. But while he's a pacifist at heart he's also a stunning fighter.
Mehcad Brooks is Jax
Warner Bros.
Jax is a cybernetically enhanced super-soldier and special forces officer who works alongside Sonya Blade. Mehcad Brooks is a charming and talented actor. In his most recent role he portrayed mild-mannered Jimmy Olsen on Supergirl. We're very interested to see how this one shakes out. Brooks definitely has the chops for the role and it'll be fun to see him getting some more action in this R-rated movie.
Jessica McNamee is Sonya Blade
Warner Bros.
The original female Mortal Kombat character, Sonya Blade is a badass special forces officer who has been a part of the game since its first release in 1992. The actress bringing her to life last appeared fighting a giant shark alongside Jason Statham in The Meg. We can likely trust her to take on the mysterious evils of Mortal Kombat.
Josh Lawson is Kano
Warner Bros.
Many know Josh Lawson for his comedic roles in House of Lies, The Campaign, and Anchorman 2. But he signed onto the Mortal Kombat cast as Kano. He's a vicious mercenary who often crosses proverbial and literal swords with Sonya Blade and Jax.
Tadanobu Asano is Raiden
NetherRealms Studios/Marvel Studios
Raiden is the literal God of Thunder (no, not that one). This inclusion confirms the film will likely be leaning into the more mystical elements of the Mortal Kombat series. Asano is a radical Japanese actor with an impressive list of credits. But Americans probably know him best as one of Thor's Warriors Three. This is a perfectly wonderful bit of meta-casting.
Chin Han is Shang Tsung
Warner Bros/NetherRealms Studios
Probably best known for his role in The Dark Knight, Chin Han is taking on the iconic role of Shang Tsung. The character stands as one of the biggest bads in the world of Mortal Kombat. The evil sorcerer who oversees the inter-dimensional battle, only Shao Khan out-evils Shang Tsung. And Khan has yet to be cast. For now, Chin Han looks like he'll be the antagonist of the new Mortal Kombat movie.
Sisi Stringer is Mileena
NetherRealms Studio/OUT Actingstudio
Newcomer Sisi Stringer will play Mileena, one of the most iconic characters in the game. A clone of her "sister" Kitana made by the sorcerer Shang Tsung, Mileena is a conflicted and violent woman. Her skills as an assassin match her brutality. We're very excited to see whether this means that we might see Kitana, Jade, and Baraka in the film.
Will there be fatalities?
Warner Bros.
Thanks to the R-rating we already knew there would be gore and the Entertainment Weekly feature confirms that. "I wanted to make sure that everyone respected the material, the lore of Mortal Kombat, the fans and the love they have for this. Everyone was clear on it," McQuoid said of developing the reboot. Respect for the material also meant leaning into what makes Mortal Kombat so popular after all these years. Blood has a lot to do with that.
When will it release?
Mortal Kombat arrives on April 23, 2021 (Warner Bros. confirmed to Nerdist). It's delayed from April 16. You can catch it on both HBO Max and in theaters—if it's safe to visit them!
Keep your eyes on this post. We'll keep updating it as we get more news. Until then, practice those fatalities.
Originally published on August 30, 2019, with updates on January 15, 2021, March 17, 2021, and March 30, 2021.