Comics have always been a space for telling important stories about real life. From the introduction of the world's most famous immigrant, Superman, by two Jewish creators to the simple (if sometimes flawed) exploration of civil rights through the lens of the X-Men, comics are full of politically analogous tales which seek to inform and educate their readers. Lilliam Rivera and Steph C.'s new DC graphic novel Unearthed about Green Lantern Jessica Cruz continues that legacy. It's a timely and important story about racism, immigration laws, and the threat of I.C.E. Check out our chat with Rivera and some exclusive art from Unearthed below.
DC Comics
It was a story that made instant sense for author Rivera. "I've always been a DC Comics fan," she told us over email. "As a kid, I was always searching for Latinx superheroes to latch onto. When I was presented with this opportunity, I knew I wanted to explore Jessica Cruz's origin story; specifically her teen life living in Coast City before she officially becomes part of the Green Lantern universe. Unearthed is not only a story of an everyday teenager doing her best with friends that love her, it's also a story of immigration and how Jessica will question her role in a sometimes unforgiving and harsh world while trying to keep her family together."
DC Comics
Because this is a story of one of DC's most beloved Green Lanterns, making it a comic was of course the only way to go. But for Rivera it also felt like the most powerful medium for the tale. "There's something quite freeing in working in a medium where words are not the only way to express emotion," Rivera shared. "With Unearthed, we are able to dig deep into Jessica's point of view and visually see her joys and fears. Another highlight for me was working with an all Latinx team, Mexican artist Steph C. and associate editor Diego Lopez."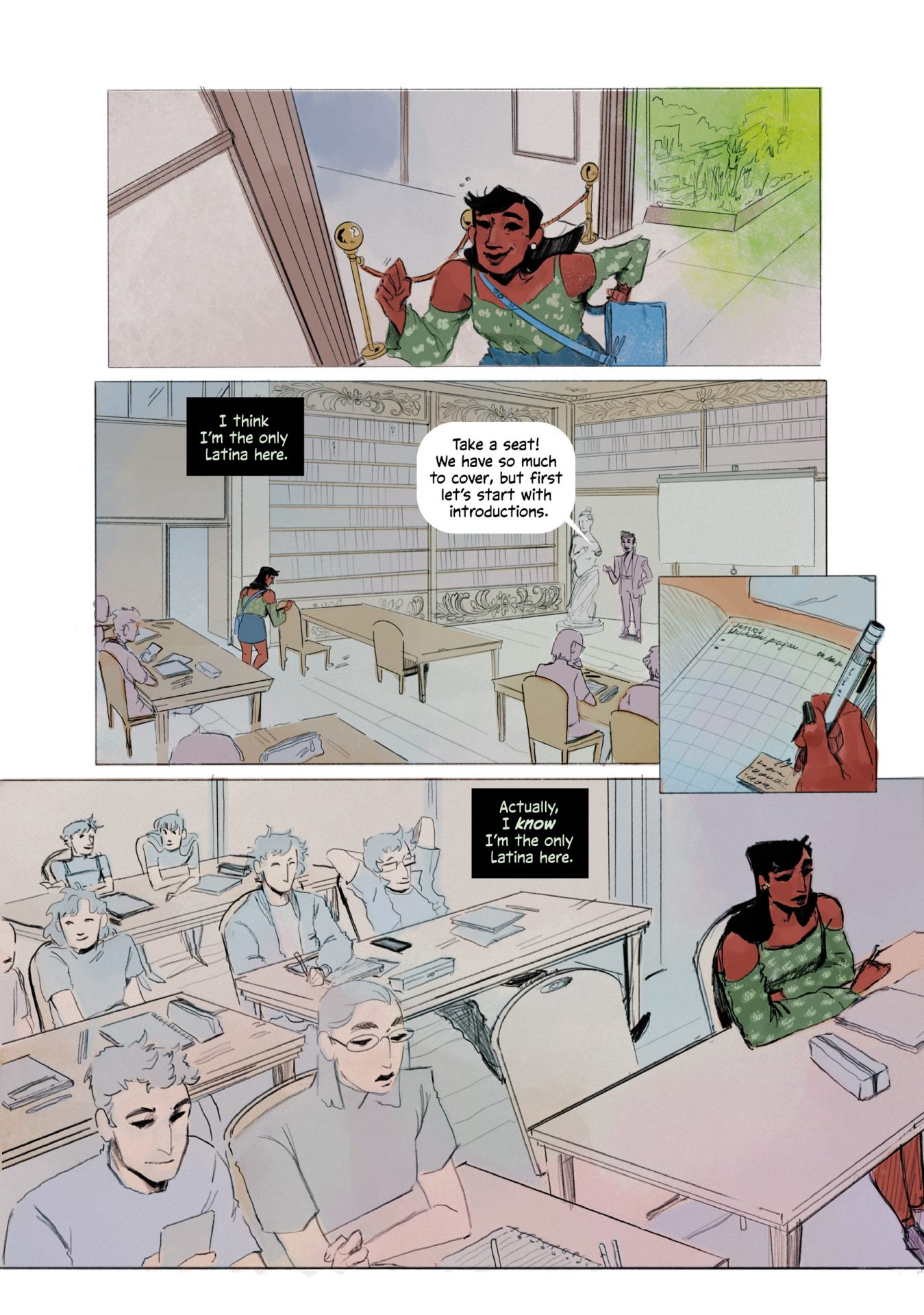 DC Comics
For her story about Jessica Cruz before she becomes a member of the Green Lantern corps, Rivera focused on the real experiences of Latinx people in America. In this young adult comic, Cruz is a DACA recipient and her parents are undocumented. That struggle becomes bigger when a racist, anti-immigrant mayor runs for office in Coast City. It was a chance to shine a light on the realities of living through racist policies and also showing how communities find hope even in the most dire situations. "If you look at the current headlines, you'll see the same talking points being made about a 'border crisis' that lacks empathy and truth," Rivera explained. "With Jessica, we are able to follow how these inherently racist political takes affect one family and explore the idea of hope within your community."
Like most of DC's younger readers and YA titles, the art is delightfully unique. Unearthed looks more like an indie anthology tale than a Big Two superhero book. Rivera was just as much of a fan of her collaborator as we were. "This is all because of Mexican artist Steph C.'s true talent!" Rivera enthused. "The illustrations she created are so cinematic and wondrous. Each time I received new artwork I would get teary-eyed from how she was able to capture the world. I feel as if we spoke the same language. Readers are going to be amazed at what she created."
DC Comics
With the story available for pre-order now, Rivera is excited for readers to discover the team's vision. "I really hope readers will enjoy the breath-taking artwork and fall in love with Jessica Cruz, an inspiring Latina who is at the very edge of discovering her true power."
Unearthed: A Jessica Cruz Story hits shelves on September 14 and you can preorder it now.