Green Lantern is coming to HBO Max. The streaming site's next DC series will explore the stories of different members of the Corps, along with some new additions to the ring-bearing group. But the two most famous Lanterns won't be involved. And that could point towards Warner Bros. having big screen plans for them. According to Variety, American Horror Story actor Finn Wittrock will play "hyper patriot" Guy Gardner in the series. Additionally, per The Hollywood Reporter, Mamma Mia! Here We Go Again star Jeremy Irvine will play Alan Scott, one of the most prolific gay superheroes. Created in, in 1940, he was the first person to hold the Green Lantern mantle in the comics.
10 one-hour episodes will make up the first season. Initial reports about a possible show based on the famed Corps date back to October 2019. But it was unclear exactly what that would look like. Now with the series formally heading into production, Warner Bros. has shared details about what fans can expect.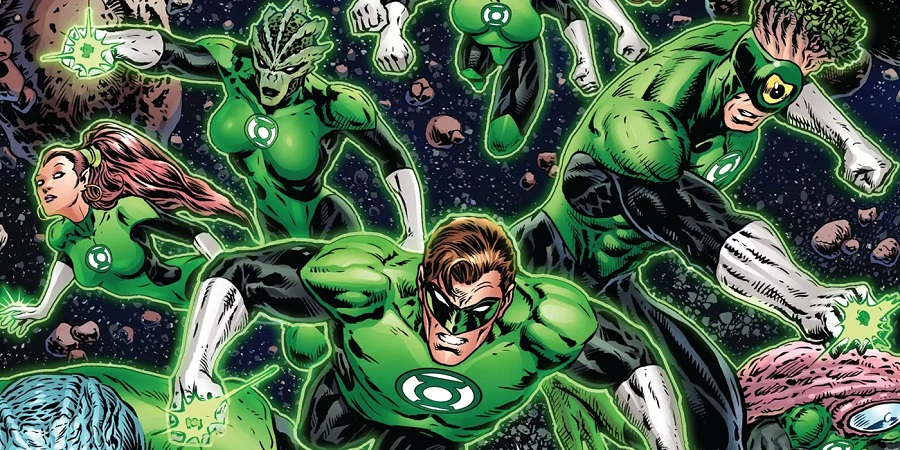 DC Comics
According to Variety, the show will follow "the adventures of a multitude of Lanterns." That will include Guy Gardner, Jessica Cruz, Simon Baz, and Alan Scott. Scott's inclusion is especially notable. He was Earth's first Green Lantern and in the comics is gay. Other popular characters viewers can expect to see include Sinestro and Kilowog. But the series will also introduce new members of the Green Lantern Corps.
Seth Grahame-Smith (The Lego Batman Movie, Abraham Lincoln: Vampire Hunter) and Marc Guggenheim (DC's Legends of Tomorrow, Arrow, and :ahem: the 2011 Green Lantern movie with Ryan Reynolds) will co-write and executive produce the series. Grahame-Smith will also serve as showrunner. Berlanti Productions will produce along side Warner Bros. Television.
DC Comics
There are two notable exceptions from the list of announced Green Lanterns though: Hal Jordan and John Stewart. There exclusions are a strong indicator they are both being "saved" for future movie appearances in the DCEU. (Possibly even in Zack Snyder's Justice League. Fans have long speculated one of the two was meant to be the seventh member of the superhero team.)
Not that the show will need either to be successful. There are lots of Lanterns stories worth telling, on both the big and small screen.
Featured Image: Universal Pictures
Originally published on October 9, 2020 with updates on April 30, 2021.