Will the wonders of the internet never cease? When I was a kid in London in the early '00s, I was lucky enough to experience great cinema from around the world. I had a particular fondness for some of the incredible Ghanaian and Nigerian bootleg movies that we used to purchase from the local entrepreneurs that thrived in Hackney at the time. Through these early experiences of Nollywood and the cinema of Ghana, I came to discover the incredible hand-painted posters of the Ghanian Mobile Cinema, but never in my life did I dream I might be able to own one. Until I discovered Deadly Prey Gallery.
Deadly Prey Gallery, art by Leonardo
The Chicago-based gallery's Instagram account is filled with outrageous masterpieces featuring everything from Batman '89 to Alien and The Thing to Curb Your Enthusiasm, and plenty of your other favorites. The most famous painting is undoubtedly the incredible Mrs. Doubtfire poster by Leonardo, which has gone viral more than once. I reached out to the gallery's creator Brian Chankin who gave our readers a little more insight into Deadly Prey Gallery, the artists behind the awesome posters, and the history of the Ghanaian Mobile Cinema.
Deadly Prey Gallery, art by Heavy J
The primary aim of the gallery is to support artists and archive these unique pieces of art. Per the organization's website, "Deadly Prey Gallery was created by Brian Chankin, in partnership with Robert Kofi in Accra, Ghana. Our goal is to archive, educate, exhibit, and promote the art of hand-painted movie posters from Ghana." The best thing is that the team supports current artists in Ghana still working in the genre today by selling their paintings and offering commission opportunities to their customers.
Heavy J in his studio, Deadly Prey Gallery
So what is Ghanaian Mobile Cinema? "This business started in the late 1980s when artistic, industrious groups of people formed video clubs," Chankin explained. "With a television, VCR, VHS tapes, and a portable generator, they'd travel throughout Ghana setting up makeshift screening areas in villages void of electricity. An interesting selection of movies became popular mainly due to availability. These genres include Hollywood action and horror, low-budget American schlock, Bollywood films, Hong Kong martial arts movies, and Ghanaian and Nigerian features."
Deadly Prey Gallery, art by Mr. Nana Agyq
He also shared how the success of the mobile cinema culture led to the creation of the handcrafted posters that the internet is falling in love with. "As more people gained interest in this rising business, competition arose," Chankin said. "Mobile cinema operators found a need to set their products apart, so an advertising motif came into play. With no affordable access to printing, the hand-painted movie poster was the most logical advertising vehicle. Skilled local artists were now part of this growing entertainment industry in Ghana, and they surely brought their own distinct touch to each film they were called upon to promote."
Farkira with his painting for Tales From the Crypt
Rugged and beautiful, these pieces benefit their unique look in part from the use of wildly imaginative canvases. "By sewing together used flour sacks, a perfect-sized canvas for an oversized movie poster was created," Chankin said. "The ruggedness of these posters is immediately noticed. Though a specific poster might only be 10 to 20 years old, its appearance will far surpass its actual age due to the elemental toll one takes from constant transit, being rolled, folded, left in the sun, rain, etc."
Deadly Prey Gallery, art by Magasco
Despite the fact that the mobile cinema may be a thing of the past, the gallery aims to keep the culture of hand-painted posters alive. "The mobile cinema has all but passed away, but these hand-painted movie posters remain a wonderful, tangible product of the time," Chankin said. "Many of the same artists from Ghana's former mobile cinema continue to paint movie posters as art with Deadly Prey Gallery on a commission basis to a growing worldwide audience. Today the gallery works with talented artists from Ghana's former mobile cinema. The impressive roster features Heavy J, Salvation, Stoger, Leonardo, Farkira, Mr. Nana Agyq, Mark Anthony, C.A. Wisely, Magasco, and Nii Bi Ashitey."
The artists from left to right: Salvation, Heavy J, Mr Nana Agyq, Farkira, and Stoger
You can check out more of these artists' amazing posters in our gallery below! If you want to support them then head to Deadly Prey Gallery's website or Instagram!
Deadly Prey Gallery
Heavy J, Deadly Prey Gallery
Farkira, Deadly Prey Gallery
Deadly Prey Gallery
Deadly Prey Gallery
Deadly Prey Gallery
Leonardo, Deadly Prey Gallery
Leonardo, Deadly Prey Gallery
Stoger, Deadly Prey Gallery
Stoger, Deadly Prey Gallery
Heavy J, Deadly Prey Gallery
Farkira, Deadly Prey Gallery
Deadly Prey Gallery, Farkira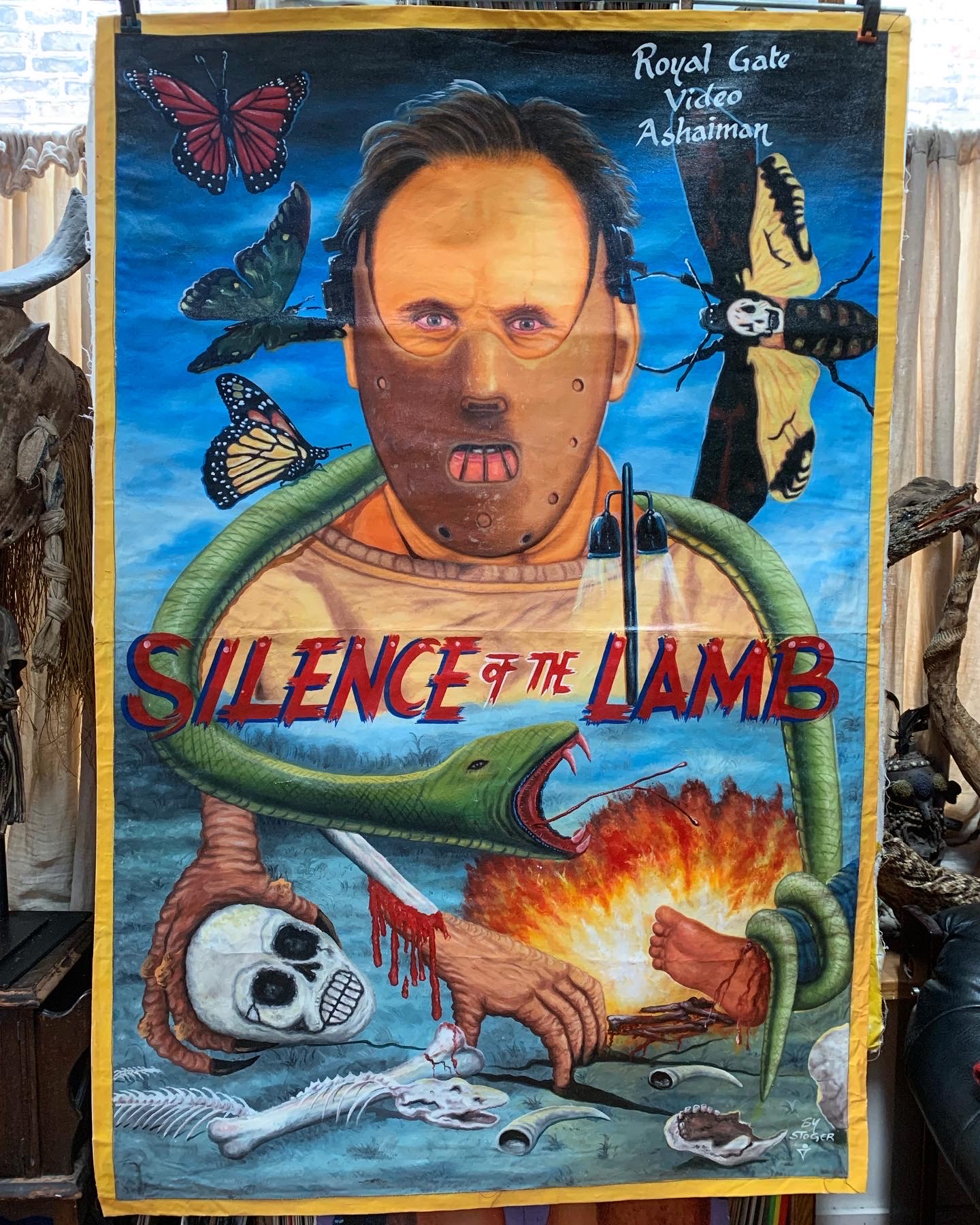 Deadly Prey Gallery
Deadly Prey Gallery
Deadly Prey Gallery
Deadly Prey Gallery
Featured Image: Deadly Prey Gallery, art by Salvation