Who were the big "winners" at this year's San Diego Comic-Con? Some would say the fans who got to attend or follow all the big news and trailers from home. Bu the actual answer is a lot less saccharine— it was Marvel. Marvel won SDCC 2022. Big time. Again. As Disney once more turned pop culture's biggest weekend into the MCU's personal showcase, dropping dozens of reveals. From new animated Marvel shows to the entire MCU Phase 5 slate and the fantastic beginning of its Phase 6, here's everything Marvel Studios announced at San Diego Comic-Con 2022, along with all of our coverage.
Every Marvel Studios MCU Reveal At SDCC 2022
She-Hulk and Black Panther: Wakanda Forever Will End Phase 4
It wasn't long ago—just 2019—when Marvel announced Phase 4 of the MCU at SDCC. So it was only fitting Disney returned to San Diego to announce this era's end. What a way to go out, though. That farewell included a new (and we'd say easily the best) trailer for She-Hulk: Attorney at Law. This SDCC trailer revealed She-Hulk would feature another famous Marvel lawyer (who had a huge weekend himself) in the show.
But the highlight of the entire Comic-Con weekend, not just for Marvel, was the stunning first trailer for Black Panther: Wakanda Forever. We are already completely obsessed with it. It's emotional, exciting, and somehow manages to pay tribute to Chadwick Boseman while also promoting a new story.
Read All About It!
The Full MCU Phase 5 Slate
Forget telling us some of its plans for Phase 5 of the MCU. Disney revealed the entire next set of live-action shows and movies, along with when we'll see them.
Things kick off in February of 2023 with Ant-Man and the Wasp Quantumania. That will be followed by Secret Invasion, Guardians of the Galaxy Volume 3, Echo, The Marvels, Loki season 2, Blade, Ironheart, Agatha: Coven of Chaos, Captain America: New World Order, Daredevil: Born Again, and Thunderbolts, which will end Phase 5 in July 2024.
The Phase 5 slate also came with plenty of new information and even some early looks at what fans can expect from the MCU's upcoming era.
Read All About It!
The MCU Phase 6: The Fantastic Four and Two New Avengers Movies
As impressive as Phase 5 of the MCU might be, the start of Phase 6 might be even better. Because Marvel didn't stop with its SDCC Thunderbolts announcement. No, the studio used its SDCC panel to announce the future-future of the MCU, a.k.a Phase 6.
Phase 6 of the MCU will get off to a fantastic start before things get even bigger. The studio announced a new Fantastic Four film will kick things off on November 8, 2024. (Which means we should learn the cast next year when production starts.) Then, SDCC 2022 revealed to us that we're getting not one but two new MCU Avengers movies just a few months apart in 2025. And we're confident those movies with "conqueror" the box office because they're going to bring The Multiverse Saga to the big screen.
Avengers: The Kang Dynasty comes to theaters on May 2, 2025. Then Avengers: Secret Wars will follow on November 7.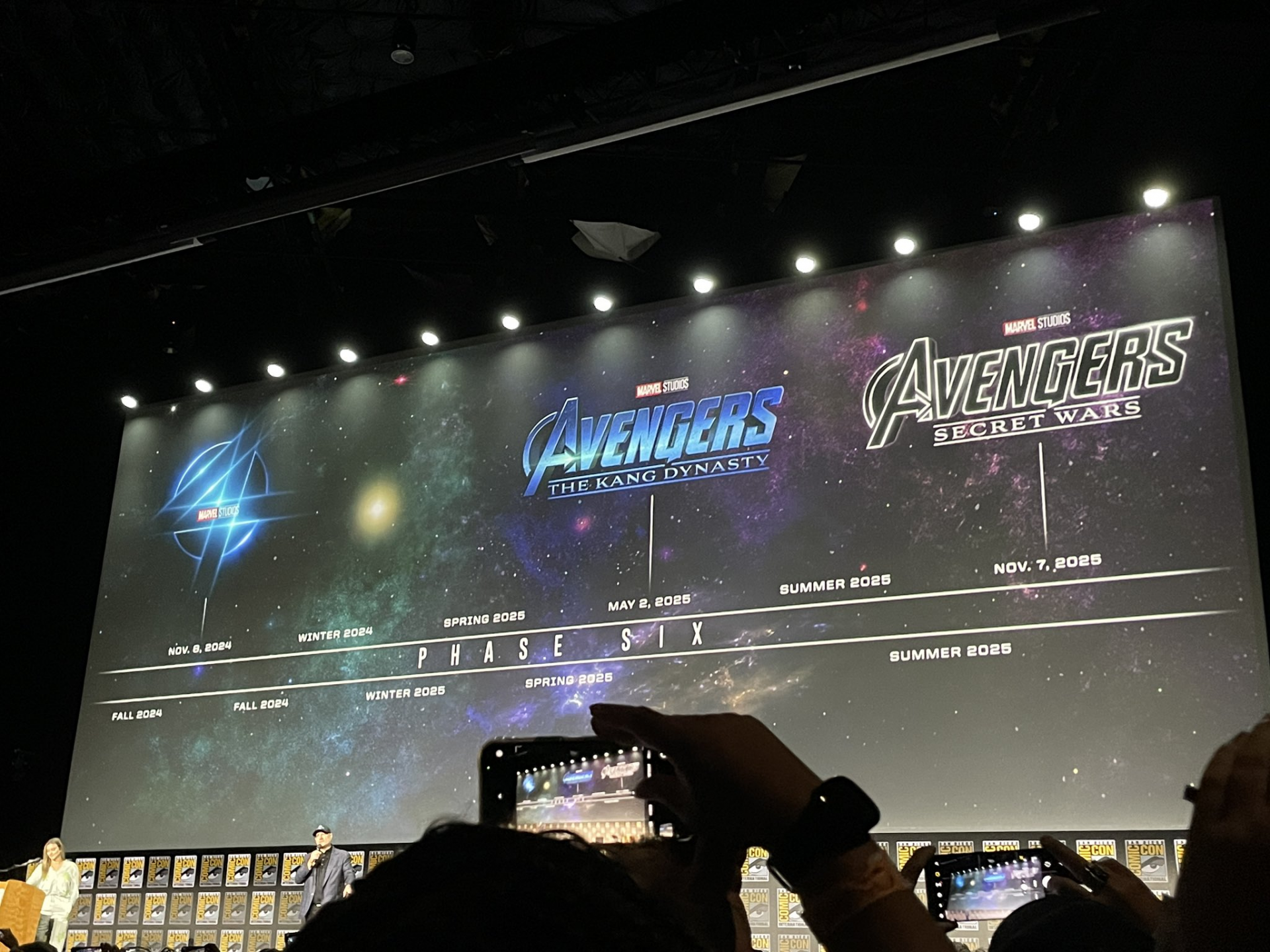 Read All About It!
New Animated MCU Shows
In addition to its many live-action announcements and MCU reveals, Marvel Studios had some exciting reveals to share about its future animation projects. From X-Men, to Spider-Man, and more, there's a lot to be excited about in Marvel's animated world.
What If…? is getting a second (and likely a third) season. But soon, it won't be the only MCU animated show. Marvel provided first looks and new details for some previously announced series. That included sneak peeks at X-Men '97 and Spider-Man: Freshman Year, as well as a trailer for I Am Groot.
Read All About It!
The Big SDCC Reveals of the MCU
We expected Marvel to have many exciting projects reveals during their panel, but they really hit SDCC hard in 2022. As the MCU concludes its Phase 4, moves into Phase 5, and continues to uncover its Phase 6, there's no doubt we'll have a lot to feel excited about.
Okay, we take it back. Marvel fans also "won" this year's San-Diego Comic Con.