Fans have waited with baited breath since the post-credits teaser for Guardians of the Galaxy Vol. 2 for a good look at Him, aka Adam Warlock. We've known for a while that Will Poulter will play the golden space Chad in Guardians Vol. 3 but San Diego Comic-Con 2022's massive Marvel Studios panel finally gave everyone a proper look at the MCU's Warlock. But will he spell hope or despair for our friends the Guardians? The first look at James Gunn's upcoming film let us finally understand the awesome might of Adam Warlock. Plus, later in the panel, a major surprise! The High Evolutionary himself.
Gunn shared a sneak peek at the movie, which included a number of elements, including Star-Lord and crew saying they have an appt with Gamora, who is now with the Ravagers. She doesn't remember anything about Peter or her time with the Guardians. Peter tries to share his feelings (which everyone can hear) but she says she doesn't share them. She's not the same Gamora after all.
We also see them spacewalking in different colored suits, both blue and red, before revealing Adam Warlock, adult Groot, and a very young Rocket! After the sizzle, Gunn said "this is about the final arc we began with volume 1; everyone from Peter to Nebula to Kraglin" Kraglin (Sean Gunn) is now a full time Guardian, as he was in Thor: Love and Thunder. Gunn the director later said "Rocket is the saddest creature in the universe and that's what this story is about to some extent."
Chris Pratt said "you find Peter Quill and he's reeling from the events of Endgame. Gamora doesn't know who he is, that's a big part of his journey. It opens up a vulnerability of the Guardians to danger, so he spends the movie trying to make up for the mistake of being checked out/buried under pain."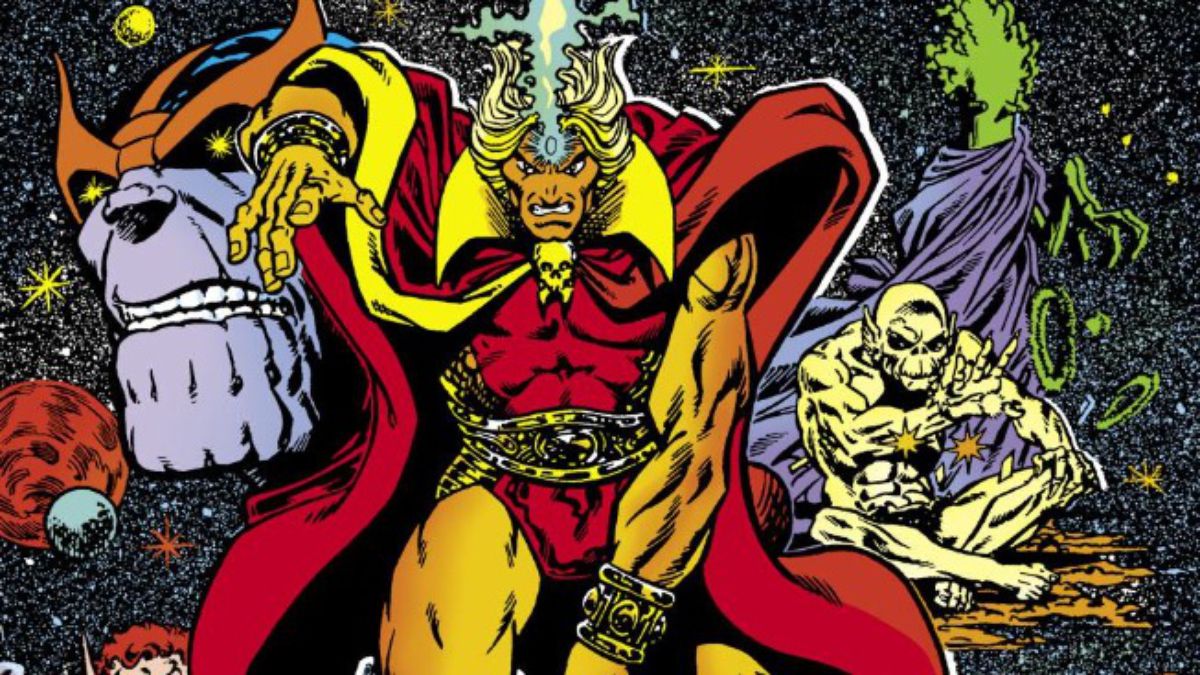 As for Warlock, Gunn said he was nearly in Vol. 2. Adam Warlock's first appearance in the comics was under the non-committal name "Him" in the pages of Fantastic Four in 1967. Marvel rechristened him under his now familiar name in 1972. A being created by Earth scientists and harnessing the awesome might of the Soul Gem, Warlock was an all-powerful man-god with the clearest sense of right and wrong this side of Steve Rogers. He stood in opposition to Thanos, life's champion against death's. Jim Starlin, who'd go on to write the legendary Infinity Gauntlet saga, teed that event in the pages of his solo Warlock book. In that run, Warlock teamed up with Pip the Troll and Gamora for various space adventuring.
The Guardians portion could have ended right there! But no no. Instead, actor Chukwudi Iwuji (Peacemaker) arrived in full High Evolutionary costume.
The High Evolutionary was first introduced in 1966's Thor #134. His real name is Herbert Wyndham, an Earth scientist who got all up into some chaos magic on Mount Wundagore. The character has always straddled the line between Marvel's cosmic and magical universes, making him one of the more fascinating villains. In the MCU, he'll apparently wish to "create the perfect species; to dissect everyone."
That is some wild and wonderful Guardians of the Galaxy stuff. We simply cannot wait for the third volume to hit theaters May 5, 2023.
Kyle Anderson is the Senior Editor for Nerdist. You can find his film and TV reviews here. Follow him on Instagram and Letterboxd.