The YouTube channel Hollywood Haunter is the place to go for getting ideas for your elaborate home haunts. Hosts Chris and Jenna put everyone else to shame when it comes to amazing DIY Halloween creations. However, two of their builds in particular, made for their young son Harrison, will totally blow you away. The first is a Ghostbusters playset, mainly based on the old Kenner Real Ghostbusters toys from the '80s. In the video below, you can see how they filled every nook and cranny with references to the franchise. The second playset is all about He-Man and the Masters of the Universe.
Check out the video for their Ghostbusters build below:
As we can see, the firehouse has two levels with equipment all along the walls representing the ghost containment unit. (Just don't let that Walter Peck guy anywhere near it). You can see ghost traps, proton packs, and Egon Spengler's equipment all around. Our two favorite details are the portrait of Vigo the Carpathian from Ghostbusters II, and the box of Ghostbusters cereal. Very nice touch.
Chris and Jenna worked for months building the facade, which they chronicled on their channel as well. They made sure each piece of wood looked like a part of the brick exterior from the Ghostbusters' firehouse. Of course, the Stay Puft Marshmallow Man looming over the roof gives it that extra level of perfection—as does the eerie ecto-green glow coming from inside.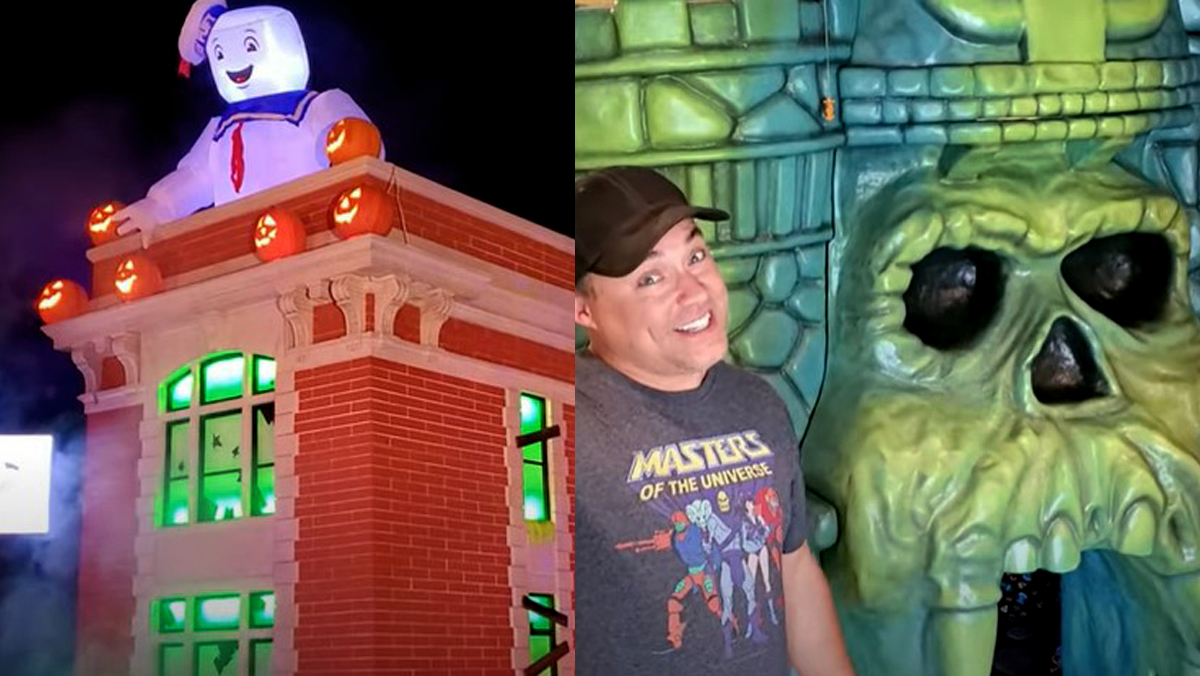 Still on the '80s tip, Chris and Jenna recently built an equally impressive (and enormous) Masters of the Universe Castle Grayskull playset for Harrison. Like the firehouse, the He-Man playset took several months to finish. And it looks exactly like the old Mattel playset, down to the grayish-green paint. After they completed the He-Man playset, they moved it into Harrison's room, where it became a facade for his bed. Not to mention a place to play with all of his He-Man and Skeletor toys.
Grayskull has many cool details for hardcore Masters of the Universe fans. Our favorite is the "lock and key" for the jawbridge which is the Sword of Power—just like the original toys. If fact, this is quite the collection of vintage He-Man toys and collectibles that Harrison has on display. We have a hunch though that they mostly belonged to one or both of his parents. Regardless, we're pretty sure Harrison is the luckiest kid on Earth right about now.