In many ways, 2021 felt like a surreal continuation of 2020. There are still many bizarre, frustrating, and sometimes sad things going on in the world. And COVID-19 came out with more variants than Loki. But thankfully we can always count on TV to deliver just what we need, whether we want to laugh, cry, debate, theorize, or simply escape it all. We can't include every single great show in the world, but here are Nerdist's picks for the best TV shows of 2021.
WandaVision
WandaVision kicked the year off in style, marrying the MCU with classic sitcom nostalgia. The show drummed up a ton of interest last year with hints of Wanda and Vision somehow living together in a 1960s era world. We all wanted to know WTH was happening and why. And this Disney+ series did not disappoint. From its ample nods to old TV shows to its examination of Wanda's grief and psyche, WandaVision gave us something truly unique in the Marvel world. And we got the gift that keeps on giving: the infectious " Agatha All Along" bop.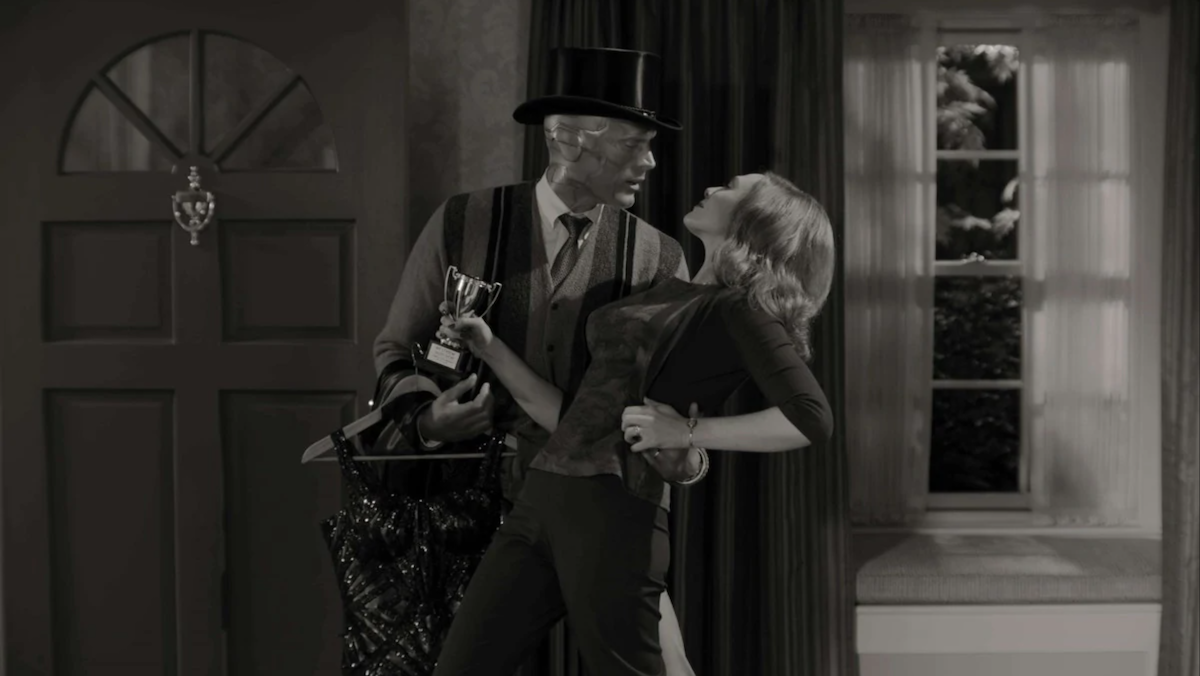 Mare of Easttown
Kate Winslet stuns in this suspenseful small town thriller as its titular detective tasked with solving a teen's baffling murder. The words "complex" and "layered" often get lazily thrown around when describing women characters with an ounce of nuance. But Winslet's Mare is truly a fully realized and imperfect protagonist grappling with the pressures of work, family/community dynamics, and emotional upheaval. Mare of Easttown interweaves its key and secondary players together brilliantly, keeping the viewer engrossed and guessing with every new reveal and twist. At only 7 episodes, it's the perfect weekend marathon watch. Who doesn't have an affinity for crime dramas starring detectives whose personal lives are in shambles?
Lupin (Part One and Two)
The adventures of Arsene Lupin came to life in this swift, slick, stylish, and smart French crime drama. The show gives us an alternative to the many white male spy leads with its titular character, a Black immigrant who seeks to avenge his father's death. His many exploits, masterful costumes, and unbelievable ability to study and con those around him is top-tier entertainment. Lupin's breathtaking drama, cliffhangers, and swift pace play perfectly alongside its masterful unwinding of its protagonist's inner core. It's no wonder Netflix pushed out two parts of the series this year with a third set to arrive in 2022.
Pose (Season Three)
Pose broke ground with its ensemble cast comprised of primarily trans women telling the stories of NYC's ballroom culture and the LGBTQ+ experience for people of color during the 1980s and 1990s at the height of the AIDS crisis. The final season took fans to 1994 and dug deep, diving into the backstories of its most mysterious figures and unveiling the current lives of its protagonists as the ballroom dynamics change. The episodes take you through a gamut of emotions, delivering shock, heartbreak, and joy while continuing to teach vital history lessons to mainstream audiences. We all needed a happily ever after and Pose gave us a series finale with just that, although it was sad to leave the ballroom floor.
What We Do in the Shadows (Season Three)
Did you really think we'd leave our vamp fam off the list? This website is, after all, the same one that did an entire week dedicated to vampires. What We Do in the Shadows continues to be comedy gold in its third season. The chemistry between its main players is still scary good as it deals with the fallout of last season's finale while still dishing out humor and other fun happenings. This world continues to spin on a highly creative and expansive axis and we cannot wait for season four to land, hopefully next year.
I Think You Should Leave with Tim Robinson (Season Two)
This popular sketch comedy show finally made its way back to TV over two years after its debut season. The series doubles down on its wild skits this round for ample laughs. From a ghost tour with graphic questions to a foray into what happens during distracted driving, it's the funny thing we needed as the pandemic goes on. And, who doesn't love a quick 15-ish minute episode for a quick bite of joy?
Midnight Mass
Let us rejoice! Pretty much anything Mike Flanagan touches is golden. And Midnight Mass is no different, taking us into an isolated community teeming with supernatural events and intriguing characters. A man's journey back home unveils a trove of sinister happenings. Nothing, and no one, is quite what it seems in this horror drama as things begin to unfold. This basis provides a brilliant exploration of grief and faith anchored by stellar performances. Midnight Mass sinks its teeth into you and refuses to let go until the very last moment.
The Underground Railroad
Barry Jenkins is one of the premier storytellers of our time. The Moonlight director and writer took Colson Whithead's book of the same name, which blends an examination of slavery-era USA with magic to make a literal railroad, and brought it to beautiful life. The series follows Cora, an enslaved Georgia woman who boards this train on a trip towards freedom. The Underground Railroad is vital, brilliant, painful, exhilarating, and undoubtedly one of the best TV shows not just in 2021, but perhaps in the last decade. It is certainly not just "another slavery" story; it's a narrative that humanizes people who were stripped of their human rights.
Squid Game
Of course, the Netflix smash hit deserves a spot on everyone's best TV shows of 2021 list. Squid Game had us all in a viewing headlock with its premise of contestants doing deadly challenges in hopes of clearing their debt. The contestants are much like many of us, trying to survive and hoping for financial security. Clear commentary and analysis of society, friendships, intensity, and a premise that sadly seems far too plausible combined with its performances make this a solid drama.
Reservation Dogs
Taika Waititi champions another hit with Reservation Dogs. Indigenous teens in Oklahoma get into all sorts of trouble (illegal and otherwise) with their eyes on Cali to life. The series not only stars Indigenous actors but places Indigenous creatives behind the scenes. It is a (far too) rare glimpse into its protagonists' coming-of-age experiences through a specific lens. It's funny, challenging, and vital TV watching.
Cowboy Bebop
1,2,3…let's jam! Cowboy Bebop's live-action show hit Netflix this year. The space cowboy adventures of Spike, Jet, and Faye came to life after great anticipation. The series draws from its anime origins, obviously, while serving up some witty originality of its own. Its modern take on this trio's life and bond brought more depth to interpersonal relationships. Yes, it became divisive among the fandom for, well, many reasons. It certainly wasn't a carbon copy of its predecessor…and that's cool with us. Cowboy Bebop had enough fun and camaraderie for a highly entertaining watch.
Succession (Season Three)
The Wheel of Time
Sometimes, the best things come in the 11th hour. Such is the case with Prime Video's fantasy series The Wheel of Time, a foray into a magical place that initially drew Game of Thrones comparisons. But, it is indeed a unique and engaging universe. The Wheel of Time empowers its magical women characters, pitting them against a dark force that wishes to crumble the world. It's a slow, methodical build that opens up like a rose blooming in the spring. The monsters, the curses, the secrets…they all combine to make a solid fantasy series.
Yellowjackets
What happens if you take Lord of the Flies and invert it in a modern, interesting way? You get Yellowjackets. This show focuses on a group of '90s high school soccer players whose lives are changed by a terrible accident. They survive a deadly plane crash and are forced to do gruesome things to survive. The narrative flips between those harrowing times and four survivors' current lives in 2021. Both eras boast solid casts with great chemistry who bring the series horror, drama, and sadness to life.
The Long Call
This British miniseries co-starring Doctor Who alum Pearl Mackie combines all the common trappings of a police procedural with something extra. The Long Call delivers on a winding murder mystery but also explores religious fanaticism, consent, relationship abuse, homophobia, and more. With slow unravelings, unexpected red herrings, and a host of suspect Devon residents, The Long Call stands out from the crime drama pack.
Hawkeye
Last but certainly not least is Hawkeye. The Marvel show evokes the spirit of the comic giant's run of Netflix shows, infusing it with everything we want from a superhero show. Easter eggs? Got those. Expanding on lore? Yep. Representation? Hello Echo and the exploration of what Deaf and Hard of Hearing people experience. Fun and action? That car chase scene is an instant classic. And, there's also Pizza Dog. So much to love and we are enjoying the ride.