Artist Butcher Billy of Curitiba, Brazil is responsible for some of our favorite fan-made works. His episodic retro posters for The Mandalorian should hang in a museum. Now he's back with another stellar collection celebrating one of our favorite shows. He's created a line of retro posters for WandaVision, and just like the show itself, they are funny, moving, tragic, and pay tribute to pop culture's past. The prints honor everyone and everything from Davie Bowie to Billy Wilder to I Love Lucy to Rosemary's Baby.
Butcher Billy
This gorgeous collection features at least one poster for each of WandaVision's nine episodes. Spanning classic sitcoms, movies, famous album covers, cartoons, video games, and comic books, there's something here for everyone. Each design bears a thematic connection to the events of the episode. For instance, the Rosemary's Baby-inspired poster references the arrival of two unexplained babies, whom Fietro called "Devil spawn."
We're especially partial to the poster for episode four, "We Interrupt This Program." This poster recreates the 1973 cover of Pinups, with David Bowie as Wanda and Twiggy as Vision. Not that we aren't also in love with episode five homage to Poltergeist. The whole collection is absolutely killer, for the designs and artistry, and also for how clever they are in covering a full spectrum of pop culture's past.
Butcher Billy
One episode was so important it got two different posters. Both posters for episode seven, "Breaking the Fourth Wall," can be seen here next to episode six's video game cover-style piece. Then there's a Twilight homage covering Wanda and Vision's tragic relationship. And a Snow White evil witch tribute that captures how it was really Agatha all along.
Butcher Billy
There are also two variations of Butcher Billy's holy episode eight print. One for Vision and one for White Vision. Both stand in front of an incredible silhouette of a floating Wanda. You can hear the church choir singing when you look at these.
Butcher Billy
But what is WandaVision if not our broken hearts persevering? And that's where the final piece comes in; the comic book cover-inspired piece celebrates how the show recreated a famous moment from the comic. (Insert Inception's "brong," but a sad version.)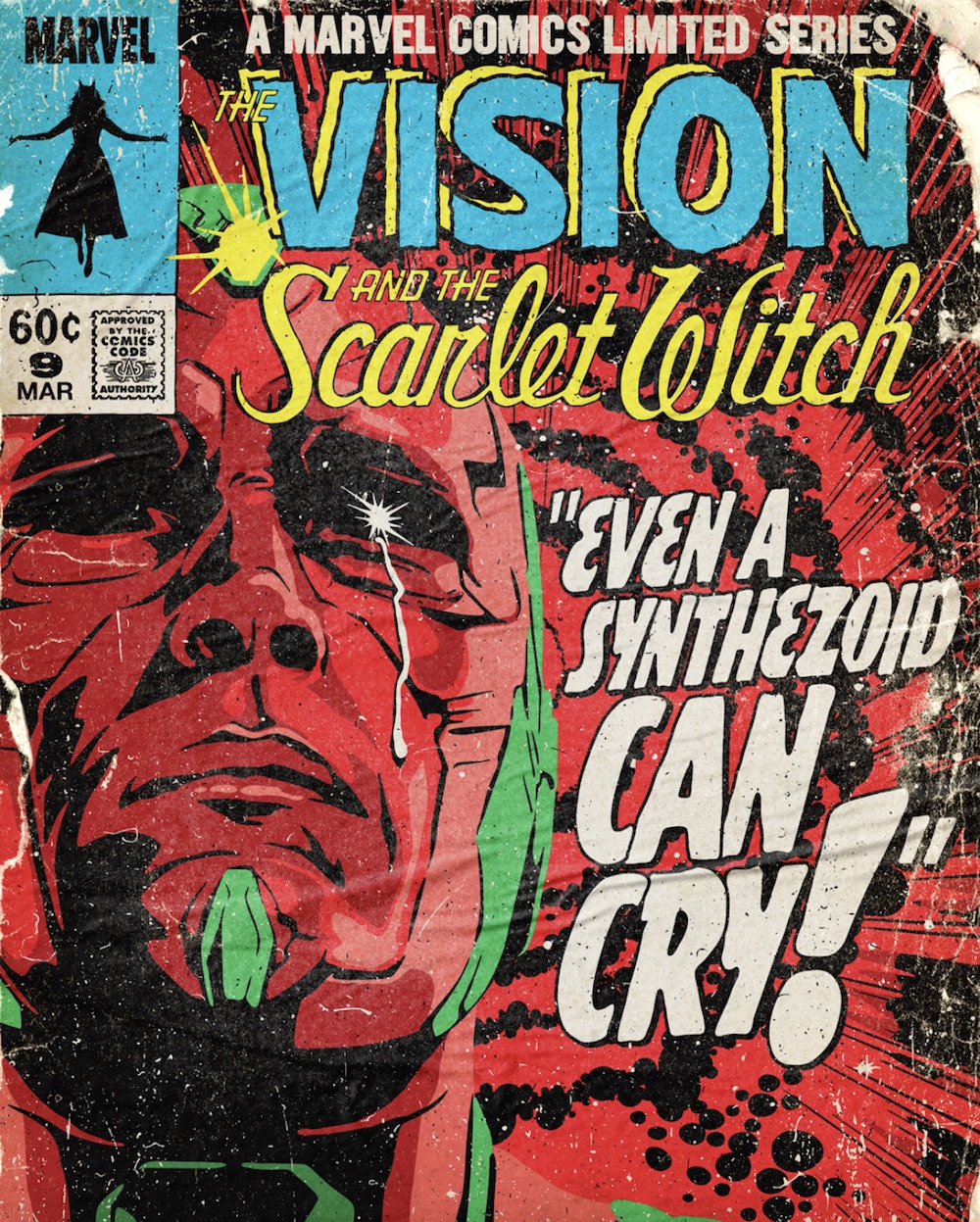 Butcher Billy
If you want any of these fantastic prints, you can purchase them at Butcher Billy's page at Redbubble. You'll also find many of his other great pieces there. And be sure to also follow him on Instagram to see his latest creations.
Hanging one of these up in your home would just be another tribute to the show. Like a rerun that became a beautiful piece of art itself.