The Mandalorian does so many things well. One of its best traits, though, is how the shows feels both modern and like a throwback to a different era of television. It's a space Western about a lone gunman who week after week finds himself facing a new danger in a new place; the first-ever live-action Star Wars series offers a viewing experience reminiscent of the classic episodic TV older fans of the galaxy far, far away grew up on. Now one artist is perfectly capturing that dynamic with a set of gorgeous prints. He's giving each episode of The Mandalorian's second season a retro-style poster.
And we want all of them.
Butcher Billy
Artist Butcher Billy of Curitiba, Brazil, has designed fantastic posters for our favorite Mando dad and his adopted son. All of them celebrate the best moments, quotes, and, in many cases, the humor from each episode of the hit series' second season. With their weathered look and color palettes, these might as well have been created before A New Hope even came to theaters in 1977.
They also highlight just how many types of stories the show told in its sophomore effort. Chapters 9 and 10 look like horror comedies. But 11 and 12 look like action films. And those who really take the time to examine these posters will see just how many details Butcher Billy includes in his work.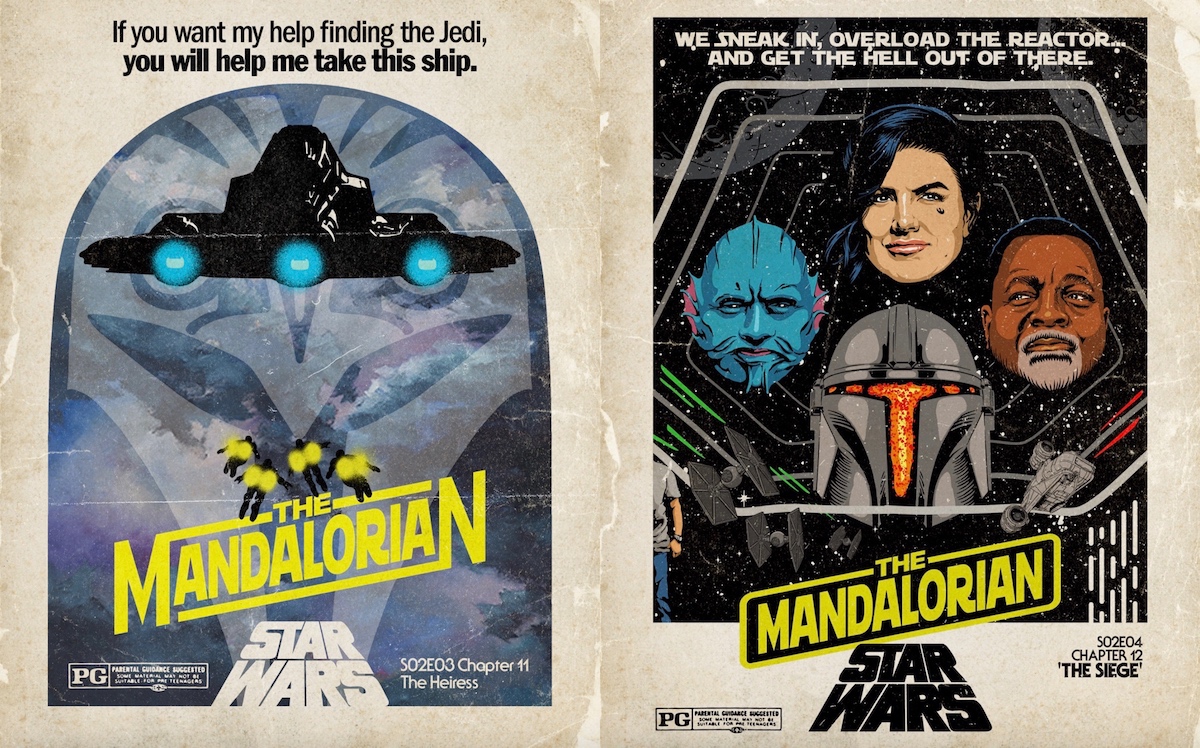 Butcher Billy
Did you see it? We tried to give you a nudge. Look at the lower lefthand corner of "The Siege" poster.
Perfect. As most of these are. You could tell us any specific poster is your favorite and we wouldn't disagree.
Butcher Billy
As for us, we're especially partial to the final two in the series. Chapter 15 is downright stunning with the framing of Din Djarin's face being scanned.
But Chapter 16 hits us right in the gut. While Luke is included, it's the moment that Grogu touches Din's face that is even more important, which this print captures.
Butcher Billy
Must have. Must. Have.
Fortunately Butcher Billy has his own page on Redbubble, which also features plenty more of his work. That includes some variations from this collection.
Butcher Billy
You can also follow him on Instagram, where many of his other collections are also available to check out.
While these retro posters—just like The Mandalorian itself—look like they came from another era, there are still some nice things about modern TV. It wouldn't have been as easy in the '70s to find fan art like this for the show.
Featured Image: Butcher Billy