It's debatable whether it was really Agatha all along in WandaVision. But what's not up for argument is how Kathryn Hahn rocked the role of the nosy neighbor Agnes, the witch Agatha Harkness' casual Westview disguise. Agnes swept into Wanda and Vision's home whenever she could butt in, offering friendly advice, tips, and babysitting services. While Marvel will likely release official Agatha Harkness figures one day (we hope), we don't expect to see figures of Agnes in her various outfits. So thankfully, one custom action figure creator is taking it upon themselves to give us the Agnes collectible we deserve.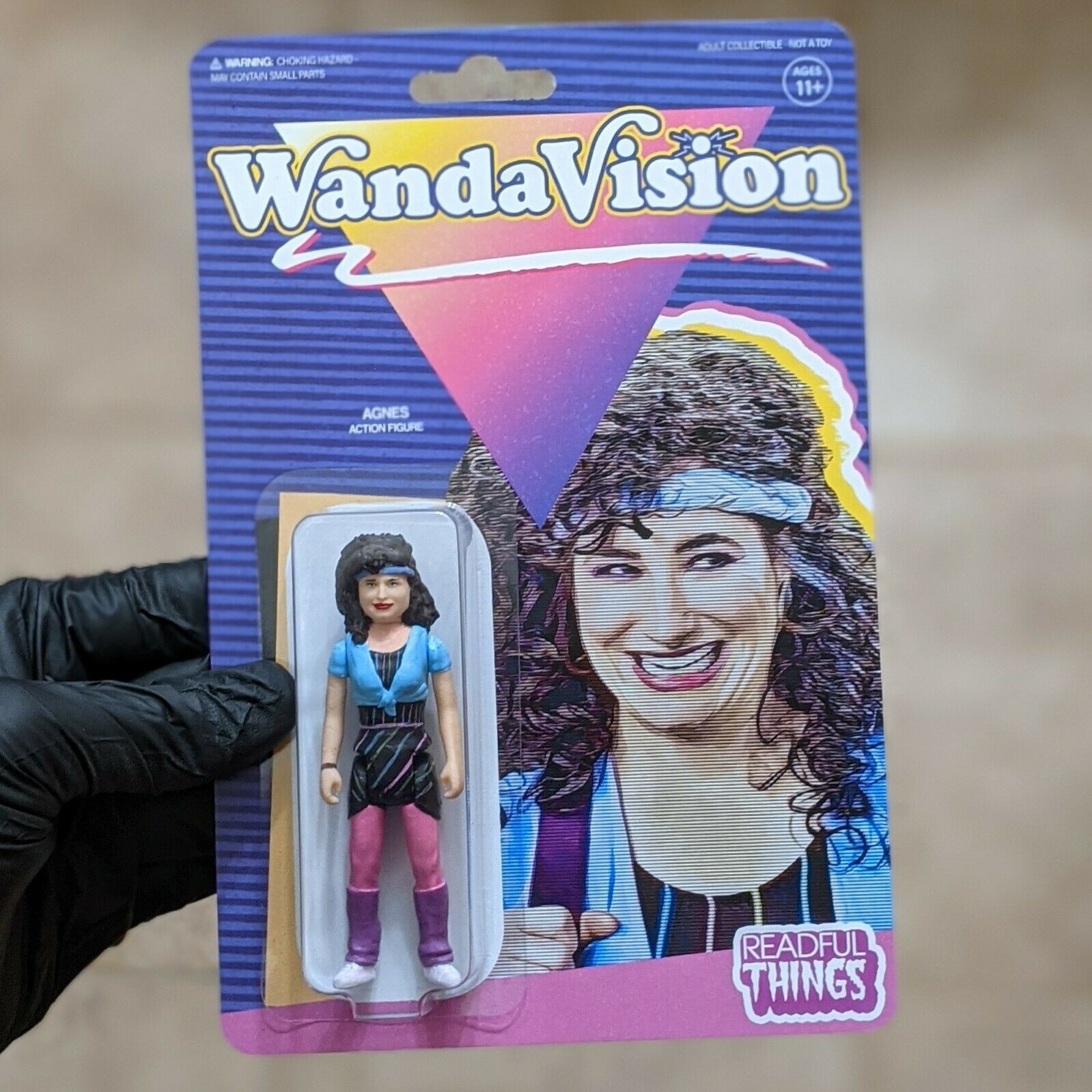 Readful Things
Spotted at Super Punch, this figure by artist Readful Things depicts Agnes as she appears in "On a Very Special Episode," the fifth installment of WandaVision. She sports an extreme example of fitness apparel from the time, the late '80s or early '90s. Is it the best Agnes outfit? I'm going to say yes. And Hahn hams it up in the ensemble, getting in her workout while she helps Wanda and Vision calm Billy and Tommy.
In short: this figure is perfect. The Agnes action figure comes on a custom card back. This is one toy we'd leave in its packaging for sure—especially since it's custom. Readful Things is selling the action figure on eBay and you still have several days left to place your bid. At the time of writing, Agnes has over $222 in bids.
Maybe you're not coveting a WandaVision Agnes figure. If not, browse the rest of Readful Things' work on Instagram. They make one of a kind action figures, blister packs, and card backs for all kinds of characters from The Muppets to Ted Lasso. You'll surely find something that matches your fandom. Plus keeping tabs on Instagram is the best way to see when new figures will land on eBay. Happy collecting!
Amy Ratcliffe is the Managing Editor for Nerdist and the author of The Jedi Mind, available now. Follow her on Twitter and Instagram.