Valentine's Day will soon be upon us. And whether you in a relationship or single, we all can agree on one thing. We ALL love Grogu, the infant formerly known as Baby Yoda. Sadly, young (ish?) Grogu is off with Master Skywalker at the moment. So we're unable to send him any chocolate covered frogs, with notes attached saying he's the love of our lives.
But thanks to Russian Etsy creator PolarrMoose, we can give adorable Grogu-inspired felt toys to loved ones, and they fit right in the palm of your hand. It's the perfect gift to surprise anyone you love with, whether they like Star Wars or not. Or, maybe buy a ton of them for yourself. It's 2021 after all, be your own valentine! You can check out several images down below:
PolarrMoose
Not only is there a regular Grogu in his traditional green color, but there is also a Sith version of the Child. Imagine if Baby Yoda wasn't rescued by Luke Skwaylker, but raised by Darth Sidious instead. He'd paint him up in red and black colors, just like his dearly departed Darth Maul. But Light Side of the Force or Dark Side, both of these little guys have a heart shaped balloon. Just so you know they love you no matter what.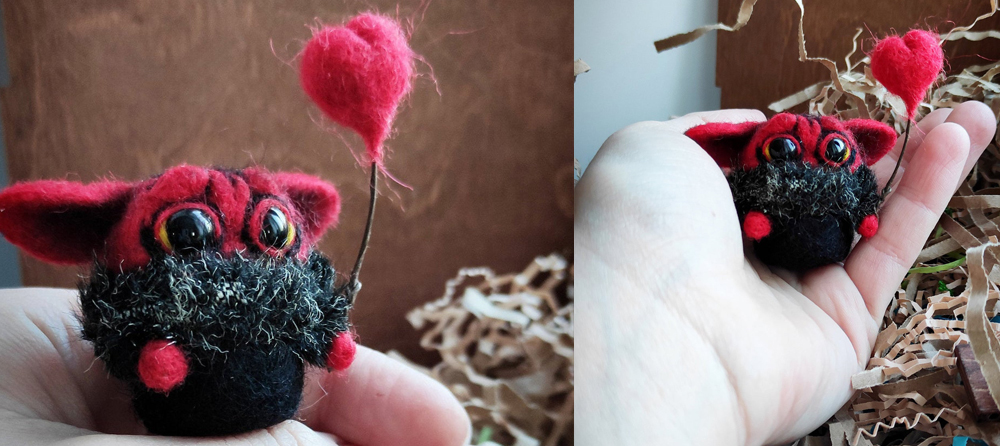 PolarrMoose
Thus handmade needle felting is described as a "gift for fans of Star Wars and Mandalorians." The tiny toy is sized at 1.6 inches (4cm), and is made of wool with glass eyechips. According to the PolarrMoose Etsy store, delivery time to Europe or the United States is 3-8 weeks. So you might not actually get it in time for Valentine's Day, but it's the thought that counts after all. Regular green-skinned Grogu will set you back $28, while Dark Side Sith Grogu is $30.
To purchase your own pint-sized Grogu, be sure to head on over to the PolarrMoose Etsy shop.
Featured Image: PolarrMoose