Last year we saw the triumphant return of She-Ra in an all-new animated series on Netflix, which gave fans an updated version of the mythical world of Etheria for the modern day. Princess of Power fans can now raise their power swords high and celebrate the champion of Bright Moon Castle and her enemies in the Evil Horde with this amazing two-pack doll set of She-Ra and Shadow Weaver, soon available as an SDCC exclusive!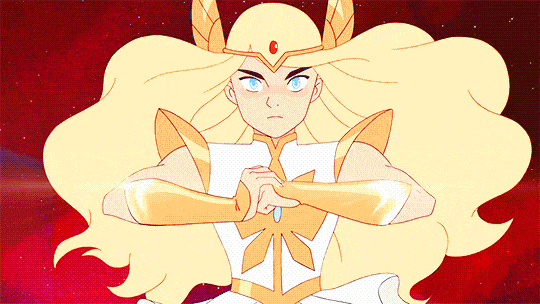 Honor the return of warrior princess in She-Ra and the Princesses of Power with this collectible two-pack pitting good against evil. The pack includes She-Ra and Shadow Weaver dolls with highly detailed, true-to-character designs. The She-Ra doll features an armor-clad look including her signature white jumpsuit, a holographic skirt, long red cape and full battle armor. Shimmery accents weave through her extra-long, blonde hair underneath her iconic winged tiara. Carrying her Sword of Protection accessory, She-Ra is ready to defend her home planet, Etheria, from The Evil Horde and her nemesis, Shadow Weaver!
Image: Mattel
Image: Mattel
Image: Mattel
Image: Mattel
Image: Mattel
Image: Mattel
Image: Mattel
Prepared to cast darkness on all who cross her, this Shadow Weaver doll "floats" when displayed and carries a glittery Shadow Power accessory. Dressed in her classic burgundy robe, Shadow Weaver doll features a highly detailed mask and long, flowing black hair. Each doll in this collectible hero-and-villain duo features premium fabrics and authentic details, as well as 11 points of articulation for action-packed posing abilities. Specially designed packaging sets the scene in front of Bright Moon Castle and allows collectors to display the dolls side by side, making this two-pack the perfect gift for fans of She-Ra and the Princesses of Power.
This fabulous two-pack will set fans back $40, and you can pre-order at shop.mattel.com on June 17, or purchase in person at Mattel's SDCC retail booth starting July 17. Limited quantities will be available.
Images: Mattel