Forty years ago, the minds at Mattel Toys had a brilliant idea. Combine the aesthetics of Conan the Barbarian with the sci-fi action of Star Wars for a new line of action figures. The result was Masters of the Universe, a toyline that gave birth to a franchise. Although the line's popularity was most prominent in the '80s, the kids who grew up with He-Man and Skeletor's eternal struggle never forgot. Masters of the Universe continues to grow to this day.
On September 29, Mattel toys invited Nerdist and other outlets to a special celebration of Masters of the Universe's 40th anniversary. Mattel gave us a preview of several additions to the line for 2023. Not only did we see the new toys and behind-the-scenes details on the toys' creation, we also got a special Masters of the Universe tour of Mattel HQ in El Segundo, California. Including a peek into Mattel's "Eternia Room." There, the company archives 40 years of Masters of the Universe products. You can see the Eternia Room below: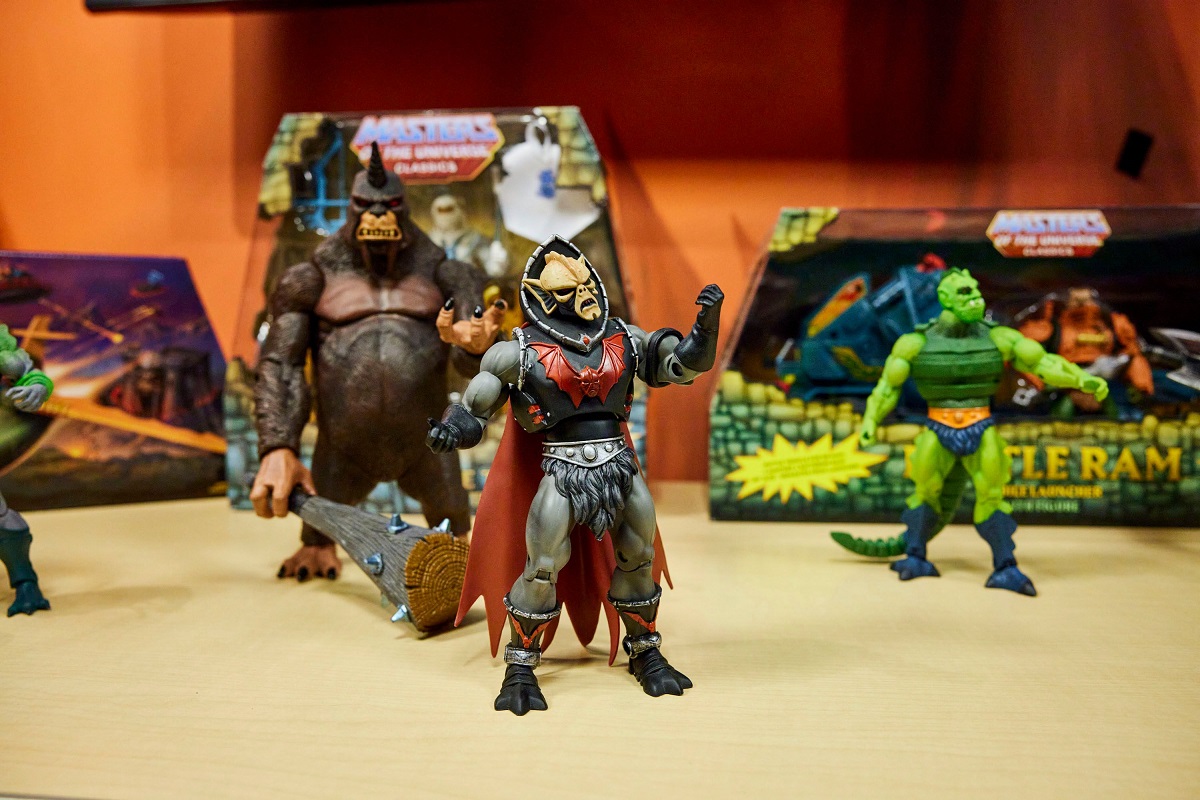 Currently, the toyline exists in three different forms. There's a line aimed at younger kids, He-Man and the Masters of the Universe. Another line recreates the look and feel of the original '80s toys, Masters of the Universe: Origins. Finally, there's the deluxe 7″ Masterverse line. That one features high-end versions of the characters from across the franchise's history. That collection includes many characters from the recent Netflix series Masters of the Universe: Revelation. Below are the revelations (no pun intended) for Masters of the Universe's 2023 releases.
Masterverse New Adventures of He-Man Skeletor Figure
This 7″ scale figure has a premium sculpt and deco inspired by the New Adventures series. The Skeletor figure contains 30+ points of articulation, a cape, his iconic staff, as well as a removable helmet. It pairs with the spring 2023 release of New Adventures He-Man. Masterverse Skeletor arrives fall 2023, at US Target stores.
Masterverse Deluxe Revelation Duncan Figure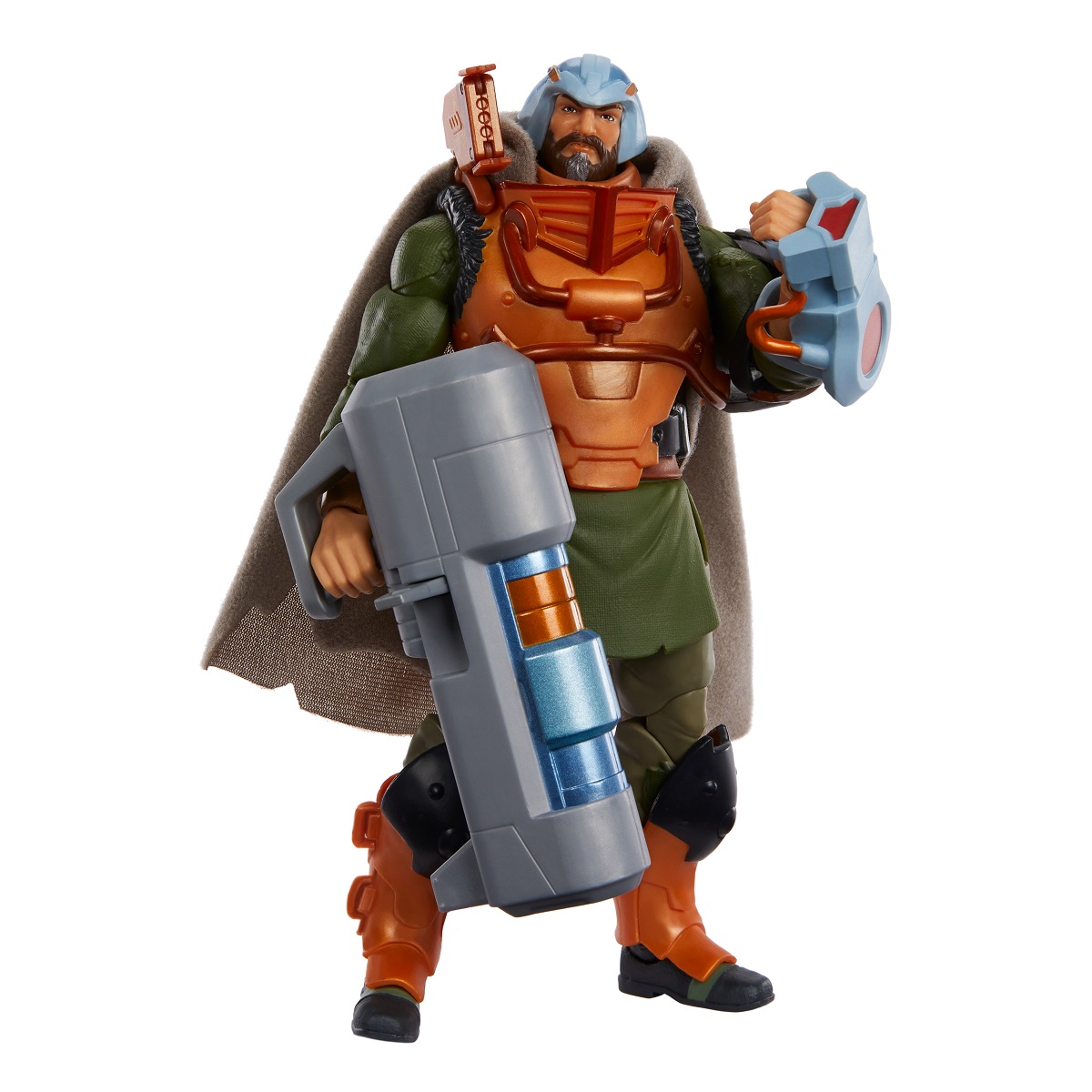 The former Man at Arms arrives in a 7″ scale figure with premium sculpt and deco from the Revelation Netflix show. The Duncan figure contains 30+ points of articulation, and includes additional heads, hands, armor pieces, weapon accessories, and a softgoods cape. Duncan arrives spring 2023 in US Target stores.
Origins Ground Ripper and Mekaneck Figure and Vehicle
Ground Ripper & Mekaneck is a hero vehicle from the original toyline and one of the most recognizable single-rider vehicles. It includes real rolling wheels and an alternate road ripper head based on one of the original He-Man designer's concept art. It comes with Mekaneck figure, a character not yet released in Origins. It'll be available in spring 2023 in mainline retail.
Origins Frog Monger Figure
First introduced to Masters of the Universe in the '80s as a label sticker for the Castle Grayskull playset, this dungeon creature eventually made its way to packaging art . Then fan demand spurred the creation of this figure as a never-done-before Origins character.
In the 5.5" scale, Frog Monger comes with 16 points of articulation and dwells in the dungeon behind the walls of Castle Grayskull. The figure comes with a blaster weapon and backpack accessory alongside in mini comic in the package. Frog Monger will be available in spring 2023 from Mattel Creations, priced at $18.
Origins Anti-Eternia He-Skeletor Figure
The DC Comics Multiverse inspires this 5.5" scale Anti-Eternia He-Skeletor figure of Keldor. The figure comes with 16 points of articulation and includes the iconic power sword, battleaxe, and shield accessories. The package includes a mini-comic. He-Skeletor arrives in spring 2023 via Mattel Creations, for a price of $18.
Origins Flocked Moss Man Figure
Origins Moss Man arrives in 5.5" scale with highly authentic flocked detailing. He comes with a textured feel and authentic pine smell. Moss Man features 20+ points of articulation and comes with mace weapons, a harness, and an additional head. Moss Man arrives in spring 2023 at Walmart in the US.
Origins Snake Mountain Playset
This collector-must-have iconic fortress pays homage to the vintage '80s product while making it bigger and better. Snake Mountain has improved displayability with additional stairs/walkways proportionate to Origins figures. It includes a swappable Filmation series facade for multiple ways to play and display. Plus the set includes a trap door feature, additional play areas, and multiple accessories. Snake Mountain hits mainline retail in fall 2023.
Origins Eternia Crowdfund Playset
The greatest Masters of the Universe playset of the 1980s returns. Eternia arrives in a massive 3 feet by 4 feet size for an epic display. It comes with a working monorail with battery-powered battle tram, sky cage, and jet-pack fighter. Additional features include an elevator, command center with battle dummy, trap door, lunging snake head, working lion's head gate with grabbing claws, turret, flags, and labels. You can reconfigure the monorail to just circle the single center tower for maximum display possibilities. The playset comes with a deluxe mini-comic.
We're certain these reveals are just the tip of the iceberg when it comes to Masters of the Universe. He-Man, Skeletor, and the rest of Eternia's heroes and villains are clearly just getting started.