The Netflix mini-series Maniac starring Jonah Hill and Emma Stone offered perhaps the least likely follow-up to Superbad one might expect from a formerly comic duo. Nevertheless, the story of two strangers who come together in the middle of a mind-bending pharmaceutical trial garnered huge critical acclaim upon its release back in the fall of 2018. And it also received numerous high-profile nominations for the cast and for creators Patrick Somerville and Cary Joji Fukunaga.
One aspect that viewers and critics seemed to love unanimously was the musical score. And now, it will finally be made available in its entirety for fans.
Waxwork Records
The folks at Waxwork Records officially announced Friday that they are releasing a vinyl version of the Maniac Original Netflix Series Soundtrack by composer Dan Romer. The soundtrack by the Oscar-nominated Romer is an orchestral and electronic hybrid showcasing top notch production and many diverging sounds.
The score is described by the label as "playful electronics alternating between fast moving and ambient synth work. Chasing percussion transitions seamlessly with dramatic, lush strings. The soundtrack to Maniac is a textural playground that caters to any listener. Like the series, the soundtrack is cerebral, emotionally provoking, and hypnotic."
Waxwork Records created a brand new deluxe 2xLP soundtrack package to the series featuring 180-gram neon yellow and pink vinyl, old style gatefold jackets with overall UV gloss coating. It also comes with printed inserts, and sports a design by Aesthetic Apparatus. You can check out several images of this new release down below:
Waxwork Records
The Maniac Original Netflix Series Soundtrack is available for purchase starting January 10th. This one will set you back $35.
Dan Romer has been making quite a name for himself for the past decade, scoring acclaimed films like Beasts of the Southern Wild, for which he received an Oscar nomination. He also scored Beasts of No Nation, and several documentaries like Finders Keepers and Gleason. Despite his seemingly artsier leanings, Romer has actually also produced songs for pop superstars like Christina Aguilera and Shawn Mendes.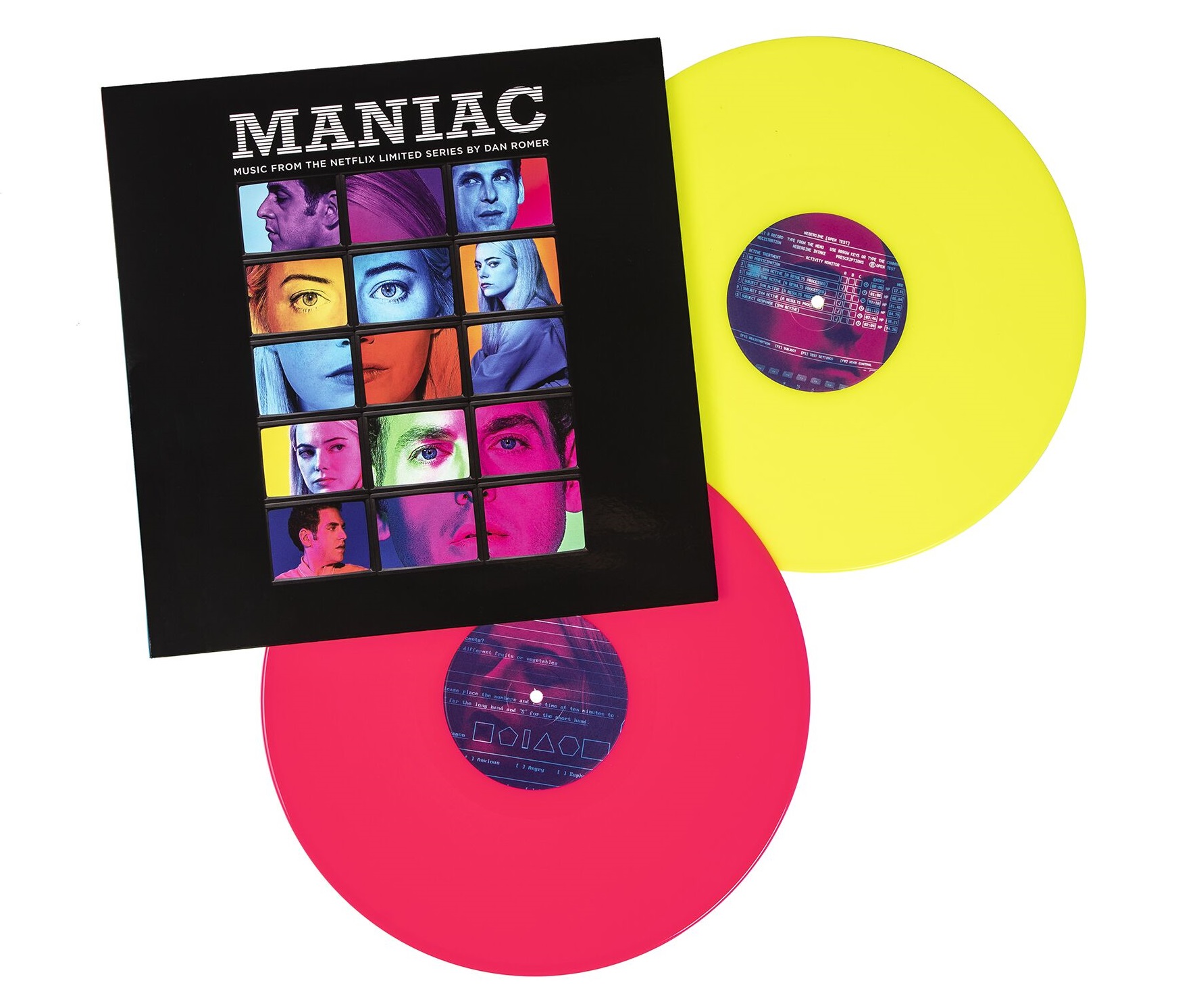 Waxwork Records
Waxwork Records have been making film score fans very happy campers lately. They released a vinyl soundtrack to Jordan Peele's Get Out, and their subscription service includes a ton of cult classic film scores finally getting a proper release in 2020. Among those films are the original Teenage Mutant Ninja Turtles film and several chapters in the Friday the 13th saga.
And if by chance you haven't seen Maniac yet, the ten episode mini-series remains available on the streaming giant. In addition to Emma Stone and Jonah Hill, it also stars Justin Theroux, Sonoya Mizuno, Gabriel Byrne, and the legendary Sally Field. For more information on the new soundtrack release, be sure to head on over to the Waxwork Records official site.
Featured Image: Waxwork Records