As many of us learned from Pixar's The Incredibles, when a superhero needs a good costume tailored to their specifications, they've got someone on speed dial. But as She-Hulk: Attorney at Law showed us in episode five, in the MCU, that person is fashion designer extraordinaire Luke Jacobson ( Griffin Matthews). He's who Jen hires to create her new all-purpose business suit. And very likely, her first superhero costume too. But while She-Hulk's Luke Jacobson (Griffin Matthews) might feel like an all-new MCU character, he's actually an amalgam of several Marvel Comics characters. Let's take a look at the different characters that helped inform She-Hulk's very in-trend designer.
Luke Jacobson as Marvel Comics' Totally '80s Fashion Designer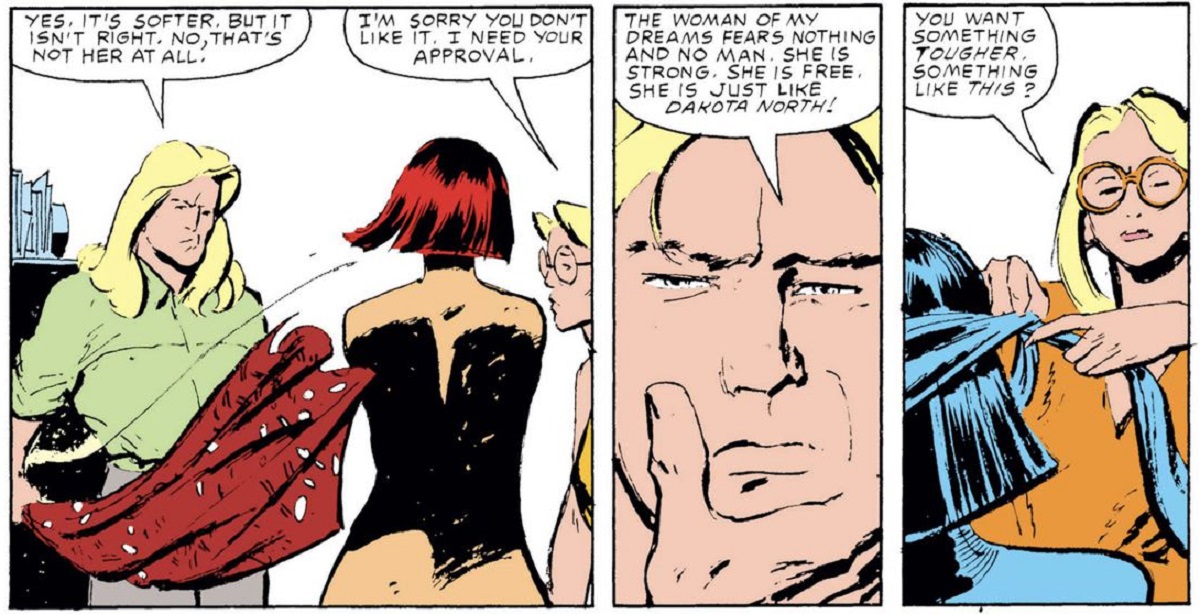 She-Hulk's Luke Jacobson is primarily based on a Marvel Comics character of the same name, even though he's not very well-known. The 616 universe's Luke Jacobson first appeared designing clothing for modern adventurer Dakota North. Now, that name probably has even the most hardcore Marvel fans scratching their heads, saying "Dakota who??" That's because her self-titled series, Dakota North, only lasted five issues back in 1986. The book was about a former private investigator turned security detail and adventurer. Long before his She-Hulk appearance, Marvel's Luke Jacobson first appeared in Dakota North's first issue and then two more after that. Given that title's brief run, that basically made him a regular supporting cast member.
In the series, Luke was an award-winning fashion designer who became fascinated by Dakota North. When his fashion line and even his life were threatened by business rivals, he hired Dakota as his security detail. She successfully protected him and saved his life, and he became just a wee bit obsessed with her. She became Luke Jacobson's muse, and he began designing clothes specifically inspired by her. And for her dangerous lifestyle. He even asked her to marry him, which she very politely declined. He only made three appearances in issues #1, #2, and #5 of Dakota North. But clearly, he is at least half the inspiration for She-Hulk's Luke Jacobson character.
Leo Zelinsky, For Your Superhero and Super Villain Fashion Needs
The other character Luke Jacobson on She-Hulk was based on seems to be one who made even fewer Marvel appearances than the comic book Luke did. That would be Leo Zelinsky, who first showed up in 2003's Amazing Spider-Man #502. Unlike Luke Jacobson, this tailor was not a glamorous fashion designer at all. Leo Zelinsky was just an average, ordinary New York tailor who was raising his grandson alone. That's pretty far from the glamor we see in She-Hulk's Luke Jacobson. But after the Fantastic Four's the Thing walked into his shop one day and needed immediate help (enemies had burned his trunks off in battle), Leo helped Ben Grimm by making new ones. That kicked off the start of his supersuit-making business.
The Thing, big mouth that he is, started telling other heroes about Leo Zelinsky. Soon, he was the go-to guy for costume needs for members of the Avengers and the X-Men. (One would think Tony Stark and Professor X would foot the bill for new costumes, but we guess not). Even the villains got in on the action. Dr. Doom went to Leo when he needed a new cape after a fight. Soon, Leo became the tailor du jour for both the good guys and the bad guys in the Marvel Universe. On alternating days, of course. One wouldn't want those two mixing in front of the front desk. She-Hulk's Luke Jacobson clearly drew inspiration from Marvel Comics character Leo Zelinsky as someone with many discerning clients. The MCU's Luke Jacobson may share a name with the earlier character, but his She-Hulk work is much closer to Zelinsky's.
The Incredible Edna Mode Inspires She-Hulk's Luke Jacobson
Interestingly the fashionista flair for She-Hulk's Luke seems to come from outside the Marvel Universe and from another superhero universe altogether. (But one that's still under the Disney umbrella.) We're talking about Edna Mode, the fashion designer for the superhero world of Pixar's The Incredibles. The little lady, who was very similar to real-life fashion icon Edith Head, lived to make new and bold fashion statements for the superhero set. She made the new red suits for the Incredibles in the first movie. Her over-the-top style and attitude are clearly part of Luke Jacobson's MCU DNA as well. It remains to be seen if She-Hulk's Luke has the same feeling about capes that Edna Mode had, though.
Luke Jacobson and His Connection to She-Hulk and Daredevil in the MCU
She-Hulk's fifth episode not only strongly hints at Luke making a superhero suit for Jen Walters but also shows us he made Daredevil's yellow and red costume. And he thankfully makes Jen a few nice suits that will adjust to her morphing body, too.
We see Luke Jacobson again in episode eight of She-Hulk. The villainous Leap Frog misuses one of the superhero costumes Luke Jacobson creates and tries to get She-Hulk to sue him. Jennifer Walters doesn't want to burn this bridge but does against her better judgment. Good thing Luke Jacobson has Daredevil on retainer. Thankfully, She-Hulk and Luke Jacobson are able to mend their feud after she and Daredevil save Luke from Leap Frog. And it's a good move, too. Because She-Hulk looks fabulous in her Luke Jacobson gala gown. We also finally get to see She-Hulk's super suit, courtesy of Luke Jacobson, in action this episode.
Here's hoping Luke Jacobson becomes a fixture of the MCU going forward. Or, at the very least, appear more times than his comic book counterparts did. Since they barely made any appearances in the first place, we don't think that would be too hard. Besides, with the Fantastic Four and (eventually) the X-Men showing up in the MCU at some point, someone is going to need to make them some snazzy new threads. We say give Luke the job.
Originally published September 15, 2022.