Although many of the personal flying aircraft prototypes we've seen have been quite gimmicky, every once in a while one comes along that seems like it could go somewhere. The Jetson One, from the Swedish company, Jetson, is one such personal aircraft with potential. In the video below, Jetson demonstrates the aircraft's ability to cut through a forest whilst giving off some major Star Wars speeder bike vibes.
Jetson recently posted the above video of its Jetson One personal aircraft to its YouTube channel. The Swedish company lit up the internet with the Jetson One's official launch in October. Now, the company invites people to witness what it's like to ride a "manned aircraft capable of speeding through the forest" like this one does.
The video begins with the Jetson One's pilot positioning himself inside of the aircraft's cockpit. He subsequently spins up four electric rotors around him and takes off vertically into the air. Soon thereafter he is zipping over a wide dirt road between two tree lines.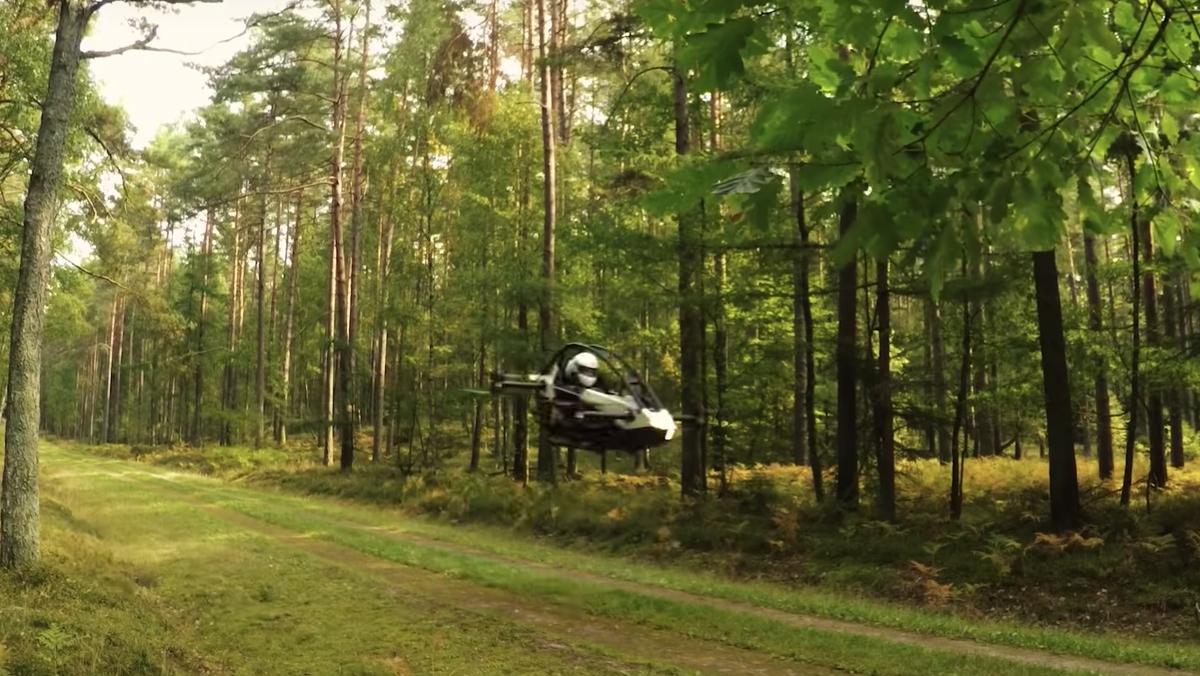 The exact stats of the flight are unclear—i.e. the Jetson One's speed during the flight, how high it was off the ground, etc.—but one thing's certain: it looks freaky AF to pilot. Sure, if you're guiding this thing, you're inside of a little cockpit. But it's open air. All four rotors are right there, and it's easy to imagine landing at the wrong angle. The thought of blasting a rotor apart in every direction is scary.
For the brave, however, the Jetson One personal aircraft does look fun. The vehicle can fly for roughly 20 minutes on a full battery charge, and can fly at speeds of up to 63 mph. It is also extremely light at 190 pounds and looks easy enough to maneuver. (At least mid-flight. Landing looks a bit sketch.)
Those who dare to ride on air in this personal flying aircraft will also need $92,000, as that's its price tag. Obviously that's worth it for anybody with deep pockets though. This is probably the closest we'll get to IRL speeder bikes for now. And this looks just as thrilling—and terrifying—as anything that happened in Return of the Jedi.
Feature image: Jetson