It is the oldest of hats to talk about how The Fast and the Furious franchise, in its 20-year history, has changed. From young people street-racing with criminals, to full-on, Mission: Impossible-style mayhem. So this is my one reference to that; the franchise went through some changes. But most can agree it was director Justin Lin's four films that saw the most…I guess "growth" is the right word? From essentially a side quest in Tokyo Drift to a first film reunion for Fast & Furious, to the real game-changer Fast Five and its solid sequel Fast and Furious 6. F9 sees Lin return after two movies away, and I have to say, it's really good to have him back.
James Wan's Furious 7 had the ignominious duty of figuring out how to shoot around actor Paul Walker's death midway through filming. It went for big (bigger than even the previous two) action set pieces that pushed the laws of physics and audience suspension of disbelief to their fullest. Not the best, but an all right outing. F. Gary Gray's The F8 of the Furious was an overblown, self-serious, and frankly very stupid movie. Its only saving grace was the team-up of Dwayne Johnson and Jason Statham.
My expectations going into F9 were thus quite low, even with Lin back in the director's chair. The movie had sat on a shelf since 2019; it gave space to the spinoff Hobbs and Shaw that year, and 2020 had a pandemic or something. So there was every indication that F9 was just an afterthought. But while it has plenty of the same logical and credibility gaps as previous films, I found it thoroughly entertaining and joyously self-referential in a way that didn't grate. That it was my first film in an actual cinema since March of 2020's horrendous Bloodshot surely helped.
In terms of a very basic plot set-up: Dominic Toretto (Vin Diesel) and Letty (Michelle Rodriguez) are living the quiet life on a farm raising his son. When mercenaries hijack a plane carrying the villainous Cipher (Charlize Theron), Dom and Letty must rejoin the crew (Chris Bridges, Tyrese Gibson, Nathalie Emmanuel) to figure out what happened. It's almost not really important what the inciting incident is, because before too long they're all in cars driving through the jungle with the army on their tail.
Universal
The big wrinkle comes in when we learn Dom's long-lost (and previously unmentioned) brother Jakob (John Cena) is the leader of the mercenaries. He is eager to get out of his brother's shadow—a shadow Cipher refuses to let him forget. What follows is another globetrotting excuse for high-octane set pieces, flashbacks to Dom and Jakob's past, and the return of fan-favorite characters from across the franchise. And, let us never forget, it's all about family.
It's just as ridiculous as the previous two entries but there's a—and I can't believe I'm going to say this—realism to the action in F9 that gives even its most absurd gravity-defying sequences more heft. The script, through Gibson and Bridges' characters, also allows for a meta winking commentary on how there's no reason any of them should be alive, much less unscathed. This is the ninth movie in the series, the fifth by Lin; obviously they get what kind of movies these are and why people like them. The action is outlandish, but everyone plays it like it's the most important thing in the world. There's an air of the soap opera or a WWE storyline about it. The seriousness elicits chuckles, offset by the sheer unreality of the situation.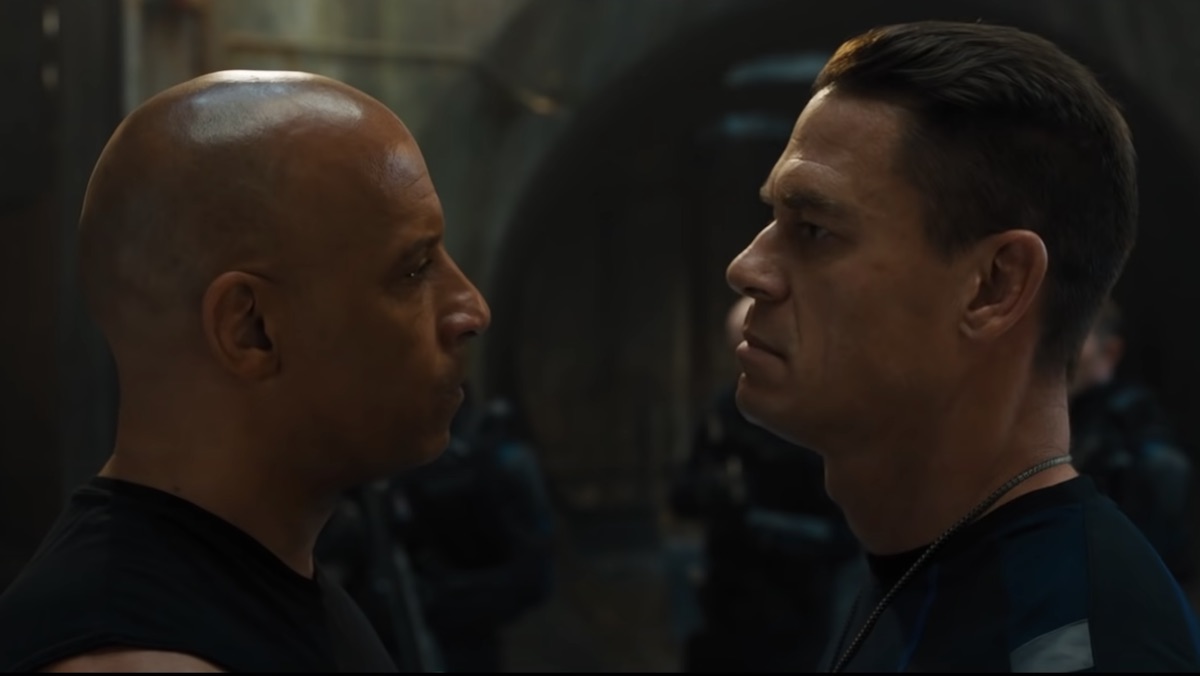 Universal
I know there's a planned 10th film, which I'm assuming will be the last one (we'll see). But F9 feels like it could have been the final entry. It feels like a celebration of the long, strange journey of these movies and included characters from every single other movie. Theron's Cipher is the sole character I didn't enjoy, but she's at least having a great time. Any time someone from an older installment popped up, there was a cheer of recognition from the press screening crowd. And I admit, I did it too! I don't even love this franchise the way some do, but it certainly understands and rewards its audience for sticking with it all this time.
I've seen some people on Twitter and elsewhere asking if you need to see all previous eight films to fully appreciate F9. While you can follow the story just fine (it's not complicated) without seeing anything, I think to fully appreciate it, you do need to know these movies. You need to know who everybody is so that when they show up you can go, "Hey, I know that guy." It's an entire movie based on the joy of knowing that guy. And magnets destroying cars and stuff.
Universal
It might be a year of lockdown talking, but F9, for me at least, felt like a return to form for the series. At least up there with 6 if not close to touching the bombastic grandeur of Five. If you are vaccinated and it's safe to do so, I would recommend seeing it in a big ol' theater. Definitely a fun, loud, messy, joyous time at the movies.
3/5
F9 hits theaters in North America June 25.
Kyle Anderson is the Senior Editor for Nerdist. You can find his film and TV reviews here. Follow him on Twitter!