Besides attending all the panels, a lot of the fun of SDCC is grabbing those sweet merch items that only pop up at the con. We've collected a list of all the best exclusive products coming to the convention this year:
Life-Size LEGOs
LEGO Marvel Avengers: Endgame Iron Man Life-Size Model
Inspired by Avengers: Endgame, this life-sized LEGO model of Iron Man stands heroically, with his Infinity Gauntlet around his right hand. The 35,119-brick model of Iron Man stands at 6 and a half feet tall and weighs 188 pounds. LEGO Master Builders spent 255 hours designing and building this impressive model. You can check it out LEGO's booth, #2829 in Hall D.
LEGO DC LEGO BATMAN Life-Size Model and Mural
LEGO is celebrating the 80th anniversary of Batman with a life-sized Batman model against a LEGO backdrop of the caped crusader. Standing at 6 and a half feet tall and made up of 44,051 bricks, Batman broods LEGO-style. The 225 pound Batman took LEGO Master Builders 270 hours to design and build. His comic book mural is made up of 96,768 LEGO pieces and stands at over 10 feet tall. The Bat has never looked so good—check him out at LEGO booth #2829 in Hall D.
LEGO Minifig Barb – Giveaway Item
#JusticeForBarb. She'll be given away on Friday, July 19. Look for her at LEGO booth #2829 in Hall D.
Metropolis Robot Maria ReAction Figure – $15
This silent film icon gets made into a Kenner-style action figure. Get it at booth #2543.
Mondo
Who Framed Roger Rabbit Vinyl Soundtrack – $25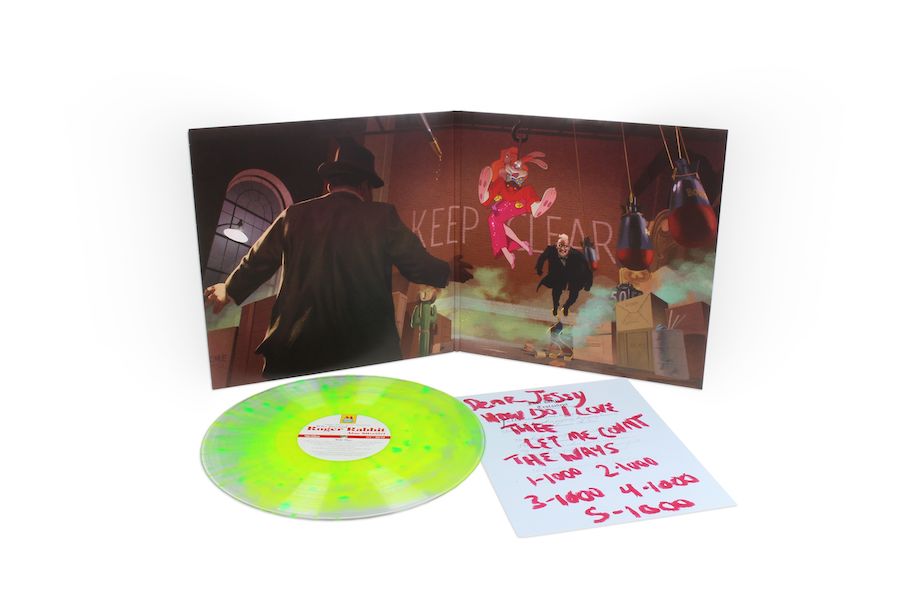 Complete with a "dipified" record and ransom note!
Who Framed Roger Rabbit Collectible Pins – $10 each
Roger and Jessica, of course.
Blade Runner 2049 Vinyl Soundtrack – $40
Enjoy this eerie soundtrack with its orange and white records, plus an illustration of K's holographic AI girlfriend, Joi.
You can pick them up at the Mondo booth #435 beginning July 17. Regular vinyl soundtracks and leftover exclusive editions will be sold on their website.
Mattel
Hot Wheels Armored Batmobile Vehicle – $25
Just in time to celebrate the 30th Anniversary of Tim Burton's Batman this year.
Hot Wheels Mariokart Metal Mario Vehicle – $20
It's a me, Mario, in metallic form!
Celebrate the return of warrior princess She-Ra with this collectible that pits good and evil forces against each other.
DC Comics The Strange Lives of Batman Action Figure Multipack – $80
Celebrate 80 years of Batman with these campy figures depicting some of his most eccentric batsuits.
Mega Construx Masters of the Universe Battle Bones – $30
Transport your favorite Masters of the Universe characters in this dinosaur-like creature.
Go retro with of our favorite warriors.
Jurassic World Legacy Collection John Hammond – $15
Collect an action figure of the man behind Jurassic Park!
Cowabunga! Get your party on with the TMNT's iconic wagon.
Hot Wheels Marvel Spider Machine G-7 – $15
Based on 1978 Japanese Spider-Man TV show, this flying sports car is a sight to behold.
Macho Man Randy Savage Elite Collection Action Figure – $30
Snap into a Slim Jim with this feisty little guy!
Even though the presale is over, you can still nab these goodies at the Mattel Booth #2945!
Hasbro
Back Series Special Edition Sith Trooper – Early Release Edition – $32
Check out all its cool blasters!
Kenner-style Boba Fett – $25
You're gonna want to smuggle this infamous bounty hunter out of the year's con.
Darth Vader Prototype Edition Figure – $13
Join the Dark Side this multicolored prototype of the original Darth Vader Kenner figure.
Luke Skywalker 3 Pack – $50
Feel the Force with Stormtrooper Luke, X-Wing Pilot Luke, and of course, Jedi Knight Luke.
My Little Pony Twilight Sparkle: Throughout the Years – $20
Celebrate a major glow-up with the 2019 and 1980s editions of fan favorite pony, Twilight Sparkle.
Marvel's Legends Series, The Collector and The Grandmaster – $50
You're gonna want to collect these Elders of the Universe for sure.
Marvel's 80th Anniversary The Incredible Hulk Action Figure – $35
HULK LIKE.
Overwatch Ultimate Series 6-Inch Reinhardt Figure – $60
Featuring the Bundeswehr Skin.
Can you imagine busting ghosts with Optimus Prime?
DreamWorks Trolls Classic Good Luck Trolls 2-Pack – $30
So. Sparkly.
Power Rangers Green Ranger Razor Scooter – $80
Skirt around town in true Power Ranger fashion.
Power Rangers Lightning Collection: 6-Inch Mighty Morphin' Red & Gold Rangers – $50
It's morphin' time!
Transformers: The Card Game Blaster vs. SoundWave 35th Anniversary Edition Pack – $50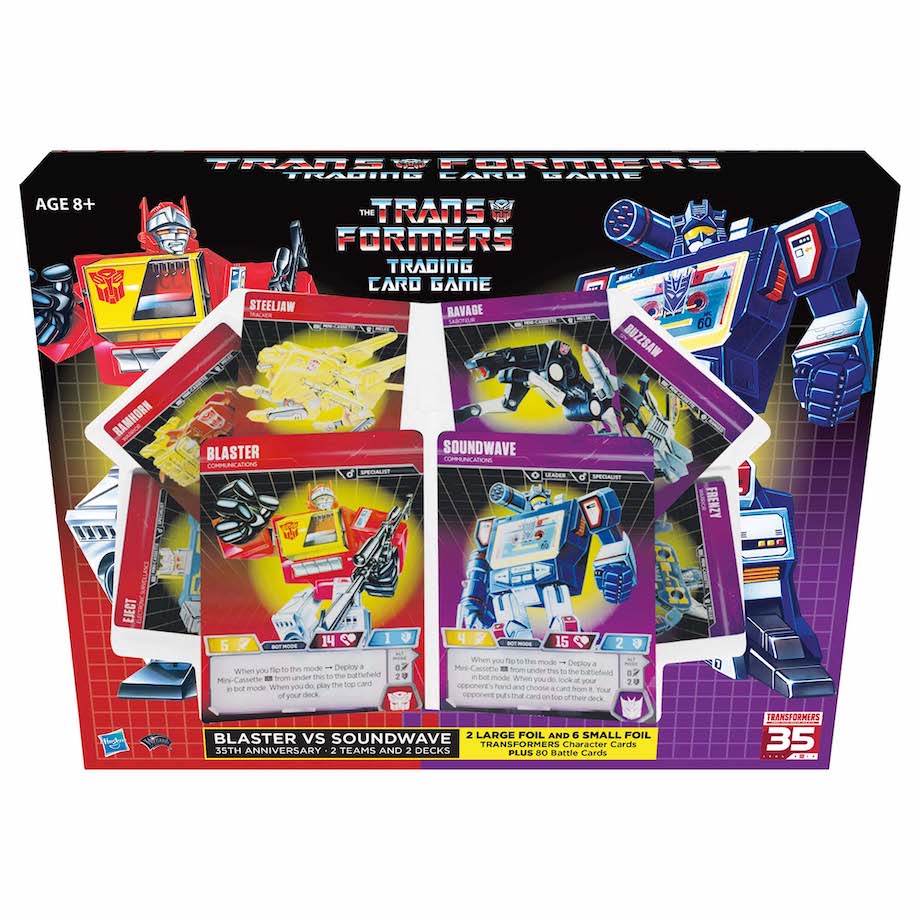 We're liking their stats.
Hasbro's booth is #3329 this year.
Heroes & Villains
Sith Trooper Hat – $20
Sith Trooper Pin – $30
Get both for $50 at booth #2913-K.
NECA
TMNT The Capture of Splinter 4-Pack – $125
Recreate your favorite battle from the 1990 film.
IT (2017) Etched Pennywise – $30
It's even more terrifying engraved.
The Karate Kid John Kreese Action Figure – $40
No mercy to your bank account!
T2 John Conner With Dirt Bike Action Figure – $50
Complete with his teenage scowl.
Superman vs. Aliens 2-Pack – $60
Two aliens, against each other. One's on our side, though.
Batman vs. the Predator 2-Pack – $60
Batman ain't messing around.
You can find NECA at booth #3145.
Trends International
Sith Trooper Premier Bookmark Giveaway
Get it at booth #2913-D.
LEGO
Flerken Goose is equal parts adorable and horrifying.
Lego Batman & Gotham 80th Anniversary Set – $45
Glad to see Lego Robin's "Padre" celebrating his 80th birthday.
PS4 Spider-Man Mini-Fig – Online Giveaway Raffle
We're so happy to see this suit in LEGO form.
But…what is a Sith trooper?
KidRobot
SpongeBob 20th Anniversary Shellebration Art Figure – Rainbow
Looking groovy, Spongeboy.
Mecha Godzilla Vinyl Art Figure – Chrome Electroplated
A shiny boi.
Aggretsuko Rage Vinyl Art Figure – Red Glow in the Dark
Our favorite, death-metal-singing red panda.
Get these cute lil' guys at booth #2486.
Icon Heroes
Batman Damned Statue – $60
This hit DC comic comes to life in this exclusive statue.
Cobra Kai Logo Gold Enamel Pin – $10
Strike First. Strike Hard. No Mercy.
Star Trek Discovery Emperor Georgiou Terran Empire Dagger Letter Opener – $30
Open your letters with a a certain kind of flourish.
Golden Girls Rose Nylund Bobblehead – $30
Betty White in Bobblehead form. What else could we want?
Dark Supergirl Statue – $80
Inspired by the latest season of the CW's Supergirl.
Vigilante Deluxe Statue – $100
Includes interchangeable heads, weapon, and hands.
Professor Albus Dumbledore Faux Bronze Statue – $100
Modeled after the late Richard Harris in the Harry Potter films.
Nab these goodies at booth #3345.
Jada Toys
Batman: The Animated Series Batmobile – $50
With a chrome finish, matte paint job, and matching Batman, you can relive the glory days of BTAS.
Nab this hot rod at booth #3476.
Kotobukiya
DC Comics White Raven Bishoujo Statue – $85
Raven is ready to kick butt in this white variant of her classic outfit.
Sideshow
Unruly Industries' Mad Titan (Gold Edition) Designer Toy – $150
Still greedy in gold.
Iron Studio's Ghost Rider Statue – $195
This looks wicked awesome.
Iron Studios's I Man Mark I and Tony Stark – $200
We love this 3000.
Hot Toys Neon Tech Iron Man – $380
He looks like he belongs in the Cyberpunk world.
Hot Toys Sith Trooper 1/6 Figure Early Release Edition – $230
We love the detailing on the armor.
Get these awesome toys at booth #1929.
Mezco Exclusives
Commisioner James Gordon and Bat Signal – Deluxe Edition – $125
We love a gritty Gordon.
1989 Batman Figure – $8
We can tell it's Keaton by the jawline.
Moon Knight – Crescent Edition – $85
We're sure he looks even better in moonlight.
Get 'em at booth #3445.
Entertainment Earth
Batman Classic TV Series Batmobile with Batman and Robin Pin Mates and Papercraft Batcave – $35
Who knew our dynamic duo could get any cuter?
Wonder Woman Invisible Jet with Wonder Woman and Cheetah Pin Mates Set – $17
We kinda wish the jet was more transparent.
Dark Souls Crystal Lizard Light-Up Statue – $38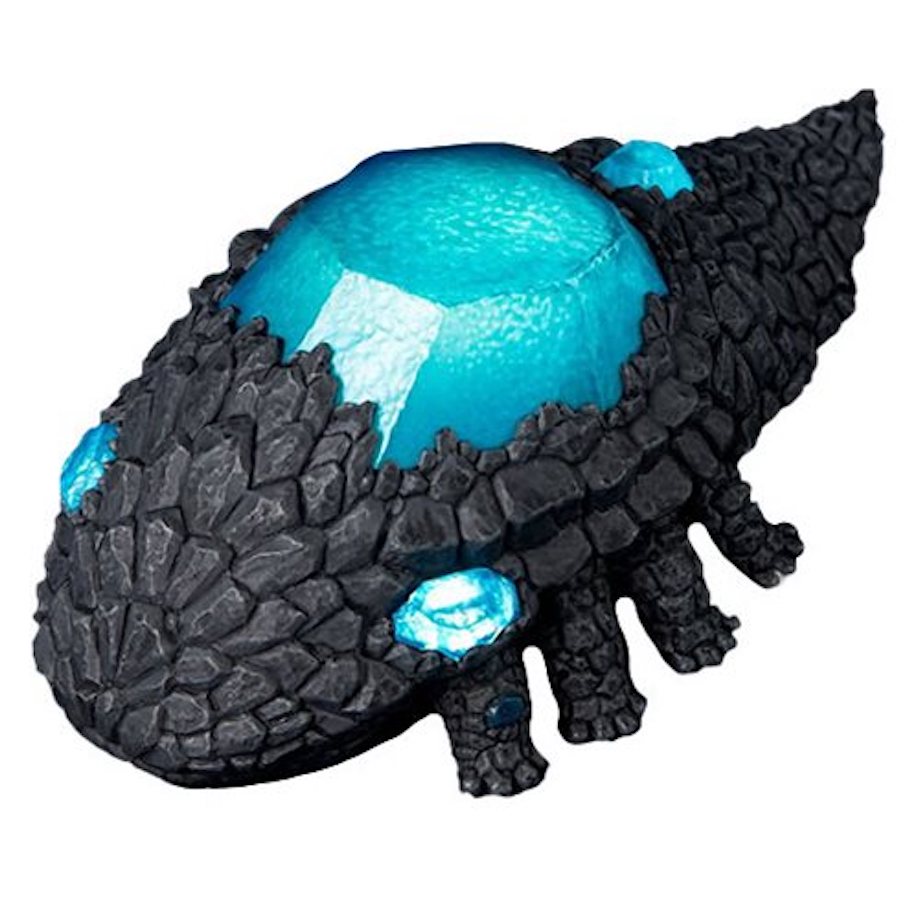 D'aww.
Deadpool Jack in the Box – $30
We hope he has chimichangas in that food truck of his.
Pinky and the Brain Radioactive Glow-in-the-Dark Vinyl Figure – $50
One is a genius, the other is insane.
Pick these goodies up at booth #2343.
Factory Entertainment
Aquaman Movie – Ocean Silver Hero Trident Limited Edition Prop Replica – $500
Now we can take over Atlantis!
Game of Thrones Iron Throne Kuzo Gold Variant – $10
Get it before Drogon burns it down.
Jaws Bigger Con Lithograph – $20
Celebrate your love for Jaws and the rising popularity of cons with this lithograph.
Star Trek Discovery Starfleet Hand Phaser Kuzo Gold Variant – $10
Set phasers to stunning.
The Creature & Frankenstein Bottle Stopper Set – $25
Is the Creature for red or white wine?
Wonder Woman Heavy Metals Miniature – $40
Girl power.
Wonder Woman Kuzo Tiara – $10
Fit for a Themyscira warrior princess.
Pick up these goods at booth #2743.
Symbiote Studios
Rick and Morty Underwear Jerry Plush – $30
Poor Jerry.
Yesterdays Pin Co.
I love you 3000 Pin – $10
Stop, we're gonna cry!
Back to the Future x Madrid Skate Hoverboard Pin – $10
Lookin' Marty McFly.
Ultraman Pins – $15
*does pose while wearing these*
Kewpie Super Hero Diana Pin – $10
Cutie.
Kewpie Super Hero Barbara Pin – $10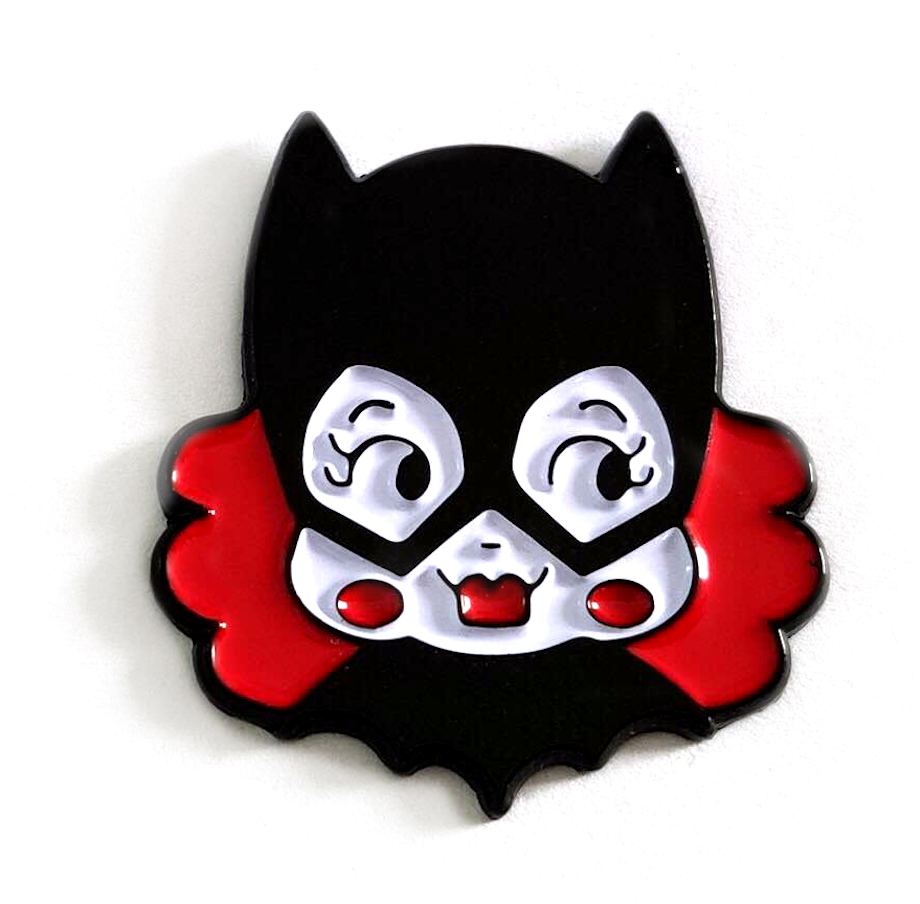 Another cutie.
Kewpie Super Hero Selina Pin – $10
Too. Much. Cuteness.
RPG Dice Pins – $20
You're gonna need to strategize getting these bad boys.
Avengers: Japan Pin – $10
In Thanos purple.
All of these will be available at booth #1705.
Diamond Comics Distributors
Archie vs. Predator II
What happened in Riverdale?
Mighty Morphin' Power Rangers #40
What happened to the Rangers?
Amazing Spider-Man #25 Variant
Who will save who in this issue?
The Immortal Hulk #20 Variant
We kinda miss the green in this one.
Star Wars #68 Variant
Seems like Chewie and Threepio need some help.
Symbiote Spiderman #4 Variant
Poor Peter!
Venom #16 Variant
Can't a man enjoy his ice cream in peace?
Visit booth #2401 for deets on how to get these comics.
Funko Pops
Pop! Star Wars: Rise of Skywalker Sith Trooper – $15
In an Imperial Red. Get it at booth #5841.
Pop! Ad Icons SDCC Toucan Mascot – $15
We. Need. Find it SDCC X Funko Booth 100.
DC Pop! Heroes SDCC Batman – $15
Look at his lil con bag! Find him at SDCC X Funko Booth 100.
Pop! Star Wars Green Chrome Boba Fett – $15
He cleans up nice. You can also get a chrome Yoda, if that's more your style.
Conan's FunkO's
Yum, Conan. Find him at Gamestop's booth only.
Pop! Animation: The Simpsons – Kang and Kodos – $15
From Treehouse of Horror. Glows in the dark.
Pop! Comics: Sabrina the Teenage Witch – $15
Who's ready for a witchy adventure?
5: Star Hellboy – $15
Our favorite half-demon is back.
Pop! Icons Rat Rink (Gray Chrome) – $15
VYNL: Quisp and Quake – $15
We love our oats!
Pop! Ad Icons: Otter Pops – Louie-Bloo Raspberry – $25
Bonjour, Louie!
Pop! Animation: Disenchantment's Bean – $15
She ain't no ordinary princess.
Pop! PEZ: The Banana Splits – $15
In addition to Fleegle, you can also get Bingo, Drooper, and Snorky.
Pop! Hanna Barbera – $15
Besides Hoppy, you can also snag Baby Puss, Lazy Luke, and Sergeant Blast.
Pop! DC Batman (Teal Chrome) – $15
Looking groovy, bats.
Pop! Television: Flash – Cisco Ramon – $15
Flash's very own Cisco, pint-sized.
Pop! Television: The Green Hornet's Kato – $15
Legends only.
Pop! Games: Loot Llama – $15
If only it had real loot inside.
Pop! Games: Overwatch – McCree – $15
Looking snazzy.
Pop! The Black Cauldron – $15
Be the hero of your own story.
Pop! The Hunchback of Notre Dame – $15
We love a Quasimodo figurine.
Pop! Moana – $15
How far will you go for this figurine?
Pop! Up Carl & Ellie – $15
BRB, crying.
Pop! Toy Story 3 – $15
Besides PricklePants, you can also buy Chuckles the Clown.
Pop! Movies: Scott Pilgrim's Vegan Police – $15
Wait, dairy isn't vegan?
Pop! Harry Potter Nagini – $15
Phoenix Fawkes and Rita Skeeter are also available.
Pop! Movies Jaws
Included in this collection are also Office Space, Zoolander, and Forest Gump.
Pop! Animation Asuka – $15
In this animation collection, you can also grab Astronaut Snoopy, RWBY's Ruby Rose, and Vegeta and ghost Gotenks from Dragon Ball Z!
Pop! TV Big Bang Theory – $15 each
Celebrate the end of an era with the Big Bang crew dressed up as the Justice League.
Pop! Television Ultraman – $15
He glows in the dark, too! Included in this launch are the eponymous H.R. Pufnstuf, Sigmund from Sigmund and the Seas Monsters, a gold metallic Demogorgon from Stranger Things, Pting from Dr. Who and Mira from The Dark Crystal.
Pop! Marvel Minn-erva – $15
Besides getting Kree warrior Minn-erva, you can also snag Wong, Gamora, and Man-Thing from the Marvel universe.
Grab 'em at SDCC x Funko Pop Booth 100 and/or Funko booth 5341.
So many goodies! Start saving, everyone.
Images: Mondo, Mattel, Hasbro, NECA, LEGO, KidRobot, Icon Heroes, Jada Toys, Kotobukiya, Sideshow, Mezco Toys, Entertainment Earth, Factory Entertainment, Symbiote Studios, Yesterdays Co, Diamond Comic Distributors / Previews Exclusive, Funko Pops