There is just something wonderfully creepy about classic Disney. The witch from Snow White? She still induces nightmares. And classic Disneyland rides like the Haunted Mansion and Pirates of the Caribbean are delightfully macabre. Now, one artist has found a way to fuse the spooky vibes of vintage Disney animation with icons of horror cinema. Somehow, they go together like peanut butter and jelly.
Animator Mike Chiechi, who goes by the name Frank's Kid on Instagram, has fused the black and white aesthetic of 1930s Mickey Mouse cartoons with classic horror film iconography. In a statement, Chiechi said, "As an animator and a lover of horror, I've always been fascinated by how the early Disney stuff just seemed so spooky. Even when they weren't trying to be! There's just something inherently eerie about it to me- so I figured it was only natural to mix them with my favorite horror icons!"
Down below are some of our favorites from this series. And may we suggest listening to some Halloween music from the 1920s and 1930s as you enjoy them. We think some vintage "spooky jazz" makes the most absolutely perfect soundtrack for these images.
Mickey should have probably thought twice about going on a fishing trip to Camp Crystal Lake.
Frank's Kid
"Death has come to your little town, Sheriff." The town Dr. Loomis was talking about is clearly Toon Town.
Frank's Kid
Mickey and Minnie are no better than anyone else when it comes to staying in spooky cabins and reading aloud from ancient evil texts. At least they've got Ash to help them against the evil dead.
Frank's Kid
And here, Mickey thought he had it bad when Donald Duck and Goofy showed up in his dreams. Freddy Krueger is definitely worse.
Frank's Kid
We refuse to believe that Mickey Mouse is really Silence of the Lambs' killer Buffalo Bill. Mainly because we know that Pluto is his dog, not Precious.
Frank's Kid
Watch out for projective green vomit. Looks like Minnie is in dire need of an exorcist or two.
Frank's Kid
You should have left that creepy puzzle box on the steamboat, Willie.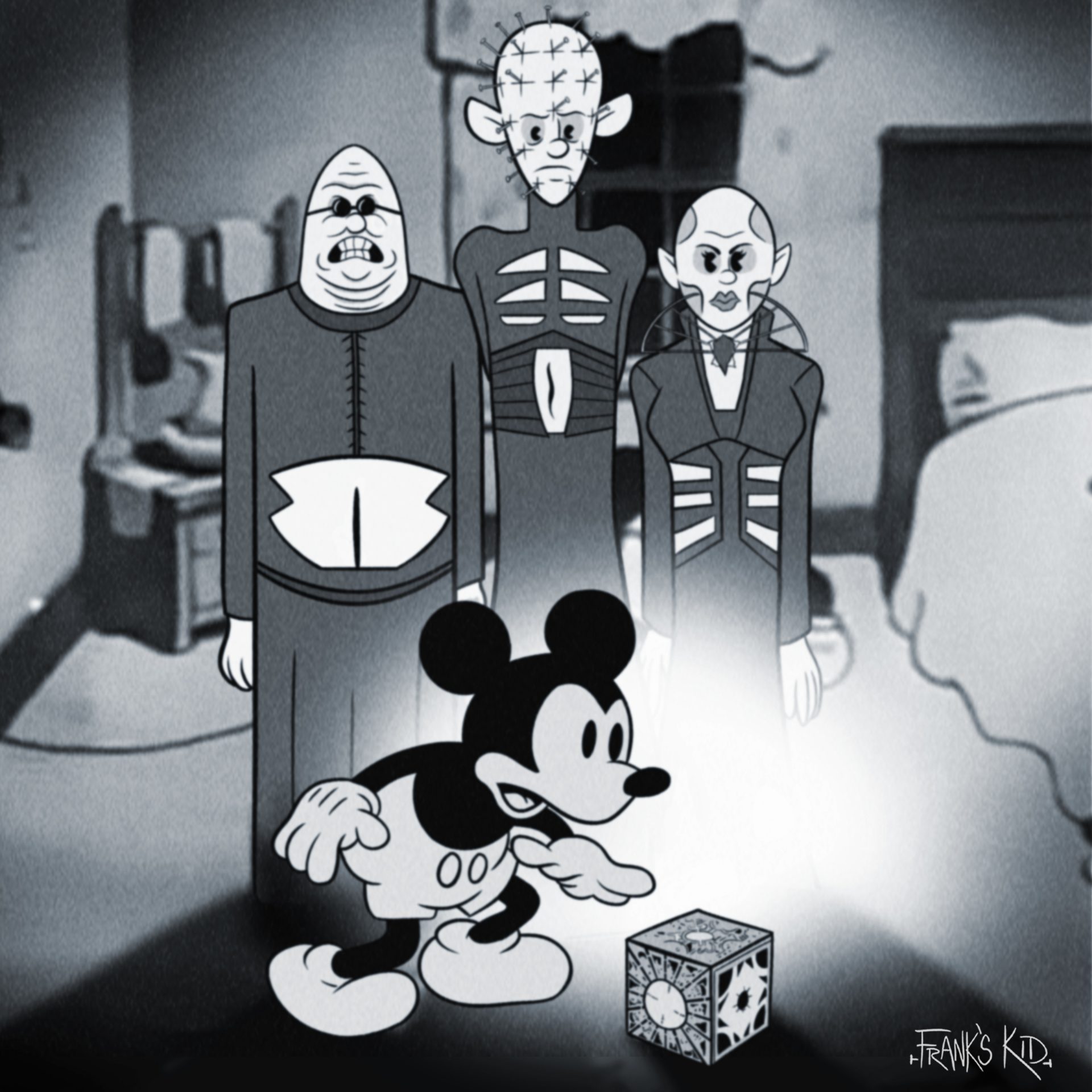 Frank's Kid
Mickey probably wishes the living doll in front of him was Pinocchio instead.
Frank's Kid
Don't worry Mickey. Leatherface and his family only eat people, not mice.
Frank's Kid
You should have listened to the warnings about burying Pluto in the Pet Sematary.
Frank's Kid
For more horror and pop culture mash-up art, be sure to head on over to the Frank's Kid Instagram account.
Featured Image: Frank's Kid