The Hollywood Reporter recently announced that actor Noah Centineo has been cast as Justice Society of America member Atom Smasher. He'll play the character in the upcoming Black Adam movie, starring Dwayne "The Rock" Johnson. This seemingly confirms rumors that the JSA will play a prominent role in the film. In fact, those reports called out Atom Smasher as a character in the upcoming movie among the main JSA members fighting Black Adam in the film. He'll be alongside Hawkman, Hawkgirl, Doctor Fate, and Cyclone.
DC Comics
But if these characters are indeed going to be heroes of the live-action JSA, who should play them? We have some ideas… as well as some ideas for some Justice Society heroes from the comics that haven't been rumored yet, but who we hope to see. Let's start with the heroes we think will show up to kick Black Adam's teeth in.
Hawkman / Oscar Isaac
DC Comics / Lucasfilm
Although current rumors suggest Warner Brothers is looking at Armie Hammer to play Hawkman, we have another idea. To play Carter Hall, the rugged archaeologist who is also the reincarnation of an ancient Egyptian prince, we can't think of anyone better than Oscar Isaac. Heck, one of his outfits from The Rise of Skywalker looks like that of a 1920s tomb raider, so we have an idea of how he'd look in the role. We can easily see him in the leather harness, wings, and helmet of one of DC's most iconic heroes.
Hawkwoman / Thandie Newton
DC Comics / HBO
Where Hawkman goes, his partner and wife Shayera Hall always follows as Hawkgirl. For this incarnation though, we think it's time she graduate to Hawkwoman status. Like her husband, Shiera is ancient Egyptian royalty cursed to reincarnate over and over again. But each time, she finds her great love once more, and they become partners in crime fighting, as well as lovers. In modern times, she becomes a Hawk warrior herself.
Given that Oscar Isaac is 41, we need someone who is a contemporary and who we know can exhibit Hawkwoman's warrior prowess. Anyone who has seen Westworld knows that this should totally be Thandie Newton, given her incredible turn as the host known as Maeve Millay.
Doctor Fate / Oded Fehr
DC Comics / Aviary Films
DC's heroic mage has been a staple of the Justice Society of America since 1940. He wields Ancient Egyptian magic via his powerful helmet. Since he's wearing the Helmet of Nabu most of the time, you need an actor with a dignified voice who won't sound silly making all the ancient incantations. We can't think of anyone better than Oded Fehr. The Israeli actor, famous for his role in The Mummy, would be perfect to play Fate—regardless of which of the many human hosts who have worn the helmet the film chooses to include. Another reason he's perfect? He already voiced the character on Justice League Unlimited!
Cyclone / Sadie Sink
DC Comics / Netflix
This is another modern JSA member, created in the 2000s run of the comic by writer Geoff Johns. Maxine Hunkel is the granddaughter of the original Red Tornado—one of the only female members of the Justice Society of America during the Golden Age. Cyclone has wind manipulation powers and the power of flight. She can also control soundwaves. We think Stranger Things' Sadie Sink is perfect for this part. And yes, we know she plays a character named Maxine on that show, too.
And now, for the JSA members not currently rumored for Black Adam but who we hope to see anyway. We're eliminating JSA members currently appearing in The CW's Stargirl, as Warner Bros. probably wants to minimize fan confusion. Also, we think that JSA stalwarts like the original Flash and Green Lantern are likely off the table as well. Here are some JSA heroes who would fit in perfectly in Black Adam.
Amazing-Man / John Boyega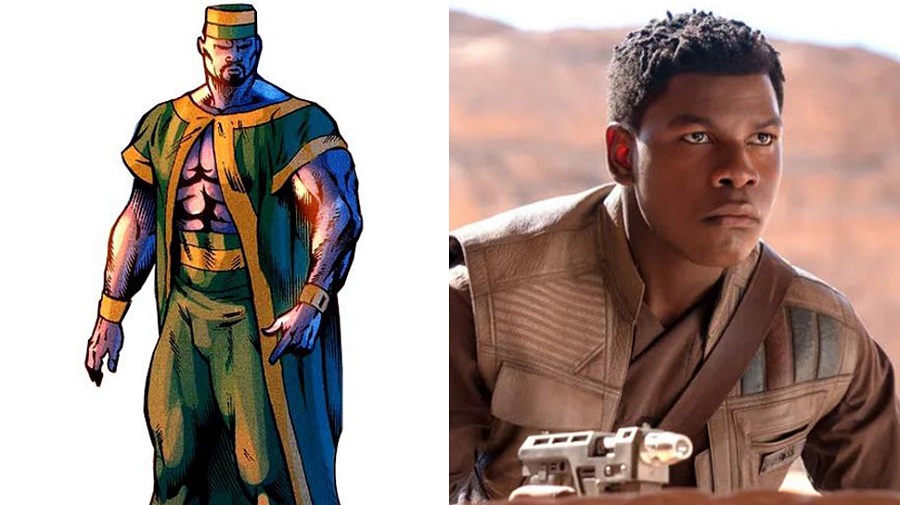 DC Comics / Lucasfilm
Here's a character you might not have heard of, but Amazing-Man has a long standing relationship with the JSA. The first Amazing-Man was Will Everett; DC Comics introduced him in the '80s. He was retconned into being the JSA's original African American member back in World War II. The original Amazing-Man was a former Olympian who received absorbing powers from a lab accident. His grandson Markus Clay inherited his powers, and became a JSA member in the modern era, as well as an activist for social causes. We think John Boyega has the fiery attitude to become the DCEU version of Amazing-Man. And besides, if Oscar Isaac becomes our Hawkman, who doesn't want a Finn and Poe reunion?
Power Girl / Alice Eve
DC Comics / Paramount Pictures
She's one of DC Comics' most popular heroines, but she's somehow never had a live-action appearance before in any medium. Essentially Superman's cousin Kara from an alternate universe, Power Girl is always portrayed as a little older and sassier than Supergirl. Although not rumored for Black Adam, we think she'd be a great addition to the JSA. Especially as her powers actually enable her to go toe-to-toe with Teth-Adam. And we think Star Trek Into Darkness and Black Mirror actress Alice Eve not only looks the part but could also display the right kind of plucky attitude to play Kara.
If Kara's connections to Superman make the character, too confusing for the DCEU, DC Comics has a version of Power Girl with ties to ancient Atlantis instead of Krypton. That might work better for a Black Adam film.
If the JSA is well received, it could mean an eventual Justice Society spin-off. It sure would be wild if the JSA got to the big screen before another Justice League, wouldn't it? Only time will tell.
Featured Image: DC Comics