It's been a strange, long, tiring, and dark year. Maybe that's why 2020 has also been a stellar year for horror films. Honestly, it was hard to narrow this list down at all. The year was jam-packed with riveting, brutal, heartbreaking, and stunning horror movies. Many of which feel extra potent in a year shadowed by a global pandemic, political uncertainty, and social unrest. Horror films don't cure the painful things we're dealing with, but they can help make sense of the senseless. And for that we were especially grateful for them in 2020.
Here are our picks for the best horror films of the year.
IFC Midnight
Relic
There's something specifically horrific about watching the slow fade of people we love. Natalie Erika James, in her feature debut, examines this unique form of grief. Relic follows Edna (Robyn Nevin), a mother and grandmother whose dementia manifests in her family home, twisting it into something unrecognizable and haunted. We see the different impact this has on her daughter Kay (Emily Mortimer) and granddaughter Sam (Bella Heathcote)—trauma inflicted in new ways across generations. James is an exciting new voice in horror; if her first feature is this strong, we're so thrilled to see what she does next.
Where to watch: Purchase on Amazon Prime.
Neon
Possessor
The name "Cronenberg" carries certain expectations. And Possessor more than lives up to expectations. This time it's Brandon Cronenberg, son of David, with a science-fiction horror story you won't soon forget. Andrea Risenborough stars as Tasya Vos, an elite assassin who uses brain-implant technology to control other people's bodies and take out targets. Things get challenging when she attempts to "possess" Colin Tate (Christopher Abbott), who fights against her control. The film is a brilliant exploration of gender roles and identity; it'll crawl right under your skin.
Where to watch: Rent on Amazon Prime.
Universal Pictures
The Invisible Man
H.G. Wells' classic horror story The Invisible Man was rebooted to perfection early on this year. Elisabeth Moss plays Cecilia, who in the tense opening sequence escapes the clutches of her abusive, wealthy boyfriend Adrian (Oliver Jackson-Cohen). After she flees, Adrian—an optics engineer—seemingly dies by suicide and leaves his fortune to Cecilia. But she suspects the whole thing is a rouse, that Adrian is hiding behind his technology, and that she hasn't yet escaped his watchful, violent eye. This Invisible Man proves that reboots don't have to be stale mimics, and can instead be vehicles for fresh and relevant ideas. It's also worth watching for another terrific Moss performance.
Where to watch: Stream on HBO Max.
Universal Pictures
Freaky
Christopher Landon proved his horror chops with the wonderful Happy Death Day films. This year, he returned with another exciting, joyful horror romp: Freaky, a spin on Friday the 13th and Freaky Friday. The film centers on a teenage girl named Millie (Kathryn Newton) who unintentionally swaps bodies with a serial killer called the Blissfield Butcher (Vince Vaughn). Freaky is laugh-out-loud, loaded with inventive kills and gore, and overall just a total joy for fans of the slasher genre. It's destined to be a slumber party classic.
Where to watch: Rent on Amazon Prime.
Neon
The Lodge
People sort of slept on The Lodge this year, and it's a shame. This is one brutal, upsetting, and well-made horror film. It comes from directors Veronika Franz and Severin Fiala, who previously brought us Goodnight Mommy. The movie follows Grace Marshall (Riley Keough), whose boyfriend's wife dies by suicide in the film's opening moments. Richard (Richard Armitage) wants Grace to bond with his kids, so he takes the whole family to their remote Massachusetts cabin. But Richard is forced to flee for business reasons, leaving Grace in charge of the kids. Strange things start happening, which triggers emotions from Grace's traumatic past in an extremist cult. The Lodge may leave you as cold as the wintry landscape it inhabits, but it worked wonders for this horror fan. It's one tense and brutal experience with an ending that still haunts my dreams.
Where to watch: Rent on Amazon Prime.
SpectreVision
Color Out of Space
If ever there were a perfect person to adapt Lovecraft, it's Richard Stanley. The eccentric South African director proved with this year's Color Out of Space that he has just the sort of surreal, impressionistic mind to make sense of Lovecraft's otherworldly sci-fi. Nicolas Cage stars as a father who uproots his family to a rural farmhouse. After a meteorite lands in their yard, the family battles an extraterrestrial being that infects their farmland and also their minds. The result? A technicolor nightmare-scape that feels as transcendent as it does horrific. Stanley hopes to make this the first in a Lovecraft trilogy—let's hope he gets the chance.
Where to watch: Stream on Shudder.
RLJE Films
The Dark and the Wicked
I'm not sure anything on this list scared me as much as The Dark and the Wicked did. It's got Hereditary-style scares: shadowy bodies in the night, people appearing where they shouldn't. It's so viscerally frightening that it can feel almost unbearable, and that's exactly why it works. Filmmaker Brian Bertino, who also brought us The Strangers, works wonders here, in this desolate southern landscape of loss and turmoil. It follows a pair of siblings who return to their family farm when their father falls ill and their mother's behavior grows erratic. Something unseen haunts the farm; something that feeds on their fears and trauma. The film is visually sparse but thematically sharp, and in that dichotomy rests its brilliance.
Where to watch: Rent on Amazon Prime.
Orion Pictures
Gretel & Hansel
This is one of those movies I suspect we'll appreciate more as time goes along. It's a beautiful film, with some of the best horror imagery of the year. Oz Perkins has a great eye, and his dread-drenched brand of horror is one that doesn't always land on first viewing, but has staying power. Gretel & Hansel is, as the title suggests, an updated take on the Brothers Grimm story Hansel and Gretel. This one puts Gretel at the forefront, and uses the fairy tale as a coming-of-age fable that gets deep into the darkness of femininity. Sophia Lillis's fresh-faced Gretel is countered by the black-fingered witch played by Alice Krige, who is both a creepy and aspirational figure in the story. It's a strange, mesmerizing, and intoxicating film.
Where to watch: Stream on EPIX.
Shudder
The Beach House
The Beach House isn't a flashy movie, but it's an impressive economic one. In his feature debut, writer/director Jeffrey A. Brown explores a problematic relationship through the lens of ecological terror. The film follows Emily (Liana Liberto) and Randall (Noah Le Gros), a young couple who arrive at Randall's family beach home for a mini-vacation. But once there, they find the home is already occupied by an older couple, friends of Randall's parents. The foursome spend a raucous and drug-fueled night together, and awaken to find the world around them permanently altered. There's an infection, and it terrorizes them one by one, throwing everything into a frantic chaos that Brown beautifully mines for anxiety and existentialism. The film also contains one of the gnarliest bits of body horror I've seen in a hot minute—a visual that's (quite literally) wormed its way into my subconscious forevermore. I can't wait to see what Brown makes next.
Where to watch: Stream on Shudder.
Shudder
La Llorona
Not to be confused with the not-great The Curse of La Llorona from last year, this Guatemalan film uses the same bit of folklore to tell a more harrowing, politically relevant story. And one that's way more frightening. It centers on Enrique Monteverde (Julio Diaz), a Guatemalan dictator who orchestrated the genocide of Mayans in the country. Years later, he is a free man, a legal decision that causes political distress. Despite this, Monteverde and his family live quietly in their home, until the day a woman named Alma (María Mercedes Coroy) arrives to work service in the home—and seems to bring with her some sort of supernatural entity. The film, directed by Lucrecia Martel, blends real-world horrors with legend in this fantastic feature. American audiences can stream on Shudder.
Where to watch: Stream on Shudder.
Netflix
I'm Thinking of Ending Things
I wrestled with whether or not to put this one on the list. It's not horror in the conventional sense, but it is terrifying. The latest feature film from Charlie Kaufman exists in the realm of nightmares. The story, based on a novel by Iain Reid, follows an unnamed young woman played by Jessie Buckley who's traveling with her new boyfriend Jake (Jesse Plemons) to his family's rural farmhouse. She's thinking of ending things, as the title implies, although what exactly she means to end is a subject that evolves as the film unfolds. It's hard to discuss the horrors of this film without spoilers. Suffice it to say, Kaufman knows how to infuse tension and existential dread into every frame. As the movie progresses, we feel as trapped as Buckley does in this tapestry of haunted American ennui—which is maybe the scariest thing there is.
Where to watch: Stream on Netflix.
Shudder
Host
2020 was the year of the Zoom call. So it was only a matter of time before a Zoom horror movie came out. We didn't have to wait long—this Shudder original feature was conceived of and filmed in 12 weeks during the COVID-19 pandemic. And while normally that might raise an eyebrow, it's remarkable what British writer/director Rob Savage was able to put together. The result is a genuinely horrifying film about a group of friends who perform a virtual séance and awaken a terrifying demonic spirit in the process. It's a fresh, exciting horror film that will fundamentally change your relationship with technology.
Where to watch: Stream on Shudder.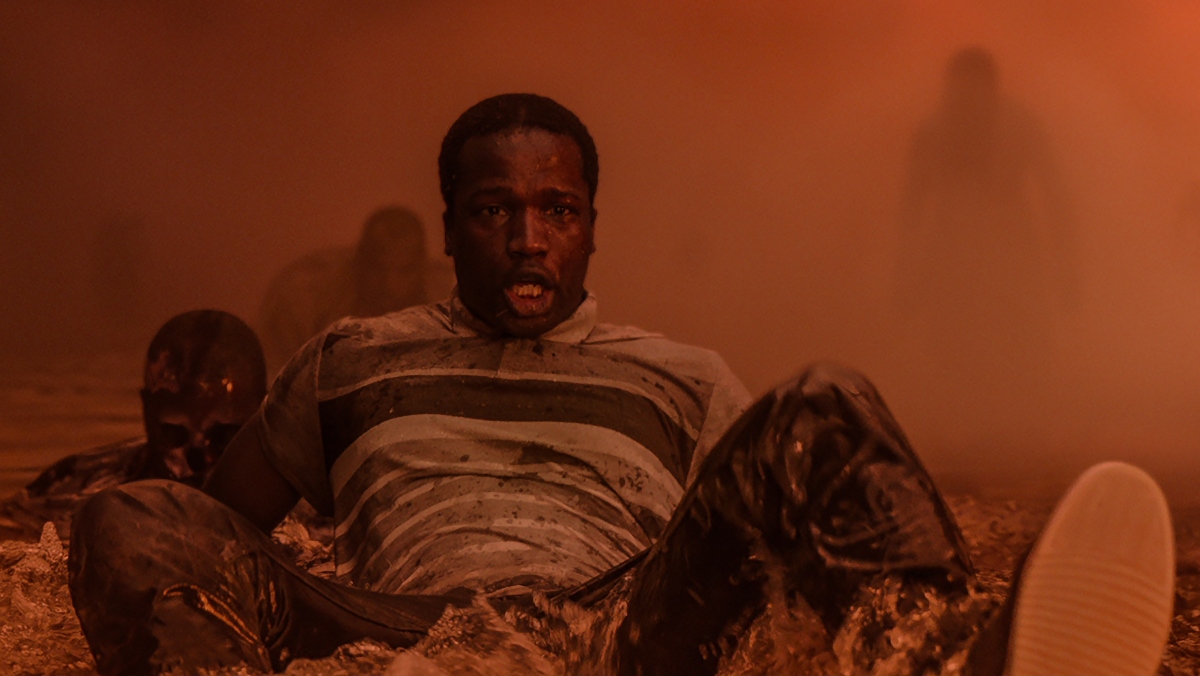 Netflix
His House
His House was another excellent debut feature, this time from Remi Weekes. The British horror film follows Bol (Sope Dirisu) and Rial (Wunmi Mosaku), refugees fleeting from South Sudan to Europe. They suffer tremendous loss during the journey, but eventually arrive in England, where they are assigned a house. They try to make the decaying house their home. But they are soon terrorized by sounds and visions that point to darker secrets from their past. The result is a terrifying psychological portrait of trauma, what it means to survive, and the horrors of nationalism.
Where to watch: Stream on Netflix.
Featured Image: Orion Pictures / Shudder / Universal Pictures