To kick off a festival, especially a genre festival, you need to bring out the big guns. In the cult world, you don't get much bigger than Richard Stanley, the South African filmmaker who brought us early '90s favorites Hardware and Dust Devil. But more infamous than the movies he finished is the now-legendary story of Stanley's firing from the ill-fated The Island of Dr. Moreau. He went into recluse status thereafter, but a 2014 documentary of the ordeal brought him back to prominence. For Beyond Fest 2019's opening film, we got the treat of seeing Stanley's return to form, Color Out of Space. And what an experience it was.
For as popular and influential a writer as H.P. Lovecraft is, there remains a bit of a dearth of good film adaptations of his work. Once you've seen Stuart Gordon's Re-Animator, From Beyond, and Dagon, and a couple other stragglers, you're at a bit of a loss for decently budgeted, faithful takes on the cosmic horror pioneer. The 1927 story The Colour Out of Space has already seen a few notable adaptations as far back as the 1960s, but Stanley has several things going for him here. He's got the support of his producers at horror studio SpectreVision; the movie has a rich visual palate absolutely necessary for the story at hand. And Stanley has a great cast, top-lined by none other than Nicolas Cage himself.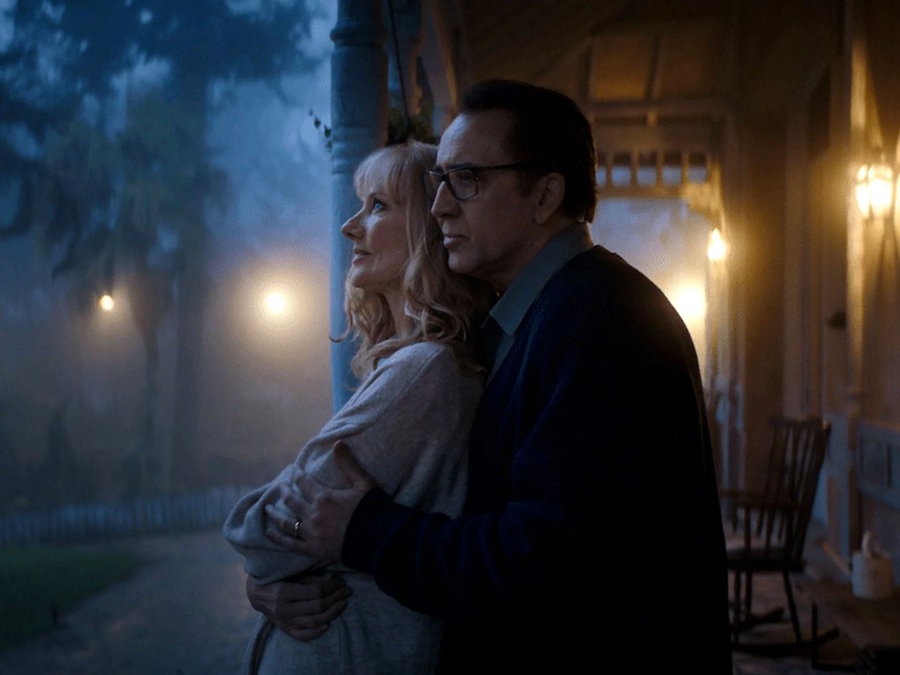 SpectreVision
The plot is relatively simple. The Gardner family have recently moved into an old farmhouse in the middle of the woods, an hour away from any kind of civilization. It's the patriarch Nathan's (Cage) father's old house, and Nathan has decided to raise alpacas, which provide some of the silliest moments in the movie. Nathan's wife Theresa (Joely Richardson) is a day-trader who works via FaceTime on her computer. She's got cancer and they've ostensibly moved to the country to make her more comfortable. Their eldest son Benny (Brendan Meyer) is a pothead who spends a lot of time with the weird squatter Ezra (Tommy Chong); daughter Lavinia (Madeleine Arthur) is a young Stevie Nicks, performing witchy rituals and reading from Lovecraft's ubiquitous Necronomicon (in paperback no less!); their youngest son Jack (Julian Hilliard) is a tiny little boy.
Two things shake up their quiet, if fractious life. The first is the appearance of a hydrologist (Elliot Knight) who is checking on the area's suspicious aquifer and water table. He and Lavinia make eyes at each other, but that's not that hard for the Gardners to handle. What they can't quite deal with is the second shake-up: a glowing meteorite that crashes into their front lawn. It affects each of them differently, with Nathan complaining of a hideous odor while Jack and Lavinia hear high-pitched noises. The meteorite begins to seep into the Earth, causing colorful plant and animal life to grow. It gets inside the water, warping and shaping everyone in increasingly macabre and grotesque ways.
SpectreVision
Stanley and his co-writer Scarlett Amaris do an admirable job of bringing Lovecraft to life faithfully while injecting new elements and humor. The story, as with many of Lovecraft's, is unerringly somber, but Stanley recognizes the need for levity to lull the audience into safety before the true horrors kick off. They place the events firmly within Lovecraft Country; the farm is outside of Arkham, MA and the hydrologist wears a Miskatonic University t-shirt. Throwaway mentions of other Lovecraft locations such as Kingsport and Innsmouth also crop up to the delight of horror readers everywhere.
Steadily, the family begins to erode following the meteorite. Benny gets lost and can't seem to perform any household duties correctly; Jack spends hours staring at the family's well and talking to "the man" who lives in it; Nathan and Theresa seem to take on other, nastier personalities when addressing their children. Only Lavinia seems to have the wherewithal to help, but with phones, internet, and cars no longer working, and her sudden bouts of nausea, she's working at quite a disadvantage. And that's bad, because things get gross.
SpectreVision
I suppose we need to talk about the Nicolas Cageness of it all. The actor, known for his unique and frenetic reads on material, gives a capital-P Performance in this movie. Stanley equated it a bit to Cage's memetastic work in Vampire's Kiss, and he's not far off. The more the titular color out of space infects him, the more he goes off the wall, using a very weird vocal affectation during particular moments of cruelty. He explodes in full Nic Cage Rage a couple of times and it's hypnotic. Cage's performance in last year's Mandy was a revelation; this is more of a return to what you know. But he goes all the way for it, and you can't help but admire the commitment.
For as fine as the cast is, and as well realized the strange and disgusting visuals are, it feels a touch like re-litigation after 2018's Annihilation. At the time, I couldn't help but compare Alex Garland's take on Jeff VanderMeer's novel to Lovecraft's short story. An area overtaken with a strange, alien something that has a color we can't quite decipher and it changes all the plant and animal life around it. To me, that movie plays up the gut-punch of cosmic dread surrounding those revelations in such a profound and disturbing way, which Color Out of Space, despite being the more faithful literal adaptation, just doesn't quite get at.
In fairness, I also don't think it's trying to plumb the depths of mind-bending, universe-altering horror. Stanley, perhaps rightly, decides to focus much more on the family breakdown and some truly horrendous things that happen to and around them rather than what any of it means in the grand universal scheme. And the final act of Color Out of Space does do a damn good job of making it seem like the end is nigh, at least on the micro.
SpectreVision
Despite my obsession with Annihilation, which is not this movie's fault, I still think Color Out of Space stands head and shoulders above 90% of all Lovecraft movies. It's a smart, surprisingly funny version of the story with clear passion from everyone involved. I'd love to see Stanley make more Lovecraft movies because it's clear he gets the author's intention. And it's just great to see Richard Stanley still has it and I hope this leads to many more movies through his distinctive, spacey filter.
3.5 out of 5
Featured Image: SpectreVision
Kyle Anderson is the Senior Editor for Nerdist. You can find his film and TV reviews here. Follow him on Twitter!