Back in 2018, news broke that Apple TV+ had ordered Isaac Asimov's epic saga Foundation to series. Today, after three years, the streamer released a full trailer for the highly anticipated series. And wow, it is stunning to behold!
David S. Goyer will executive produce and also serve as the showrunner. He is best known for writing Man of Steel and Batman Begins. Robyn Asimov, Josh Friedman, Cameron Welsh, David Ellison, Dana Goldberg, and Bill Bost are also serving as executive producers.

Apple
The official synopsis is here:
When revolutionary Dr. Hari Seldon predicts the impending fall of the Empire, he and a band of loyal followers venture to the far reaches of the galaxy to establish The Foundation in an attempt to rebuild and preserve the future of civilization. Enraged by Hari's claims, the ruling Cleons — a long line of emperor clones — fear their unrivaled reign may be weakening as they're forced to reckon with the potential reality of losing their powerful legacy forever.
The cast includes Emmy Award nominees Jared Harris as Hari Seldon, Lee Pace as Brother Day, and Terrence Mann as Brother Dusk. Additionally, Lou Llobell, Leah Harvey, Laura Birn, Cassian Bilton, and Alfred Enoch will also star.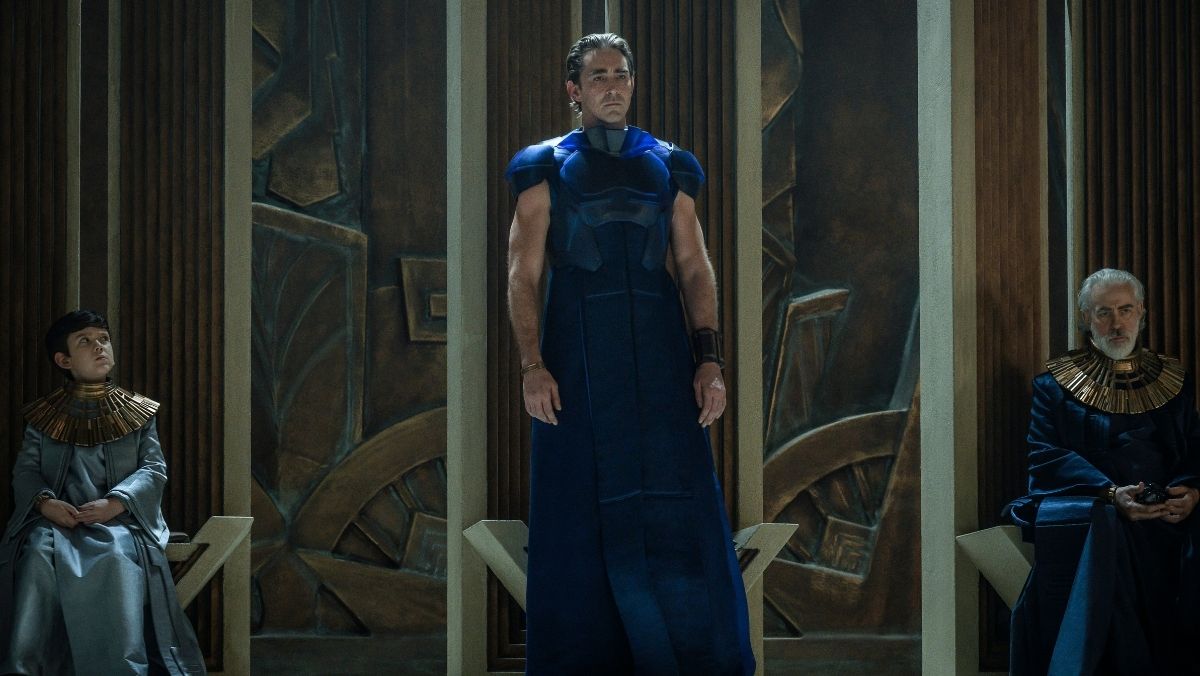 Apple
Originally published in 1942 as a short story, Foundation continued as a series of short stories until 1950. Then, from 1951–1953, it became three collections. And it was a trilogy until 1981 when Asimov began adding new volumes.
So, you can see why the sci-fi book series has had Hollywood studios aching to turn it into a franchise or a series since the '90s. However, Goyer convinced Apple that he is just the guy to take it on with just one sentence. "Apple asked me if I could pitch it in one sentence," Goyer told The Hollywood Reporter in an interview.
And that one-sentence pitch? "I said: 'It's a 1,000-year chess game between Hari Seldon and the Empire, and all the characters in between are the pawns, but some of the pawns over the course of this saga end up becoming kings and queens.'" And lo and behold, here we are, just a few weeks away from becoming completely engrossed in the series.
Foundation will have 10 episodes, with the first two premiering exclusively on Apple TV+ on September 24, 2021. And following the premiere, a new episode will debut every Friday.