The holiday break will soon be here for many of us. And some of us have less of a desire to play out in the cold weather, and would much rather hunker down with a cup of hot cocoa and stream a whole bunch of comforting Christmas movies. And between Netflix, Amazon Prime, Hulu, and now Disney+, there is no shortage of holiday flicks to warm your heart (and keep you procrastinating from shoveling that snow in your driveway).
Here are some of our picks for the best holiday movies and specials, both old and new, to stream this year on the four major streaming services. Plus, we have a complete list of just about each and every other Christmas holiday themed movie and special on each service!
Netflix
Klaus (2019)
Netflix
In the grand tradition of those old Rankin/Bass stop-motion animated Christmas specials, here comes Klaus. This reinvention of the Santa Claus origin story centers features the voices of Jason Schwartzman, Rashida Jones, and J.K. Simmons as the titular jolly red giant. It's also the first entry in Netflix's original animated feature films category, so it deserves a look just for that fact alone.
"Chilling Adventures of Sabrina: A Mid-Winter's Tale" (2018)
Netflix
This episode was really just the midpoint chapter between seasons one and two of the Chilling Adventures of Sabrina series, but was released as a "Christmas Special" because it takes place during the holiday season. It's a delightfully creepy little episode, centering on the ancient legends of Bartel and Gryla, and other yuletide demons from folklore. Think Krampus, only less famous. If you like your holidays on the dark side, then this one's for you.
Also on Netflix…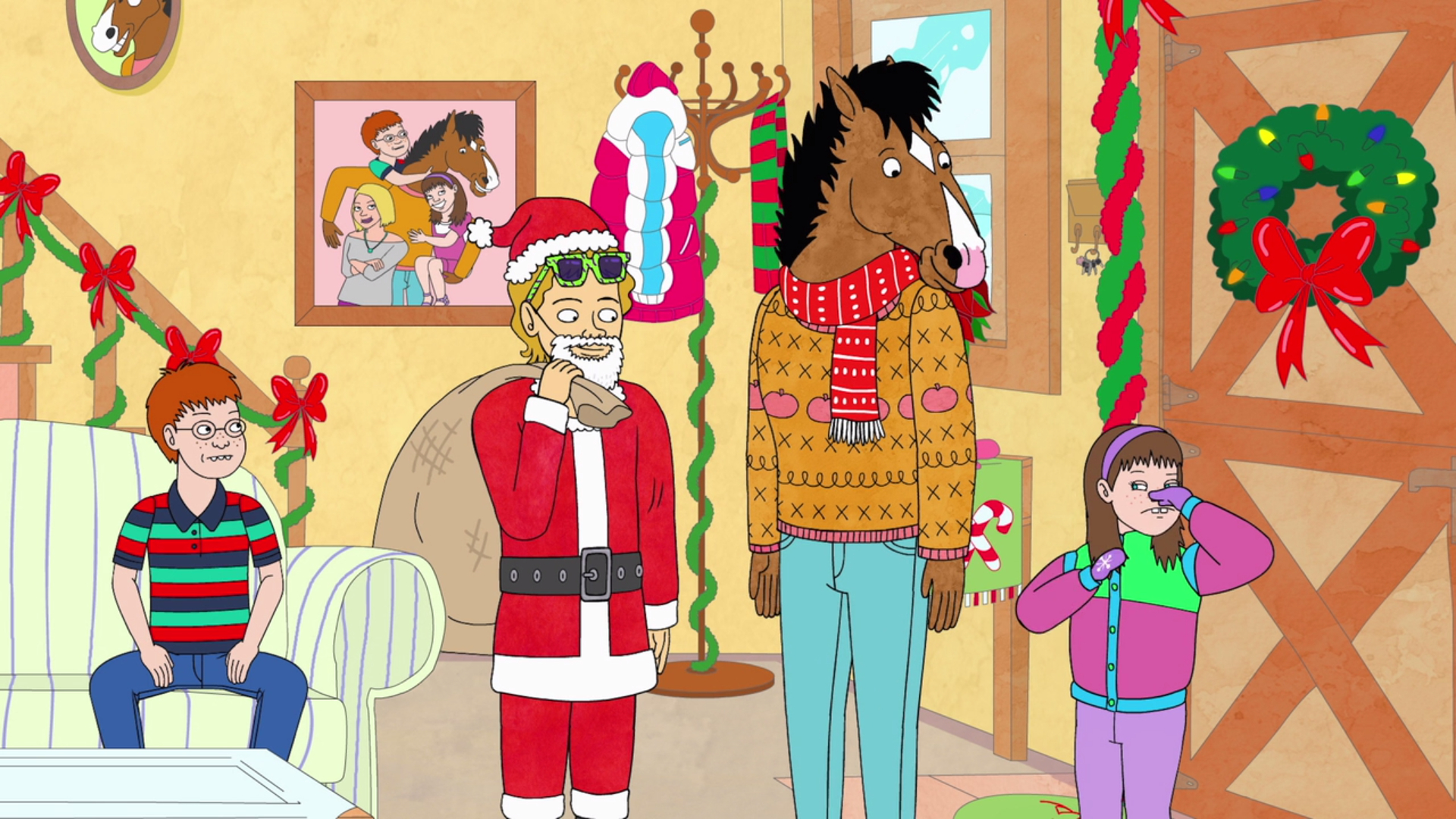 Netflix
5 Star Christmas (2018)
About a Boy (2002)
Angela's Christmas (2017)
Angels in the Snow (2015)
Black Mirror: White Christmas (2014)
Bob's Broken Sleigh (2015)
BoJack Horseman Christmas Special (2014)
Christmas Break-In (2019)
The Christmas Candle (2013)
The Christmas Chronicles (2018)
Christmas Crush (2013)
Christmas Inheritance (2017)
A Christmas Prince: The Royal Wedding (2018)
Christmas Survival (2018)
Dear Santa (2011)
Dreamworks Happy Holidays from Madagascar (2005)
Elliot the Littlest Reindeer (2018)
Free Rein: The Twelve Neighs of Christmas (2018)
Get Santa (2014)
The Holiday Calendar (2018)
Holiday Rush (2019)
Holiday in the Wild (2019)
Holly Star (2018)
How the Grinch Stole Christmas (2000)
The Knight Before Christmas (2019)
Let It Snow (2019)
Magic Snowflake (2013)
Merry Happy Whatever (2019)
Merry Kissmas (2015)
Pee-wee's Playhouse: Christmas Special (1988)
Power Rangers: Megaforce: The Robo Knight Before Christmas (2013)
Prince of Peoria: A Christmas Moose Miracle (2018)
Santa Pac's Merry Berry Day (2016)
Santa's Apprentice (2010)
Santa Girl (2019)
Sugar Rush Christmas (2019)
Super Monsters Save Christmas (2019)
True: Winter Wishes (2019)
White Christmas (1954)
Hulu
It's A Wonderful Life (1946)
Paramount Pictures
Yeah, there are a bunch of newer Christmas movies on Hulu to watch. But what if you want something comforting and familiar? Well, it doesn't get more comforting and familiar than Frank Capra's It's a Wonderful Life, which has been a holiday staple for decades now. And if you don't know where you misplaced your DVD of this all-time classic, don't worry, because Hulu has got you covered.
Krampus Unleashed (2016)
Uncork'd Entertainment
Not to be confused with Michael Doughterty's 2015 Krampus—which is pretty great itself—this movie starring the Bavarian anti-Santa of legend came out a year later. This one focuses on a group of fortune hunters that discover an ancient demonic summoning stone that brings forth the evil that is the Krampus after centuries of slumber. If you have a need from some good Christmas horror B-movie fun after all the feel good movies on this list, maybe Krampus Unleashed is just what the doctor ordered.
Also on Hulu…
Universal Pictures Home Entertainment
12 Dog Days Till Christmas (2014)
An Accidental Christmas (2007)
Alone for Christmas (2013)
Back to Christmas (2014)
Barbie: A Perfect Christmas (2011)
Chasing Christmas (2005)
Christmas with the Andersons (2016)
Christmas Belle (2013)
The Christmas Calendar (2017)
Christmas Cupid (2010)
A Christmas Kiss II (2011)
Christmas Perfection (2018)
A Cinderella Christmas (2016)
Crazy for Christmas (2005)
Curious George: A Very Monkey Christmas (2009)
Deck the Halls (2016)
A Dog for Christmas (2015)
A Dogwalker's Christmas Tale (2015)
Every Other Holiday (2018)
Eve's Christmas (2004)
A Fairly Odd Christmas (2012)
His and Her Christmas (2005)
The Holiday Calendar (2018)
Holly's Holiday (2013)
Home by Christmas (2006)
Home for the Holidays (1995)
It's a Wonderful Life (1946)
The March Sisters at Christmas (2012)
Married by Christmas (2016)
My Dad Is Scrooge (2014)
My Santa (2013)
New Year, New You (2019)
A Puppy for Christmas (2016)
Santa Hunters (2014)
Saving Christmas (2014)
Second Chance Christmas (2017)
The Swan Christmas Princess (2012)
Terrific Trucks Save Christmas (2016)
Tiny Christmas (2017)
The Truth About Christmas (2018)
A Very Brady Christmas (1988)
Amazon Prime
Anna and the Apocalypse (2018)
Orion Pictures
Although it had a very limited theatrical release window, this musical zombie comedy from the U.K. finally became widely available for most audiences to view this year on Amazon Prime. Ella Hunt has to contend with both the encroaching holidays and a pesky zombie infestation at the same time. What more could you want from your holiday movie? Anna and the Apocalypse has barely been out a year, and it's already a cult classic.
TAPE: A Christmas Miracle (2019)
ENV Pictures / Amazon
A new addition to Amazon's holiday line-up, this TV series centers on Bobienski's Wonderbox Workshop, a pop-up Christmas shop in the basement of a shopping Mall. This new series is described as a "whimsical, wacky, and weird world filled with worker elves participating in wrapping competitions, mystery solving, and of course saving humanity." If this sounds like the kind of oddball holiday distraction you're looking for, you might want to check this one out.
Also on Amazon…
Dimension Films
Alone at Christmas (2019)
American Rodeo: A Cowboy Christmas (2016)
Bad Santa (2003)
Christmas, Again (2014)
The Christmas Cabin (2019)
The Christmas Dragon (2014)
Christmas Grace (2014)
Christmas in the Heartland (2013)
The Christmas Lodge (2014)
A Christmas Snow (2011)
Christmas Town (2008)
A Christmas Tree Miracle (2015)
Christmas in Wonderland (2007)
Falling for Christmas (2016)
Falling for Christmas (2016)
It's a Wonderful Life (1946)
Lawrence Welk Christmas Show (2007)
Megan's Christmas Miracle (2019)
The Most Wonderful Time of the Year (2008)
A Norman Rockwell Christmas Story (1996)
Disney+
Santa's Workshop (1932)
The Walt Disney Company
One of the coolest things about the brand spankin' new Disney+ service is just how deep the library goes. This Silly Symphony cartoon from 1932 is the perfect example. It's almost 90 years old! This short film from early in Walt's career shows a busy night in the North Pole as Santa's elves work hard to get all those toys ready for millions of kids. Santa's elves are totally a prototype for the seven dwarfs from Snow White, and if you look carefully, you can see a Mickey Mouse doll in Santa's bag. That Walt never missed an opportunity to promote the brand.
"The Simpsons Christmas Special" (1989)
20th Century Fox
The very first Simpsons episode (outside the shorts on The Tracey Ullman Show) was "The Simpsons Christmas Special," also known as "Simpsons Roasting on an Open Fire." Airing right as the '80s came to a close, this still-delightful proper intro to the world of Springfield would signal the start of the Simpsons' dominance over the next decade. And the decade after that. And the one after that. You get the picture. This special is also notable for introducing us (and the Simpsons) to Santa's Little Helper, the family dog who would feature in many an episode over the next 30 years.
Also on Disney+…
The Walt Disney Company
12 Dates of Christmas (2011)
Babes in Toyland (1961)
Beauty and the Beast: The Enchanted Christmas (1997)
Decorating Disney: Holiday Magic (2017)
A Frozen Christmas (2018)
Good Luck Charlie: It's Christmas (2011)
Home Alone (1990)
Home Alone 2: Lost in New York (1992)
Home Alone 3 (1997)
Home by Christmas (2006)
I'll Be Home for Christmas (1998)
Life-Size 2 (2018)
Mickey's Christmas Carol (1983)
Mickey's Once Upon a Christmas (1999)
Mickey's Twice Upon a Christmas (2004)
Miracle on 34th Street (1947)
The Muppet Christmas Carol (1992)
Noelle (2019)
The Nightmare Before Christmas (1993)
One Magic Christmas (1985)
Pluto's Christmas Tree (1952)
Richie Rich's Christmas Wish (1998)
The Santa Clause (1994)
The Santa Clause 2 (2002)
The Santa Clause 3: The Escape Clause (2006)
Santa Paws 2: The Santa Pup (2012)
Santa's Workshop (1932)
Snowglobe (2007)
The Christmas Star (1986)
The Mistle-Tones (2012)
'Twas the Night (2001)
The Ultimate Christmas Present (2000)
Winnie the Pooh: A Very Merry Pooh Year (2002)
Featured Image: Netflix/Orion Pictures/20th Century Fox