After 32 seasons, almost 700 episodes, and three decades on the air, The Simpsons is bigger than sitcoms, bigger than animated series, possibly bigger than television itself. The show's influence on pop culture feels absolute in the same way as, say, Star Wars or the Marvel Cinematic Universe, both of which the showrunners have lampooned multiple times. Meanwhile, the characters—even the seemingly small and insignificant ones—are as well known among many as the movie stars, musicians and celebrities who have appeared alongside them on the show. In fact, The Simpsons is so popular that after 18 years on the air, a big-screen spinoff grossed more than $500 million while the show continued to chug along for another 13 seasons (and counting).
20th Century Fox Television.
The merchandising of the show is endless, starting with "Don't Have A Cow, Man" t-shirts and Simpsons Sing The Blues CDs and continuing through theme park rides, comic books, video games and more. But even if critics have argued that the quality of the show has declined over time, few properties have continually satisfied the need for clips and memes in the social media era than The Simpsons—including a Homer gif for seemingly every occasion. There are few aspects of modern life with which the show hasn't intersected, either as a source for comedy and storytelling or as the joke version fans reference when they experience it themselves. (This is true even for people who have slowly disconnected themselves from its mythology, or who support criticisms of the show's insensitivity towards some of its characters such as Apu.)
To commemorate the show's 30th anniversary on December 17, Nerdist asked staff members to write about their favorite episodes from the series. For some of us what resonates is the rich characterizations; for others, it's the hot-button cultural issues the show targeted; and for still others, it's the earworm lines of dialogue that burrowed into our brains, subsequently popping up every time we're in an even vaguely similar situation. But in all cases, The Simpsons has left an indelible impression on those who watch it, and it remains one of the defining pop culture properties of the last 30 years.
20th Century Fox Television.
Mica Arbeiter
S4 E15 "I Love Lisa"
A big part of The Simpsons' staying power has to do with the show's willingness to take children seriously. Bookended by laugh-out-loud gags about a radio station that keeps accidentally playing "Monster Mash," "I Love Lisa" devotes itself to the great pains that come with (very) young love. Ralph's crush on Lisa instantly becomes the entire world to him; Lisa's humiliation over the affair practically suffocates her. And though The Simpsons' bread and butter is deriving humor from kids being cruel and mischievous, it also trusts in their ability to be kind and earnest. In the end, tender-hearted Lisa and Ralph are allowed the sort of bliss that also comes with childhood, putting their pains behind them to swing together in absolute peace.
Dan Casey
S6 E 13 " And Maggie Makes Three"
Jennifer Crittenden's "And Maggie Makes Three" isn't just patently hilarious; it packs an emotional punch that gets me every single time. When Lisa asks Homer why there aren't any photos of Maggie in the family photo album, Homer recounts the story of the littlest Simpson's birth and how he gave up his dream of working at a bowling alley in order to provide for his family.
My father passed away this fall after a lengthy battle with Parkinson's and while it has given me ample time for somber reflection on his life and legacy, I never expected to see so much of him in "And Maggie Makes Three." While he never gave up on his dreams the way that Homer did, he repeatedly sacrificed to provide a better life for his family. Seeing how the countless photos of baby Maggie morph the cruel "Don't forget: you're here forever" plaque above Homer's desk morph into "Do it for her" already turned me into a puddle of tears, but now it serves the dual purpose of reminding me about the man who always did the same for me.
20th Century Fox Television.
Eric Diaz
S8 E15 "Homer's Phobia"
These days, LGBTQ characters and themes are all over television. But back in 1997, it was extremely rare for a family animated series to even say the word "gay," much less have a gay character portrayed in a positive light. But in the season 8 episode "Homer's Phobia," The Simpson's hilariously tackled well… homophobia. Cult film legend John Waters essentially played a version of himself, and taught the Simpsons—and mainstream America—the true definition of what camp is, and in turn made Homer a more tolerant person. To this day, I still quote John Waters' line from this episode: "it makes me sick in a wonderful way."
Todd Gilchrist
S3 E 15 "Homer Alone"
"Mmmm… Gregory! Where have you been all of my life?" is a phrase I automatically think every time I get a massage thanks to this amazing episode where Marge escapes to Rancho Relaxo for some pampering after suffering a breakdown from caring for the rest of the Simpsons clan. Not only does the episode perfectly highlight Marge role as the family's long-suffering backbone, but it offers Homer some brief, really charming moments of self-awareness ("I'm no day at the beach either!"), while Bart and Lisa share a rare moment of cooperation while attempting to survive the indignities of Patty and Selma's house. Add in the one-two punch of Maggie's desperate, fruitless search for Marge in every topiary and bad haircut and Homer's teeth-gnashing search for her and it's an episode that showcases the show's humor, versatility and humanity all at the same time.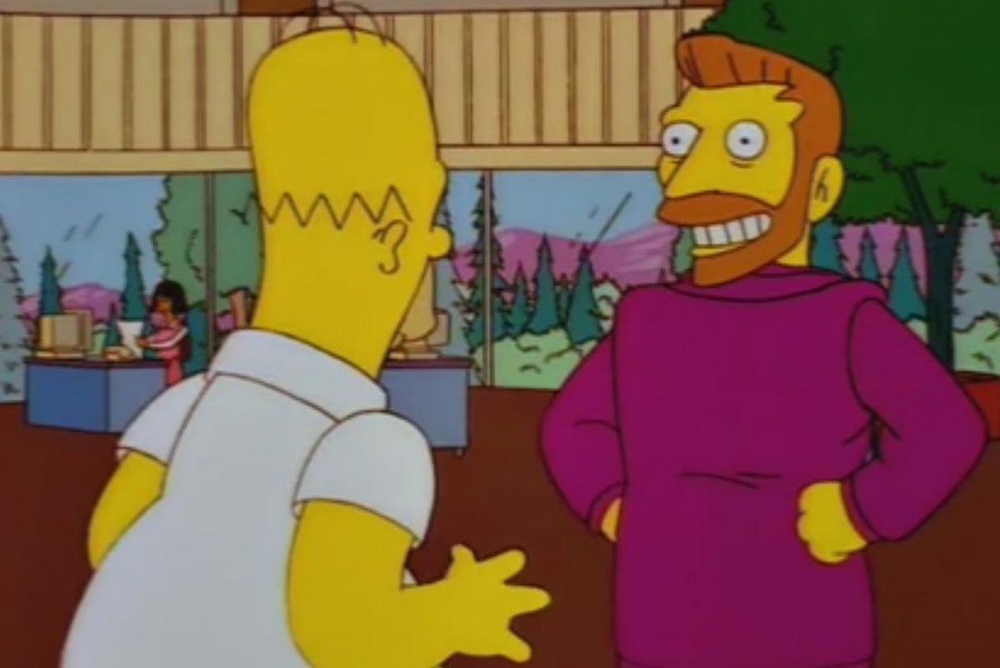 20th Century Fox Television.
Tai Gooden
S8 E2 "You Only Move Twice"
"You Only Move Twice" is a bizarre and hilarious episode that takes the Simpsons out of their element. Marge, Lisa, and Bart's misery in Cypress Creek is amusing, but the dynamic between Homer and the fast-talking Hank Scorpio (Albert Brooks)—easily one of the funniest one-off characters in the series—is the real comedy gold. "You Only Move Twice" is packed with solid jokes, fun Bond references, workplace espionage that goes unnoticed by an oblivious Homer, and a ton of nonsensical plot details that have a global impact yet, in classic 90s sitcom fashion, are completely forgotten about in the next episode. These are the types of episodes that made The Simpsons an animated sitcom staple.
Kelly Knox: S3 E2 "Lisa's Rival"
This is the episode with some of the most iconic lines Ralph Wiggum has ever uttered, but more importantly, "Lisa's Rival" also features one of the best guest star appearances in the series, with Winona Ryder as Allison Taylor. Allison is the new kid in class, and when she out-Lisas Lisa, the two Simpson siblings team up to take her down during the school diorama competition. (Bart supporting Lisa in this episode is also particularly endearing.) Lisa's guilt overwhelms her, and she admits her shortcomings to Allison, who forgives her. The two friends walk off into the sunset with Ralph delivering my favorite line of all time from The Simpsons, "My cat's breath smells like cat food."
20th Century Fox Television.
Riley Silverman: S6 E6 " Treehouse of Horror V"
The annual Halloween episodes were a major highlight of my childhood obsession with The Simpsons. The experience was like digging into a televised version of MAD Magazine film parodies. Likewise, the anthology nature allowed the show at the height of its powers to turn its gag generators all the way up. There are so many great early "Treehouse" episodes but this one with its lawsuit-avoiding "Shinning," the many alt realities created by Homer in the Sound of Thunder-inspired "Time and Punishment," and the brilliant running gag of Groundskeeper Willie filling in for Scatman Crothers as the axed-to-death custodian still linger for me as some of the finest work to come from the scary punned named writers. Though the episode doesn't quite stick the landing with "Nightmare Cafeteria," it dances close enough to Sweeney Todd for my appreciation, and the non-sequitur Chorus Line ending has indelibly been penciled into my memory whenever I hear "One."
Mikey Walsh
S4 E12 "Marge vs. The Monorail"
Asking me to choose my favorite Simpsons episode is like asking me to choose my favorite child, except harder. But after genuinely agonizing deliberation, it has to be "Marge vs. the Monorail." It's hilarious, memorable, and has everything you'd want from The Simpsons, including: an amazing premise, non-stop jokes, callbacks and Easter eggs, an iconic song (actually, it has two – "The Monorail Song" and Homer's personalized rendition of The Flintstones theme), a great original character (Phil Hartman's Lyle Lanley), a killer celebrity cameo (Leonard Nimoy), and all time-great quote ("Donuts—is there anything they can't do?") It's perfect. Both Marge and Mr. Snrub would vote for it.
What's your favorite episode of The Simpsons? Leave your choice in the comments section below!
Header Image: 20th Century Fox Television.