Disney took a page out of its MCU playbook for The Mandalorian's season two finale. Just like a Marvel movie might, the season ended with a post-credits scene. That unexpected return to the late Jabba the Hutt's palace expanded the live-action Star Wars universe by announcing an entirely new series: The Book of Boba Fett. But that shocking moment also gave us a glimpse at what happened on Tatooine following the death of its criminal kingpin. And that offers a glimpse of what to expect from the new show.
Disney
In the second season premiere "The Marshal," we learned that the destruction of the Empire created a power vacuum on Tatooine. That void was only possible because, shortly before the second Death Star blew up, Leia killed Jabba on his sail barge in Return of the Jedi. Jabba's seat of power—both literally and figuratively—did not go to one his few remaining relatives. (The Hutt Clan lost many members over the years.) It went to his chief steward, the male Twi'lek Bib Fortuna.
Even if you didn't remember his name, you probably recognized Bib from his massive lekku. It looks like a giant anaconda scarf. He was Jabba's primary servant whose weak mind was easily manipulated by Luke Skywalker. From what we have seen of him on screen, Bib never commanded respect or fear. His role as a servant fit him in a way leadership never would.
Disney
Just because Bib was Fortuna(te) enough to take Jabba's seat, that didn't give him Jabba's power. The palace was sparsely filled when Ming-Na Wen's Fennec Shand entered. Bib only had a few servants and hangers on. It was a far cry from the heyday of Jabba's reign. Back then a trip to his palace meant a full house with plenty of entertainment and danger. And if you were a foe, you needed a disguise and a masterplan to get in. Now it was incredibly easy for one single assassin to enter and kill everyone in sight. Luke, Leia, Lando, and Chewie would have had a much easier time rescuing Han Solo from carbonite if Bib had been in charge back then.
Ultimately, Fortuna took the throne, but not much else. The Hutt crime syndicate on Tatooine died with Jabba. Ironically, that might have made the planet less safe. With no one to step in and provide some sort of structure and order, people on Tatooine were afraid to travel between towns. Timothy Olyphant's Cobb Vanth, the "Marshal" of Mos Pelgo, was only able to protect the people of that isolated outpost. Other places like Mos Eisley had no one to look after it.
Until now.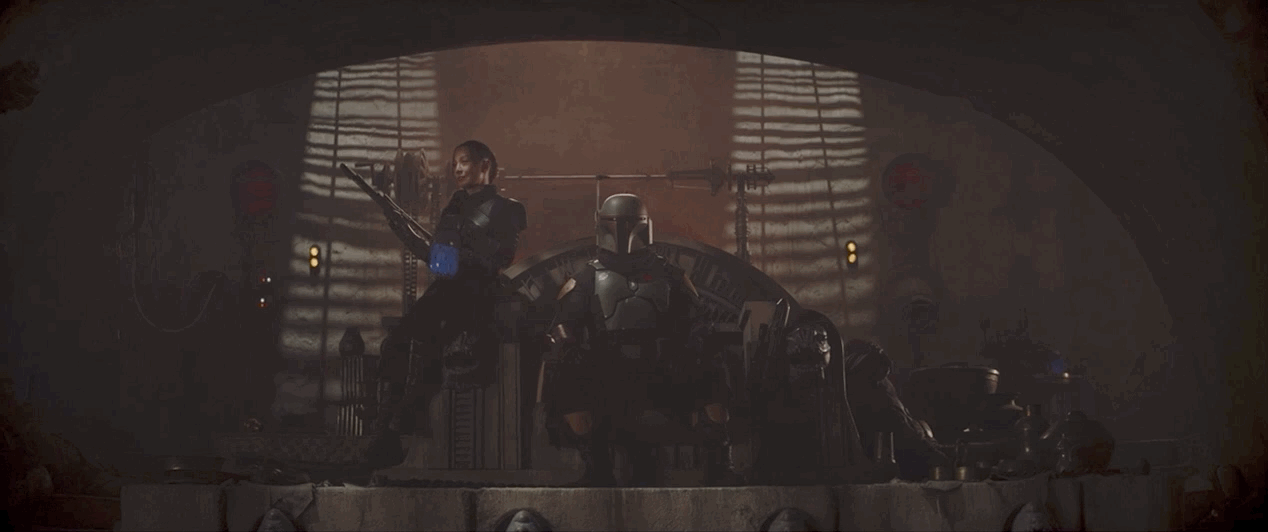 Disney
Boba Fett is not Bib Fortuna; Boba Fett is not a fool. He commands both respect and fear (especially thanks to his portrayal on The Mandalorian). The famed bounty hunter wants Jabba's palace because he wants to assume control of the planet where he was left for dead in a sarlacc pit. He will no longer be a laughingstock whom those on Tatooine tell "rumors" about. Boba will no longer hide in the robes of a Tusken. He has his armor back and a loyal, skilled warrior by his side. And in a planet with a massive power vacuum where any idiot can play pretend boss, that's likely all he needs to rule.
This post-credits scene gave us glimpses at both the recent past and near future of the most important planet in Star Wars history. The Book of Boba Fett will show us how a great bounty hunter took control of it. That will probably include at least some disintegrations.
The new series, which debuts in December 2021, was formally confirmed on December 21. As the teaser suggests, The Book of Boba Fett will star Temuera Morrison and Ming-Na Wen and is set within the timeline of The Mandalorian. Jon Favreau, Dave Filoni, and Robert Rodriguez—who directed acclaimed season two episode "The Tragedy"—are executive producing the series.
Featured Image: Disney