Some 90 years ago, a little black and white animated short named Steamboat Willie hit theaters. It was the first animated film ever to feature synchronized sound. And, just as if not more important, Steamboat Willie introduced a new character to the world: Mickey Mouse. You might have heard of the mouse created by Walt Disney and Ub Iwerks.
Audiences fell in love with Mickey Mouse, and a pop culture icon was born. That one little short changed entertainment history. Now, to celebrate nine decades of the Mickey and Minnie Mouse, LEGO is releasing a new set inspired by a LEGO Ideas submission; this set honors Steamboat Willie in all of the original film's monochromatic glory.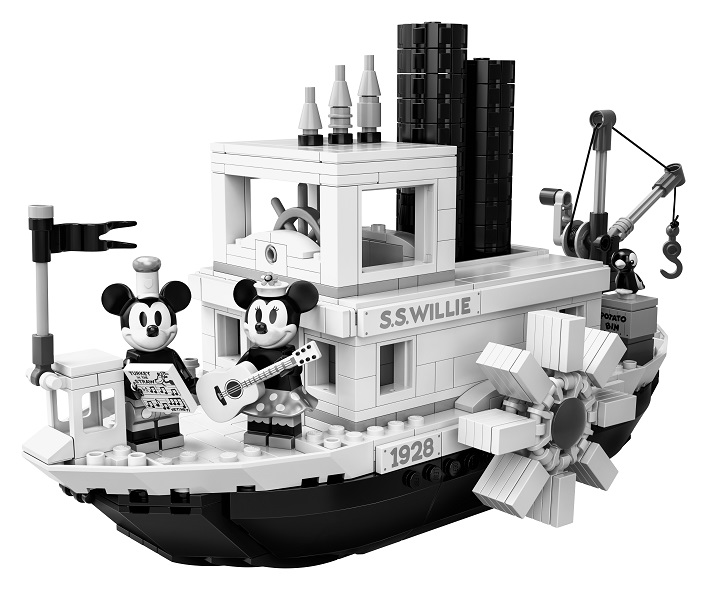 This LEGO brick version of the S.S. Willie comes with steam pipes that move up and down and paddle wheels that rotate when the boat is pushed along. The boat's bridge has room for a minifigure and play-inspiring nautical details such as the ship's wheel, life buoy ,and buildable bell. The deck has a working crane to lift the 'potato bin' cargo aboard. Finally, the LEGO set comes with new Mickey Mouse and Minnie Mouse minifigures, each with special silver-colored decoration, plus a parrot figure. Coming in at 751 pieces, this set measures over five inches high, ten inches long, and five inches wide.
This LEGO Ideas creative toy building set comes with a booklet with building instructions and several fun facts about the historic 1928 animated Disney short film. The booklet also includes information about this retro set's fan creator (LEGO Ideas are generated by fans) and LEGO designers. The new Steamboat Willie set will be available directly through LEGO starting on April 1, through shop.LEGO.com, as well as in select LEGO stores.
See additional images of this very cool new set below.
Images: LEGO / Disney